MBAs Shine at Pepperdine University Business Competition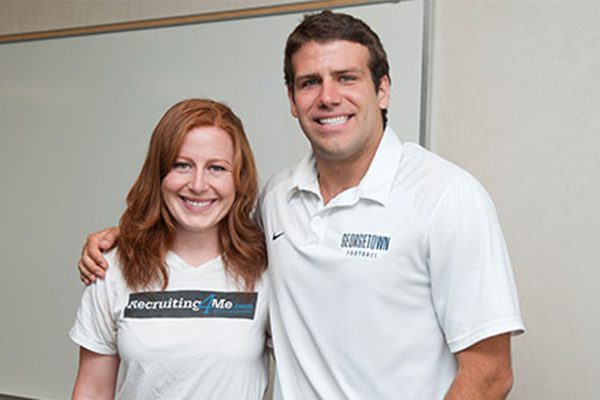 MBA students from the Graziadio School of Business and Management competed for cash prizes in the finals of this year's Pepperdine University Business Competition. In the end, Recruiting4Me, a social network and database for young athletes seeking to connect with scouting college coaches, took first place.
Founded by MBAs Annie Macomber and Craig Montgomery, who had been athletes throughout their time in high school and undergrad, the idea was originally conceived as the "LinkedIn for High School Athletes" and addressed issues they experienced themselves.
"Many students want to continue to play sports in college but are unsure of the processes and procedures for recruiting," they said. "Recruiting4Me addresses these issues by aggregating all the critical information necessary to give students the best chance of finding schools that match both their academic and athletic aspirations."
The team developed a specialized social platform that allows for college-bound athletes to create a multimedia profile. The profile highlights their accomplishments on and off the field, helping users navigate the recruiting process. This will allow student-athletes to best connect with collegiate coaches who now have all recruit information in one place.
The first place win earned Recruiting4Me $10,000 and the opportunity to represent Pepperdine at California Dreamin' Investor & Fast Pitch Competition later this spring. At that event, students from top entrepreneur programs vie for $250,000 in prize money and equity investment.
Steve Lehman, chairman and CEO of Premiere Radio Networks, producers of the radio program Business Rockstars, was one of the event's judges. He cautioned the students that entrepreneurs can become too close to their idea. He also mentioned how it is critical to venture out of one's comfort zone and  to have other people who are not family, friends or professors evaluate a business plan on a mentoring basis to give honest feedback. Overall, "Very impressive! Everyone did a great job," Lehman said.
About the Author