Cass Dubai Hosts South African Business Delegation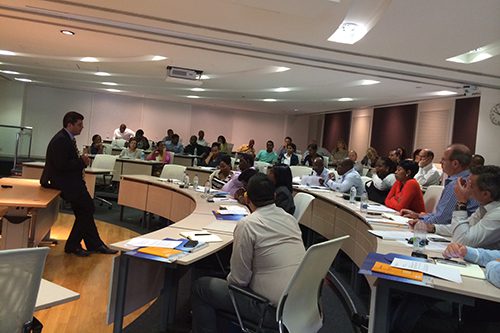 Cass Business School in Dubai hosted 46 senior South African executives in association with Wits Business School for their 'International Executive Development Programme'.
Held at the Dubai International Financial Centre (DIFC), in the heart of the city's business district, the event aimed to spread awareness of the city as a growing economy and hub of international financial activity.
Conrad Viedge, International Executive Development Programme Director at Wits Business School, said: "The presentations gave a deep insight into Dubai and rest of the UAE, and this was a real eye opener for South Africans. They highlighted the rapid growth of Dubai through the business orientation of the government which creates a virtuous circle for the economy."

The day got under way with a presentation from Mr. Kailash Nagdev, Former Director of Falcon and Associates who praised Dubai's current economic outlook and its plans for future development.
Workshop sessions were then taken by leading UAE businessmen including Mr Rehan Pathan, Managing Director of Takseem, Mr Inam Saleem, Managing Director and founder of 800 Inc., Dina Haddad, Manager of Business Entities, DIFCA, Jahanara Sajjad Ahmad, from Hawkamah, the Institute for Corporate Governance and the Head of MENA Research of Emirates NBD, Khatija Haque.
Visit Cass's website to learn more about the International Executive Development Programme.
About the Author