F1 Title Winner Meets with Cass MBA Students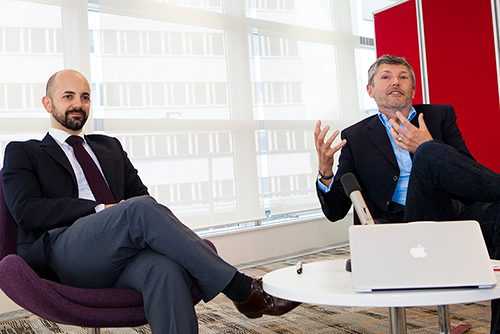 As the CEO of a championship-winning Formula 1 team, Nick Fry knows how to put a company on the fast-track to success. The former Mercedes racing chief visited Cass Business School to share his top business tips with MBA students in a two-hour talk.
Fry gave full-time students an insight into the highly competitive business world of Formula 1 where teams spend millions on developing the latest technology to gain an edge measured in thousandths of second.

Before stepping down from Mercedes last year, Fry was recognised as one of the leading commercial and management figures in the billion-dollar sport. When Honda pulled out of Formula 1 at the end of 2008, he was involved in a management buyout which saved the team from the scrapyard. Reconstituting the team as Brawn, he turned around its fortunes in a single year, winning with Jenson Button the drivers' and constructors' titles in 2009, before selling the team to Mercedes.
Invited to Cass by Dr. Paolo Aversa, a foremost researcher in Formula 1, Fry put his success down to hard work, grasping opportunities and "sufficient" brainpower – "too much and you can see all the problems, which just adds complexity".
He went on to offer MBA students 20 lessons gained over his four decade career in business, all of which can be viewed here.
About the Author