London Business School Entrepreneurs Receive Start-up Support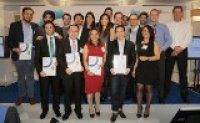 Entrepreneurs from London Business School have been given a boost to launch new business ventures.
The School's Deloitte Institute of Innovation and Entrepreneurship has chosen 11 start-ups to join its Incubator programme. For a whole year, the School's Incubator will house the graduate entrepreneurs who are launching their own businesses.
This year's winning start-ups – announced at the Institute's Founder Awards dinner last week – each receive a one-year support package including:
• A cash injection
• Office space
• Professional support from Deloitte, Landor Associates and London Business School alumni
• Access to training and workshops
• An invitation to the E100 members-only Annual Dinner event where entrepreneurs can network with angel investors, get advice on crafting pitches and showcase their business to E100 members

Participants will also learn from experienced Entrepreneur Mentors in Residence (EMiR) at London Business School.
Saleem Arif, Founder of QualitySolicitors and a mentor-in-residence, shared his entrepreneurial experience: "Founding QualitySolicitors opened my eyes to a number of things. Staying focused on generating revenue means all non-core areas can be outsourced. Do not underestimate the power of PR – it brings substantial credibility to a start-up and was instrumental in the rapid growth of our business. Finally, every start-up has ups and downs – stay strong and enjoy the ride."
Click here to learn more about the Incubator programme.
About the Author