London Business School Launches Dubai Entrepreneur Mentor Scheme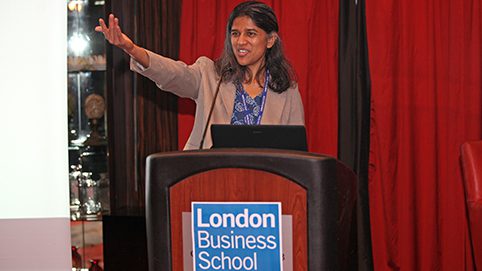 Aspiring entrepreneurs at London Business School can now benefit from a new mentoring scheme launched in Dubai. This new programme follows a successful 18-month run with the School's MBA students in London.
Launched at an event in the Dubai International Financial Centre (DIFC) by Kamalini Ramdas, Professor of Management Science and Operations and Deloitte Chair in Innovation and Entrepreneurship, the 'Entrepreneurship Mentor in Residence' scheme gives entrepreneurial students and alumni access to year-round mentorship from four successful business personalities in the region.
Three former alumni – Genny Ghanimeh, Mohamed Nassar and Tommy Wakefield Smith – join Aman Merchant to sit the School's first Dubai-based mentoring panel. Students, who currently have remote access to London-based mentors, will now have direct access to mentors up to twice a month for one-on-one consultations.

Jane Khedair, Head of Entrepreneurship, Career Services at London Business School, said: "Premised on the success we have had in London, we are thrilled to launch the Entrepreneurship Mentor in Residence programme here in Dubai with four prolific entrepreneurs each with their own areas of specialisation.
"There really is no substitute for sitting across a desk from someone who has the experience and insights aspiring entrepreneurs need especially in those first few, daunting months.  Students and alumni will now have the opportunity to benefit from mentors who each have considerable regional experience and know-how."
Click here to read more about the program and launch event.
About the Author