Tallow Chandlers Company Honors Cass MBA students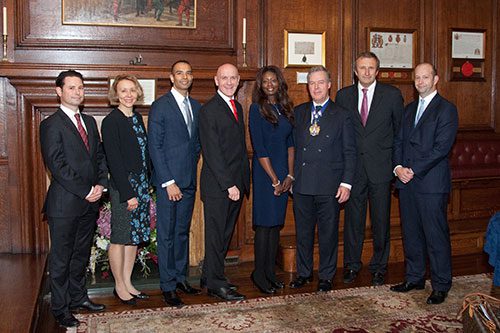 Seven Cass Business School students, who all achieved at least 70% in their final Business Mastery Projects (BMP), were celebrated at the annual prize dinner hosted at the company's historic Tallow Chandlers Hall in the City of London.
They were judged by a panel of senior Tallow Chandlers Company members that was looking for work that contributed to organizational, commercial or managerial effectiveness, was of value to the client and displayed well-structured, evidence-based arguments.
After a formal dinner, Professor Steve Thomas announced the five winners, who each spoke about their professional achievements and explained the subject of their dissertation. The winners were presented with silver engraved candlesticks by the Master of Ceremonies, reflecting the Company's ancient links with the tallow candle trade.

The Overall Winner was Yemi Adekunle from the 2011 EMBA cohort, with her BMP entitled "The Pursuit of Branding – A Case for Branding Berries at Berry World". The other winners were Nicholas Graham, Jasminder Oberoi, Daniel Liddard and Kamaldeep Panesar.
Professor Vince Mitchell, who acted as Yemi's supervisor, said 'Cass's connection to the City of London and its institutions makes it a very special place to work and gives our students a unique experience.'
Tallow Chandlers has supported Cass Business School with the awards scheme since 1989. Several past winners have gone on to become Liverymen and Freeman of the Tallow Chandlers Company. Click here to learn more about the awards ceremony.
About the Author