Cass MBA Students Put Skills To Test at Sandhurst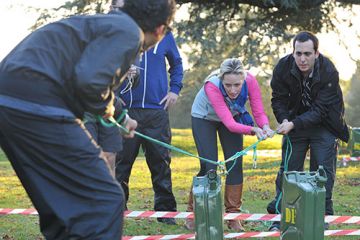 Leaving the lecture hall for the grounds of the elite Royal Military Academy Sandhurst, Cass MBA students got out of their comfort zones for an intensive leadership course as part of their Professional Development Week.
The Achieving Your Potential programme, delivered in partnership with Inspirational Development Group (IDG), helped students to build their knowledge and skills in effective partnership and leadership.
The three-day learning event was staged at the British Army's world-renowned officer training headquarters, where cadets are introduced to key leadership principles such as creating clarity of purpose, building co-operation and maintenance of morale in challenging or ambiguous contexts.

The professional development team at Cass designed the course in partnership with IDG experts, tailoring the programme specifically to meet MBA students' needs. IDG maintains an exclusive relationship with Sandhurst, enabling privileged access to the Sandhurst site and facilities.
Though they were spared the gruelling training of Sandhurst cadets, with the programme focus on experiential development, IDG experts took students out into the 2,000 acre grounds of the Sandhurst site to put theory into practice.
In a series of outdoor group challenges students experimented with the theories and concepts learned in class, exploring their current leadership approach and receiving valuable feedback from their peers and IDG facilitators
'IDG provided us with a great experience at Sandhurst,' writes MBA student Ben Surdeau. 'It was a good place to learn about leadership, following in the footsteps of countless army officers who had done just the same.'
Click here to learn more about the programme.
About the Author