Cranfield Scholar's New Book Addresses Pitfalls of Measuring Performance Management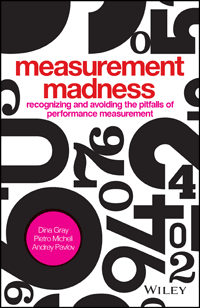 A new book co-authored by Dr. Andrey Pavlov, a Lecturer in Business Performance Management at Cranfield School of Management, entitled 'Measurement Madness: recognizing and avoiding the pitfalls of performance management' aims to help leaders avoid the often bizarre, unintended consequences of KPIs by using real-life examples of performance management measurement gone wrong.
The expenses scandal involving MPs and the troubles in the banking sector, both of which have been highlighted in the media, are  examples of poor management via measurement; although targets and rewards have long resulted in bizarre behaviours, recent examples such as these have moved measurement, reward and behaviour to the forefront of business management once again. The book, which details how each particular behaviour could have been foretold, demonstrates what managers need to consider when creating measures and performance measurement systems.

'Measurement Madness' uses management and organisational theories to analyse a unique mix of examples from the UK, the US and the rest of the world. Each chapter concludes with guiding principles that will help readers avoid the many pitfalls of well-intended performance management.
Dr Pavlov said: "This book is about what happens when we start believing that organisations can be engineered according to our desires and that metrics and targets can give us the ultimate control over what happens tomorrow. When measurement becomes a substitute for judgement, disaster is just around the corner – and this book is about spotting and avoiding such situations."
Click here to learn more about this new book.
About the Author