Greek Prime Minister Honors Cass Scholar in Athens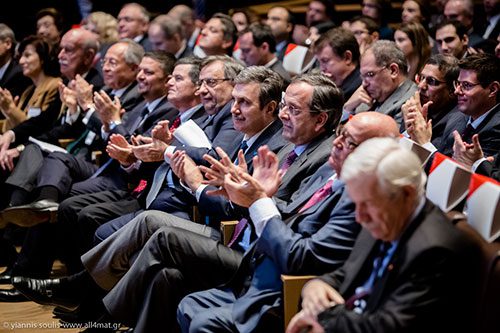 The Greek Prime Minister has praised Cass Business School Professor Costas Grammenos for his "pioneering" teaching and research on shipping finance.
Giving an official speech in Athens, Antonis Samaras acclaimed Professor Grammenos for his "vision ahead of time" in founding the Centre for Shipping, Trade and Finance. The Prime Minister's remarks came at an event marking 30 years since Professor Grammenos launched the international Centre for Shipping, Trade and Finance.
Mr Samaras said the Greek nation was "proud" of Professor Grammenos for his "pioneering work" in "preparing the future and the people that will make it happen".

"According to Aristoteles, you always have to balance between the 'local' and the 'global' [view], between a perfect understanding of where you are and a good sense of where you want to be," he said. "The problem is that nowadays the 'local view'…is pretty much obvious to almost everyone. Whereas the 'global view', looking beyond the horizon, is something that few people attempt and even fewer usually accomplish."
More than 750 people travelled to Athens from around the world to join the event, which was staged at Athens's Onassis Cultural Centre. Titled "Looking globally from Athens", the daylong conference saw 35 top executives share their insights on the world economy, shipping, banking, capital markets and entrepreneurship and investment.
Click here to learn more about the event and its constituent segments and speakers.
About the Author