London Business School Shapes Future of British Fashion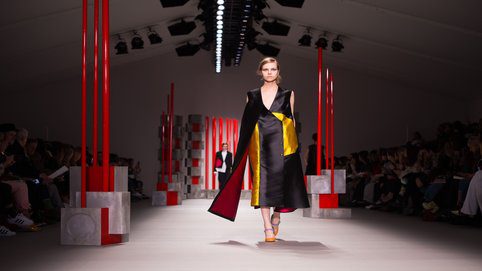 London Business School has just announced the launch of a pioneering venture with the British Fashion Council. It will see MBA students team up with early-stage designers with superb 'first collections', but who wish to remain independent. The students will support designers in their goal of establishing their own brands, rather than them simply being bought up by the top fashion houses.
This partnership was created as a response to the BFC's 'Commercialising Creativity' report, authored last year by MBA students Alessandra Basso and Alejandra Caro. The fashion business is an increasingly popular avenue for School students to pursue and the opportunities on offer are broad and varied.
On top of formal summer internships which cater for high-end and high street – M&S to Gucci – there are also the exciting projects which run alongside study programmes.
At present, four LBS MBA students are interning backstage at London Fashion Week with celebrated dress designer Emilia Wickstead, who has designed dresses for the Duchess of Cambridge among others.

Latest estimates suggest its direct value to the UK economy stands at £26bn – rising as high as £46bn when considering its influence on spending in other industries.
It's also the greatest employer of all creative industries; supporting around 800,000 jobs, according to data published by the British Fashion Council (BFC).
London Fashion Week (Feb 20-24) has become a pivotal date in the luxury style diary. With over 5,000 visitors, live streams to 160 countries and orders typically in excess of £100m placed – its role is key in an increasingly fashion-dependent economy.
About the Author