Cass FTMBA Students to Hike One of Iceland's Volcanoes for International Consulting Week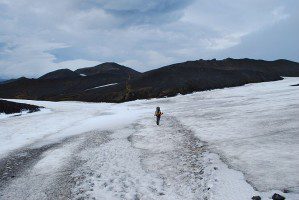 Cass Business School MBA students took on the challenge of climbing one of Iceland's most spectacular glaciers, Mt. Eyjafjallajökull.
This adventure was part of the Cass FTMBA Leadership Expedition, and marked the end of this year's client work in Rekjavik for the MBA International Consulting Week in Iceland.
This was the first time a Cass MBA cohort has attempted to tackle Eyjafjallajökull, which hides (under its ice caps) the volcano that brought Europe to a standstill in 2010.
With a steep 12-hour ascent up the volcano to reach the top, the climb was be no easy feat for the students.

"Resilience, determination, collaboration and personal leadership are sought-after qualities in MBA graduates," said Dr. Sionade Robinson, Associate Dean, prior to the climb. "Students will need to be physically and psychologically prepared for this activity. The Cass MBA Leadership Expedition will challenge them – half of the climb is on a glacier, requiring special glacier safety measures and equipment".
"Whether the summit attempt is ultimately successful or not, they will benefit both personally and professionally by gaining insights into the importance of timing, decision making and leadership skills as they participate in this exciting, challenging and exclusive leadership development experience."
Over 50 MBA students have already volunteered for the challenge, which will be led by Cass faculty members Dr. Elena Novelli and Dr. Santi Furnari.
The hike will put their teamwork to the test as groups are roped together for safety when crossing the glacier and ascending the 1,600 metre climb.
About the Author