Oxford's Skoll Scholars Collaborate to Create Social Change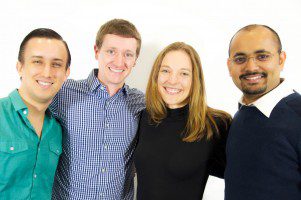 Throughout the world, social entrepreneurs are creating innovative and disruptive solutions to tackle urgent global challenges. One of the most effective ways to achieve an impact is through connecting and partnering with other complimentary ventures, says Pamela Hartigan, Director of the Skoll Centre for Social Entrepreneurship at Saïd Business School.
"Social entrepreneurs are tackling some of the world's most challenging problems. As individual organisations, they simply cannot do this alone. One of the goals of the Skoll Scholarship is to build a strong community of entrepreneurs to fuel the ecosystem of solutions," says Hartigan.

The Skoll Scholarship, which provides financial support for up to five students a year to join the Oxford MBA and pursue entrepreneurial solutions for urgent social and environmental challenges, has created a growing community of individuals who are increasingly finding ways to work together and create new alliances. The 52 Scholars, who have joined Saïd Business School since the programme was introduced in 2005, form a well-connected community of graduates that continue to lead transformational change as they pursue their careers post-MBA.
The two-day Skoll Scholar Summit, which took place on 13th-14th April, preceding the Skoll World Forum, is crucial to the strength of the community. The self-facilitated Skoll Scholar Board puts together a two-day programme focusing on developing personal leadership, reflecting on the year that has passed, and provides an opportunity to share lessons learned across the community.
Click here to learn more about the Skoll community.
About the Author