"Silicon Valley Comes to Oxford" To Return May 17-18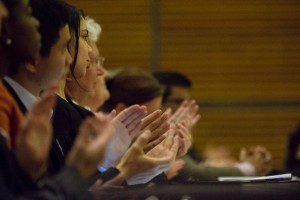 Silicon Valley Comes to Oxford will return to Saïd Business School on 17-18 May 2015.
SVCO 2015 will provide an opportunity to hear prominent entrepreneurs, innovators and investors discuss and debate key issues in entrepreneurship and innovation. The interactive sessions will focus on the benefits and challenges of starting and scaling high-growth companies, as well as offering a unique insight into an entrepreneur's world – the issues and topics they are really passionate about, their failures as well as hard won successes, and how it really is possible to change the rules of the game.

SVCO 2015 will also explore the critical and transformative subtopic of 'Augmented Humanity' – the next stage of our relationship with technology as augmented devices revolutionise our lives – enhancing our senses, improving our productivity and even changing the face of medical technology and healthcare. 

Sessions on May 17 will be open to all Oxford University members and the wider community, while those on May 18 will only be open to current Saïd Business School MBA and EMBA students.
This year's speakers will include Leila Janah, Founder and CEO of Sama Group; Jen Hyatt, Founder and CEO of Big White Wall; Dave Coplin, Chief Envisioning Officer of Microsoft UK; Michael Malone, pioneering Silicon Valley/technology journalist; Phil Libin, CEO of Evernote; and numerous others from the entrepreneurship and technology worlds.
SVCO has been an annually-recurring event for more than a decade. Click here to learn more about speakers, registration, and the event history.
About the Author