Irving Reception Recognizes UD Business' Contributions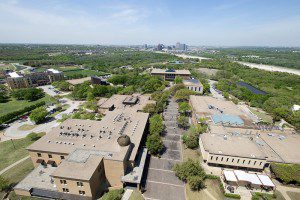 On July 30, the Irving Economic Development Partnership held the Irving Newsmaker Reception, in which they recognized the Center for Cybersecurity Education and the Satish & Yasmin Gupta College of Business at the University of Dallas for their contributions to local business. 
"We are honored to be recognized as a leader in preparing a growing number of cybersecurity professionals with the knowledge and technical skills to reduce vulnerabilities in the nation's networks," said Interim Dean Brett Landry.
The city of Irving, the Greater Irving-Las Colinas Chamber of Commerce, and the Irving Convention & Visitors Bureau hosted the reception. The reception was attended by Irving City Council Members, local civic and business leaders, and Irving Mayor Beth Van Duyne.
The Irving Economic Development Partnership chose to honor the Satish & Yasmin Gupta College of Business after the National Security Agency and the U.S. Department of Homeland Security once again designated the college as a National Center of Academic Excellence in Cyber Security. The accreditation was first granted in 2003, and will cover the school through the 2021 academic year.
About the Author