TD Ameritrade Awards UNT $50,000 Grant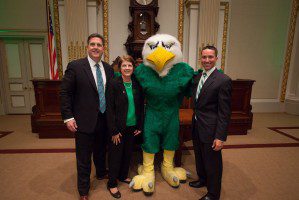 TD Ameritrade Institutional has awarded a $50,000 grant to the University of North Texas College of Business as part of its NextGen Financial Planning Initiative. TD Ameritrade Institutional invited two representatives of the College of Business to the New York Stock Exchange to accept the award on July 22. UNT's mascot, Scrappy, was invited to ring the closing bell as part of the visit. 
The UNT grant was one of two grants and fourteen scholarships that TD Ameritrade Institutional provided as part of their efforts to recruit more recent graduates to careers in financial planning because the financial planning industry is facing a critical talent shortage.
"Registered investment advisors as a group are aging: roughly half are 55 years or older, and many of them will be looking to retire over the next decade," explained the president of TD Ameritrade Institutional Tom Nally. "Add that with the fact that fewer than eight percent of advisors are under 35, and it's clear our industry needs more young professionals to join us and help families better manage their finances."
According to its 2014 predictions, the U.S. Bureau of Labor Statistics asserts that the country will need 27 percent more personal finance advisors by 2022. The predicted increase in personal finance advisor jobs is three times the average national increase in demand for other careers.
"There is a huge need for financial planners," said Dave Ragan, an adjunct faculty member in the Department of Finance, Insurance, Real Estate and Law at the University of North Texas College of Business. He represented UNT at the closing bell ceremony with Department Chair Marcia Staff.
About the Author