UT Dallas Business Communication Director Recognized for Teaching Excellence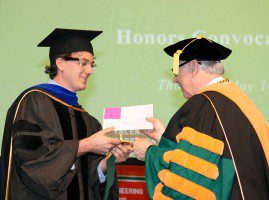 Dr. McClain Watson, a clinical associate professor of Operations, Strategy and International Management and the creator and director of the business communication program in the Naveen Jindal School of Management at the University of Texas at Dallas, was honored with a President's Teaching Excellence Award during Honors Convocation. Each year, the University of Texas at Dallas presents the President's Teaching Excellence Award to one tenured professor, one non-tenured member of the faculty, and one teaching assistant. Watson received a medal and a monetary award from the school. 
"With teaching, you're always playing the long game," said Watson. "You never really know if what you're doing will make a difference for every student. I think that makes awards like this a little sweeter because you see and feel that you are making a difference. It's very gratifying, but I hope to channel that energy into doing an even better job moving forward."
When earning his doctorate in the humanities, Watson never predicted that he would become the director of a business communication program. He studied the history of science and rhetoric in school, but struggled to convince his humanities students of the importance of writing and teaching when he taught the humanities. He was delighted to find the students more receptive at the Naveen Jindal School of Managment when he came to UT Dallas to create the business communication program. "They were better primed to hear that message because they understood that those skills could help them get into a room with someone they wanted to meet, perform better in an interview or speak to a customer who was upset about something," said Watson.
About the Author