Tips for Tackling the "Why Do You Want an MBA?" Application Essay Question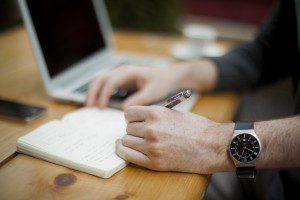 You've put the time in studying for the GMAT, you've narrowed your list of schools, you've identified your recommenders and asked them to write letters on your behalf. There's no more putting it off. It's time to tackle those essays. Second round deadlines are coming up for a lot of schools, including the Anderson School of Management at UCLA, which has a January 5, 2016 second deadline. That may seem like plenty of time, but when it comes to your essay, skimping on your work is not a good idea.
While some schools ask very specific questions of their applicants, many request some version of a personal statement about why you're pursuing an MBA at this point in your life. The question asked by Anderson is this, "We believe the best results are achieved when you share success, think fearlessly and drive change. With this in mind, what you're your goals at UCLA Anderson and in your short-term and long-term career?" To help you get started on the Anderson application essay, and many other related essays, follow the tips below.
Long- and Short-Term Career Goals
Your long- and short-term career goals should cover both what you see yourself doing immediately post-MBA, and about ten years into the future. The key is to be as specific as possible—general or overly broad ideas can indicate a lack of direction and motivation. Share specific positions, industries, and firms where you would like to have a career. There should be a clear path from your current experience to your short-term goals, and then on to your long-term goals.
"Ideally you start by thinking about your long-term goals and work backward to show what you would do to 'hit the ground running' at UCLA Anderson," shares Craig Hubbell, the Director of Operations for MBA Admissions at UCLA Anderson.
Summary of Your Career to Date and How Your Career Has Prepared You to Achieve Your Goals
Your application essay should briefly cover the foundation you have developed throughout your career. Without this foundation, you cannot achieve your goals even with an MBA. Use this section to talk about the areas where you are already an "expert." Again, don't think in broad strokes, try to share specific examples from your work history. Jessica Chung, the associate director of admissions for the full-time MBA at UCLA Anderson shares this, "You can start by reviewing your resume, making a list of professional/personal accomplishments, talking it out with a friend/colleague, etc.—the key here is self-reflection."
Why Are You Going for Your MBA? Why Now?
Now that you've discussed your career, it's time to focus on the MBA specifically. You should cover the specific knowledge gaps that are preventing you from achieving your goals and speak about how an MBA can fill in those areas. Discuss which skills you need to gain in your MBA before you can achieve your long- and short-term goals. For example, if your goal is to head up marketing for a technology company, and so far your experience has not included the global marketplace, mention how an MBA will provide you with international access and help you gain experience in meeting global demands.
Why School X?
Beyond talking generically about your MBA, every application essay must be individually tailored to the particular MBA program. You need to have a fairly extensive discussion of the specific courses, clubs, and programming in which you will participate while at school X. For example, if you're applying to UCLA Anderson, your essay needs to touch on specific resources available to Anderson MBA students.
"Demonstrating your excitement for UCLA Anderson is a key element as well," reveals Craig. "To learn to drive change in the real world, UCLA Anderson's Applied Management Research (AMR) program can't be beat, and you can even affect future generations of students through the Admissions Ambassador Corps (AAC). As always, the most compelling essays are the ones that weave together student opportunities at this school with clear goals for the future."
It should be very clear how these various resources from UCLA (or your chosen school) help fill each of the knowledge gaps you identified in the previous section.
How Will You Contribute to School X?
If there's room, and if it's relevant, it's also helpful to comment on your fit with the school based on how you would be able to contribute to it. Is there a club you would lead or a program you would spearhead? Do you have connections to a particular company or industry, and could you bring those connections to the MBA program and school? After graduation, do you plan to be an active alumna and continue to participate in the MBA program? This section doesn't have to be involved, but could be just a few sentences that detail your end goals with the program.
Don't look at your MBA application essays as a barrier to entry. Instead, view them as an opportunity to tell your story and let the admissions committee get to know you better. "When it comes time to start writing your essay, I understand the difficulty in choosing only a few tidbits from the span of your entire life to share with us," Jessica states. "However, think about what specifics you want the admissions committee to know about you and the principles that have defined your life to date."
About the Author