5 Tips for Writing a Winning MBA Essay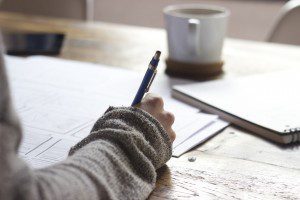 Writing your MBA application essay can be stressful, and for some, frustrating. Particularly if you've been out of school for a while, the idea of writing an essay can throw you for a loop. You might not have any idea where to start or what to do. The good news is that writing your essay isn't as hard as you think. We spoke with Eliot Ingram, a Clear Admit co-founder who spent more than a decade helping prospective MBA applicants gain acceptance to top business schools. According to Eliot, who is also an MBA graduate of University of Pennsylvania's The Wharton School, you can write a winning essay every time.
Follow the Instructions
The first tip is the easiest to follow yet also the one that so many applicants ignore. Almost every program asks a unique and specific essay question. For example, the Full-Time program at Wharton asks, "What do you hope to gain both personally and professional from the Wharton MBA?" (500 words) Your essay must answer the question within the allotted word count—that's it. Writing an essay that is too long or doesn't respond to the question can automatically disqualify you. So, be sure to read the instructions carefully.  "I'm a fan of people just answering the question," Eliot reveals. "It's best to have quality content that is delivered clearly. I don't think you need to be too creative."
Answer the Question
While this might sound like a repeat of the first tip, it's slightly different. When it comes to answering the question, you need to make sure you respond to every aspect of it. The Wharton question actually has four elements that should be addressed within 500 words:
Where are you now?
Where do you want to be professionally?
Where do you want to be personally?
How will Wharton help you get there?
You can't talk about what you hope to gain until you let the admission's committee know where you are now—i.e. "Currently, I lead the finance department at my company. Due to the heavy emphasis that the Wharton Full-Time MBA program places on corporate strategy, I would like to deepen my knowledge of financial tactics, which will help me better lead my company in a strong direction." You should be even more precise than that example, but the key is to dissect your MBA program's question. No matter how simple the essay topic appears, make sure that your essay answers every aspect.
Communicate Clearly
While writing creatively might seem like a great idea, if it muddles your message, it can harm more than help. "I don't think applicants should write a poem or a dialog," Eliot says. "It needs to be well written. It needs to be clear. Yes, what some applicants write may be considered boring, but for business school, the admission's team is more concerned with your content." Remember that your essay is just one of hundreds; if it's difficult to read or understand, the committee doesn't have the time to try and dissect your hidden meaning. Write your essay in logical paragraphs that are easy to consume. Also, don't focus so hard on using complicated words and sentences that you forget to speak plainly.
Avoid Clichés and Generalized Statements
It might impress someone who doesn't know any better if you say, "I want to be a leader in my community," but a statement like that tells the MBA admission's committee absolutely nothing about you, their program, or your goals. Stating you want to be a leader is the same as saying you want to do well at work. That's true for everyone. Instead, "business schools want applicants with clear, realistic, but ambitious career goals that make sense given what they've done," Eliot shares. Specificity is crucial. If there is a particular position within your company or another company that you want to gain after your MBA, mention that.
Just as using generalizations is unhelpful, so is using hackneyed ideas. Don't say, "I want to broaden my horizons" or "I believe that the early bird catches the worm." Statements such as those are overused and can, frankly, be annoying. Instead, use examples from your work history and life that reveal your personality, experience, and interests. A statement such as this is much more revealing and interesting. "I look forward to participating in the Wharton Business Plan Competition and receiving one-on-one mentoring while pitching my idea for my new manufacturing business."
Think Strategically
There is a balance between standing out from the crowd with an interesting essay and writing an essay that demonstrates you have the skills and drive necessary to succeed in the program. "I'm a big believer in applicants identifying what is most interesting and compelling about them, and building their story around that," Eliot explains. "Business schools want a few things. They want an applicant with career goals, leadership abilities, and teamwork skills. They also want someone who has a clear reason behind why they are seeking their MBA now, and knows why they want to attend that particular MBA program." If you can answer all of the questions while demonstrating your multi-dimensional and fascinating personality, you're golden.
When it comes right down to it, think of your essay just like you would think of any future job interview. It's your opportunity to put your best foot forward while showing the MBA program why you should be selected above someone else. Your essay's goal should be to give the MBA committee a compelling reason to use one of their few empty seats for you.
About the Author