MBA Startups: Vertskebap, Fast-Casual Mediterranean Food

Austin is a blossoming city with a thriving food scene. You can find top notch restaurants and food trucks all across town serving up the city's signature cuisines, namely Barbeque, Mexican food, and fried chicken. But one of the newer restaurants in town is trying to put a new star on the Texas food map, and the guys leading the charge are two MBA grads out of the McCombs School of Business.
VertsKebap? Tell me more…
When Michael Heyne and Dominik Stein, classmates at WHU – Otto Beisheim School of Management in Germany, enrolled in a dual-degree MBA program at McCombs through their undergrad alma mater in 2009, they'd already planned to start a business. Two days after graduating in 2011, the MBAs ventured into the food service business, opening two locations of VertsKebap near the The University of Texas' Austin campus. The restaurants serve popular Mediterranean food items that the founders had missed from their native Europe.
Vertskebap prides itself on offering healthy food options for its patrons. You start off by choosing a base (pita, wrap, salad or rice bowl), a protein (beef and lamb, chicken, falafel and beef meatballs), and any topping or sauce you desire.
Under the direction of Culinary Director Jason Donoho, teams in each one of our restaurants prepare his recipes for meatballs, rice, spicy red pepper sauce and many other menu items from scratch daily using only the highest-quality ingredients. Each location pickles their own jalapenos and makes hummus with fresh squeezed lemons.
Humble Origins
But things didn't start out with two restaurants, a culinary director, and a strong following — When Stein and Heyne first began Vertskebap, they operated a mobile version of the restaurant from a Smart car, setting a record for the world's smallest food truck in the process. The business received praise and accolades from the media, getting solid reviews by Eater Austin ("For quick and easy Kebaps and wraps, syndesis heads to Verts."), dfw.com (Basically, it's pitalike sandwiches, wraps or salads topped with fresh grilled vegetables and döner kebap, which is a Turkish version of shawarma, gyro or even pastor.), Huffington Post as a "recommended student eating place" and The Dallas Observer, which said,
"The Falafel Invasion has begun. Vertskebap, at the intersection of Walnut Hill Lane and Central Expressway (plus three locations in the suburbs) is the first of a series of fast-food falafel joints opening in Dallas. And the food at Vertskebap sets a high bar for its followers, while still pointing out room for improvement."
Over the next few years, the brand built up its reputation and its ability to serve more people, growing from one Smart car to 26 locations in Texas.

Expansion – Eastward!
In 2015, things really heated up for Vertskebap when the company received a $20 million infusion from private investors to expand out of Texas and onto the East Coast.
"In the past five years we have developed a brand our guests love and food they crave," Heyne said following the infusion. "There is tremendous demand for fresh, flavorful, high-quality Mediterranean food from consumers on the East Coast, and we are very passionate about delivering it to them."
This financing represents a landmark moment in our company's growth," Stein added. "It empowers us to continue to expand, as well as invest in key areas like technology and branding that will heighten the overall guest experience."
Shortly after announcing the investment, Vertskebap announced that the company would hire Jason Donoho as executive chef and culinary director. According to QRS Magazine, Donoho will spearhead the company's future menu enhancement and lead the brand's mission to become the leader in fast-casual Mediterranean food.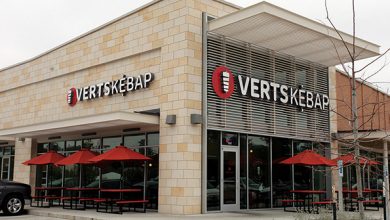 "Following a year of successfully opening 10 additional restaurants, we are excited to intensify our commitment to delivering fresh, healthy food with delicious flavors," said Heyne. "Jason has extensive experience in menu creation, and his passion for our concept and Mediterranean cuisine is very exciting."
Following the hire and in conjunction with the expansion to the East, company leadership will make adjustments to employee salary and training in early 2016, bumping the minimum wage of workers to $10 per hour
"We are beginning a journey to bring our food and restaurant atmosphere to guests outside of the state of Texas. As we become a national brand, it is vital that we attract talent who are committed to our mission and leaders in their field," said Heyne. "This is just another way we plan to become the leader in fast-casual Mediterranean food."
"This increase in our hourly wage is important in our company's goal to put our people first," Stein added. "As we open more locations, it is important that we continue to develop great people who deliver fast and excellent service."
As of March 2016, VertsKebap Inc. has shorted its brand name to Verts, with a "Mediterranean Grill" tagline. There are also plans for a new design and menus — according to Nation's Restaurant News, the changes were made as the brand evolved and moved outside the Lone Star State. As of July 2016, Verts has still not expanded to the East Coast.
Reflections on the MBA
Stein and Heyne say that their decision to pursue an MBA was an easy one, especially since they had each received scholarships that covered the majority of their tuition. According to another MBA news website, the duo chose McCombs because of the dual-degree option with WHU – Otto Beisheim School of Management, but also because they saw the appeal of a city like Austin and its start-up scene.
But how did two foreigners get strangers to invest all that money in their restaurant idea?
Stein says,
"A year ago we promised our investors we would open 15 restaurants, and we did open 15 restaurants … it's just living up to the expectations of the investors over and over again," Stein says. "In our case that meant that many investors invested several times."
Look out for a Vertskebap in a Metro near you by the end of 2016, especially all you prospective MBAs on the East Coast.
About the Author