Commerce College Ranked As Top Value MBA

The Texas A&M University – Commerce College of Business recently named a top value among both undergraduate and graduate business degrees.
A look into the cost of a graduate degree compared with the average first year earnings of graduates showed that an MBA degree from the Commerce College of Business is one of the best values for students.
Comparing Commerce against other MBA programs accredited by the Association to Advance Collegiate Schools of Business (AACSB), data revealed that the average first year earnings for graduates with a business bachelor's degree was above the state-wide average of $40,178. Furthermore, data showed that Commerce College MBA graduates on average earn more than double the state-wide average at $84,470 in their first year, making the degree an incredible value.
The state-wide average earnings for Business Administration in Texas were the second-highest, second only to the earnings of students graduating from Electrical Engineering programs. Other programs studied for average earnings were: English Language and Literature, Social Work, Multi/Interdisciplinary Studies, Computer and Information Sciences and Accounting.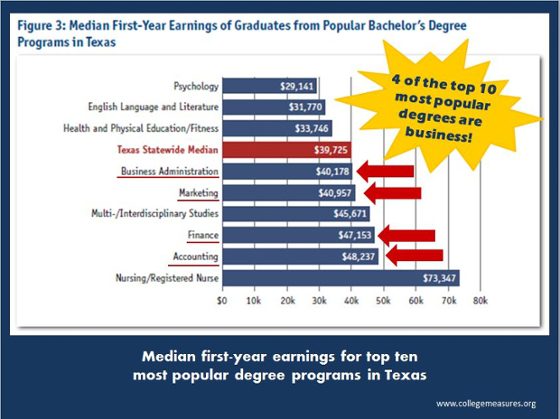 "Being able to provide a valuable, respectable graduate degree to our students at such a low rate allows them to make the most of their opportunities in their career fields," says the Commerce website. "It helps to ensure that they achieve their degree at one of the lowest costs available while advance their knowledge and fine-tuning their skills at an impeccable level."