London Business School Still Hotspot for International Students

London is a key destination for people abroad, especially for its business schools.
The London Business School is still attractive for international students, a press release reads. The incoming 2019 class will be 91 percent international—even with the drama and controversy following the Brexit decision. It seems that this move might actually be helping the school attract more students.
"Students coming here have seen increased purchasing power (due to the fall in the pound), while LBS has succeeded in hiring excellent faculty for the 2017–18 school year," Professor of Management Practice in Accounting Andrew Likierman said.
The 2019 cohort is made up of 432 students with just 39 percent women. They come from 62 different countries and are around 29-years old. They'll likely see the success. Ninety-four percent of last year's students had found a job within three months of graduation. One of the students joining the school is 2019 is Sherry Stolar.
"I've lived in London twice before, and there's no other place in the world with such diversity," she said. "LBS's class reflects that, with students from 70 countries and from diverse backgrounds."
Stolar values having global peers. After all, the business world operates out of a global market. Meeting people from around different corners of the world certainly doesn't hurt her—or any other student's—chances at making it in business.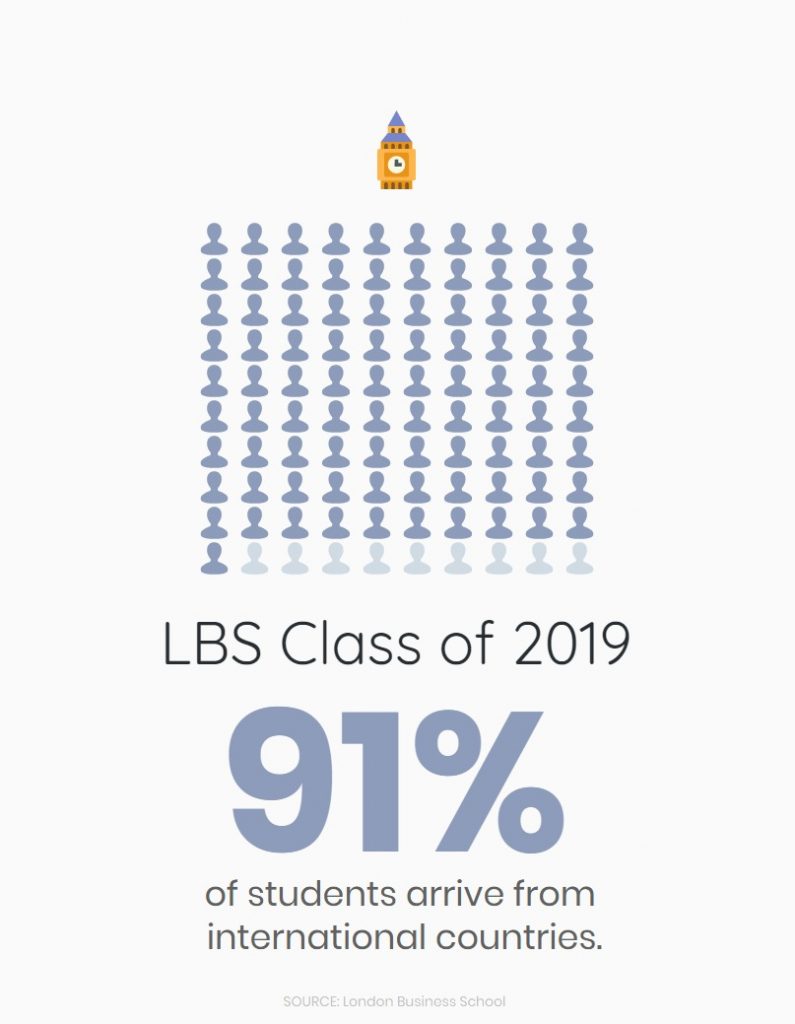 Forbes gave the business school the best international ranking, so it's likely to keep seeing more students from outside the country. Its MBA programs include a full-time, executive, and several masters programs. For student Amanda Morgan, there's nowhere else she'd rather be. The school's international student body is what she wants to further her career.
"Diversity is important because a large part of what you learn on an MBA is from your peers," Morgan said. "Students and faculty at LBS offer a vast range of perspectives from which I can learn and later apply in a consciously global context."
About the Author