Finding the Best Return On Investment for Your MBA: Dallas

Choosing the right MBA program can feel overwhelming. With nearly 800 accredited business schools in the United States, the idea of wading through the information on every program is intimidating to say the least. A variety of features, such as a school rankings, internship opportunities, and an extensive alumni network may be huge factors where you choose to earn your master's. But one of the most important variables to consider is a program's return on investment (ROI). It is essential to pick a school with an enviable ROI, as this will ensure that the time and money you dedicate to earning your MBA are not for naught. Given the considerable cost of higher education, it is important to attend the school that will give you the most bang for your buck.
The Best Dallas MBA Return on Investment
Cox School of Business – Southern Methodist University
At the SMU Cox School of Business, students can expect an admirable rate of return on the cost of education. The tuition rate of $45,976 per year for the two-year program is among the most enviable in the U.S. The average graduating salary for MBA's was $96,587, which is more than double the yearly cost of tuition. This school is also ideal for students hoping to global perspective, as students at Cox have the opportunity to participate in an international MBA exchange program, which allows them to continue their education in Latin America, Europe, Australia, or Asia. Simply put, SMU Cox doesn't just provide one of the best Dallas MBA return on investment opportunities, but one of the best in the country overall.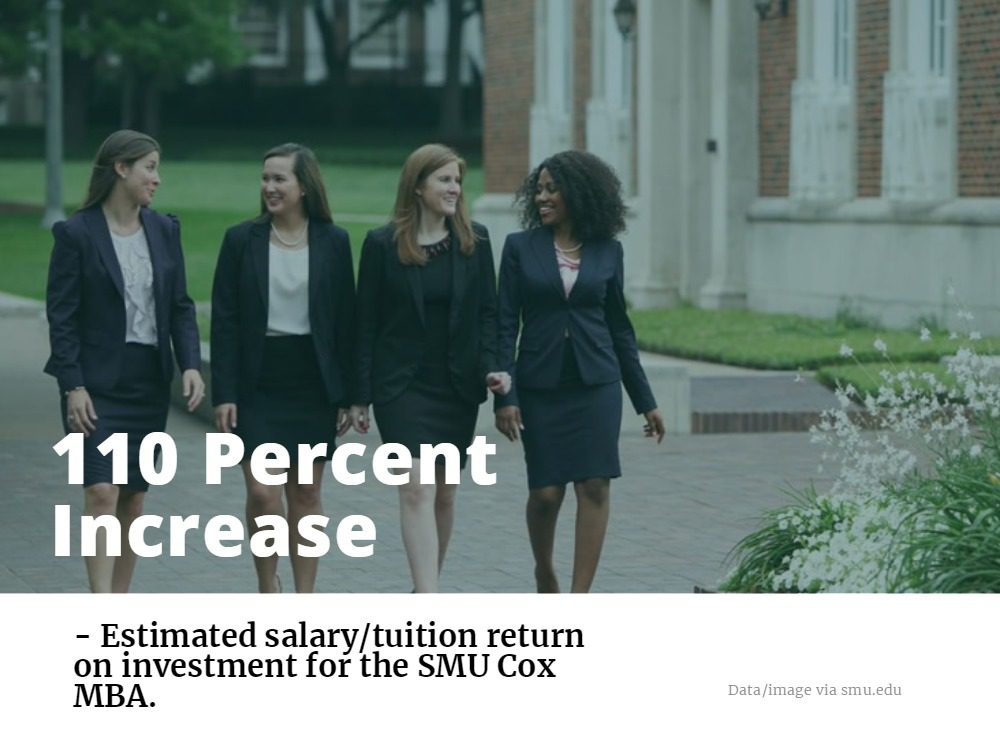 Hankamer School of Business – Baylor University
Baylor's Hanker School of Business is another excellent option for students seeking a respectable ROI. The full-time program can span from 16 to 21 months, with a tuition of $20,597 per semester (over about three to four semesters, depending on course load and core requirements met during undergrad). According to Hankamer's website, the average starting salary for MBA graduates in 2017 was $73,314. Additionally, Hankamer's Career Management team is nationally-ranked, and can provide extra support for students seeking help with job placement.
McCombs School of Business – University of Texas at Austin
The MBA program at the McCombs School of Business currently costs $30,750 per semester, bringing the total tuition to about $123,000. The cost will is steeper for non-residents (closer to $189,000). Though the cost of tuition at McCombs is nothing to sneer at, neither is the reward. In fact, the most recent MBA class had an impressive average starting salary of $117,068. McCombs, which is also one of the largest business schools on this list, also has an extensive alumni network, which includes the CEOs of Southwest Airlines (Gary C. Kelly) and Heinz (William R. Johnson).
Naveen Jindal School of Management – University of Texas at Dallas
Like many of the schools we mentioned on this list, the Naveen Jindal School of Management has a solid track record when it comes to ROI. Tuition for the full-time MBA program is just $32,998 for in-state residents and $64,332 for non-residents. In addition to the reasonable cost, the school's website states that 80 percent of students receive scholarships that cover an average of 45 percent of the total program cost. In 2017, U.S. News & World Report stated that the school's MBA program, "… had the highest salary-to-debt ratio among ranked business schools." According to the article, average starting salary for graduates (of those who were employed within three months of graduation) was $86,644.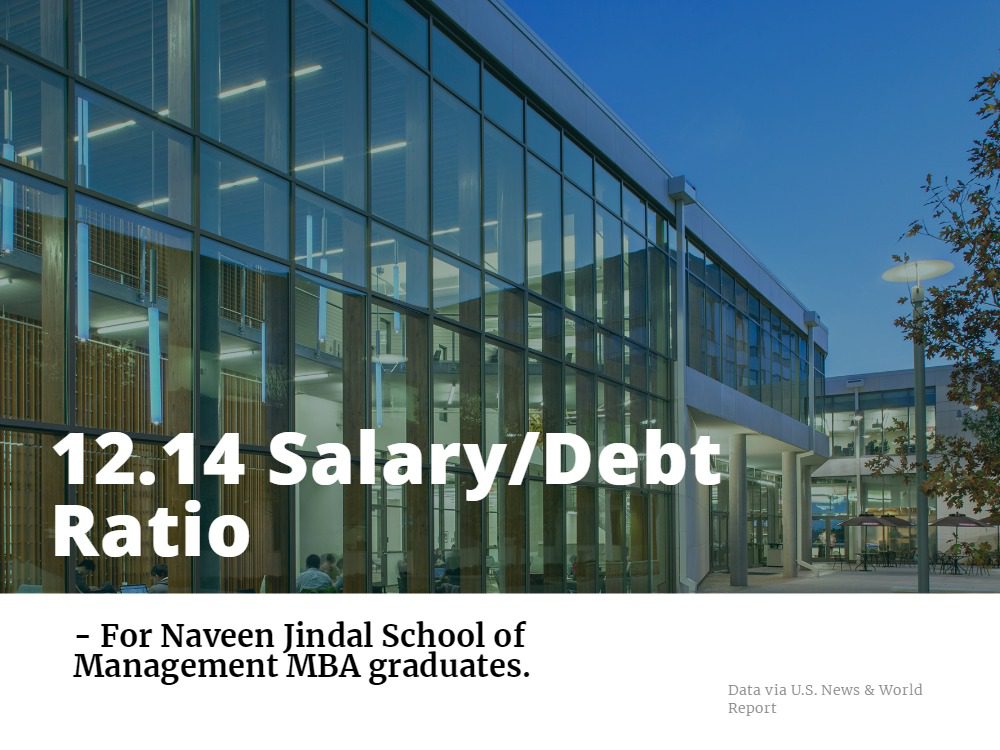 Neeley School of Business – Texas Christian University
At TCU's Neeley School of Business, the average starting salary for the most recent graduates of the full-time MBA program was $93,093, surpassing the total tuition of $88,020. Moreover, Neeley boasts a 92 percent employment rate 90 days after graduation. Recent graduates have taken jobs at renowned companies like Ernst & Young and IBM. In addition to standard core classes, Neeley introduces a great deal of experiential learning into the curriculum. At the end of their first year, students participate in an Integrative Project that offers them the opportunity to apply their skills to real-world business obstacles via a week-long simulation.
About the Author