Finding Philly's Best MBA Return on Investment

It's no secret that Philadelphia's relatively low cost of living has historically made the Birthplace of America an attractive option for those in search of a big city experience outside the skyrocketing markets of other major East Coast cities.
As people flock from the New York metro region in search of a similar urban adventure at a substantially lower price point, Philadelphia has been controversially dubbed the "6th Borough." Word to the wise for potential b-school interlopers: never tell any Philadelphian their home has been annexed by New York City.
About 90 minutes by train from New York City, the City of Brotherly Love is no Big Apple, but it's one-of-a-kind. Sure, tourists and locals alike grip cheesesteaks in one hand while pumping their fists on the steps of the Art Museum a la Rocky, but the city reveals itself to those who have the patience (and wherewithal) to dig into it.
Whether that means embarking on a two-year MBA program or choosing among the accelerated options available, Philadelphia just happens to be home to several top ranked MBA programs in the world. Let's take a close look at Philly's programs. Oh, and here's a napkin for the wiz.
Philadelphia Return on Investment 
University of Pennsylvania's Wharton School of Business
Officially the oldest business school in the U.S., The Wharton School at the University of Pennsylvania boasts well-known alumni billionaire financier Ron Perelman, LinkedIn CEO Jeff Weiner, and John Sculley of Pepsi and Apple. Wharton's tuition of $136,420 and estimated total budget of $195,085 isn't to be taken lightly. However, full-time MBA graduates earn an average base salary of $130,000 with an average bonus of $20,500, and a supreme 92.6 percent job acceptance rate. So, while having a somewhat unimpressive salary-to-debt ratio, Wharton's reputation and alumni network precedes itself.
In fact, the school recently topped the annual Forbes best full-time MBA program list, sporting the best five-year financial gain after graduation. Wharton MBA graduates of the Class of 2012 are making a $225,000 average annual salary—roughly 42 percent higher than recent grads, easily topping the cost/debt ratio of the program.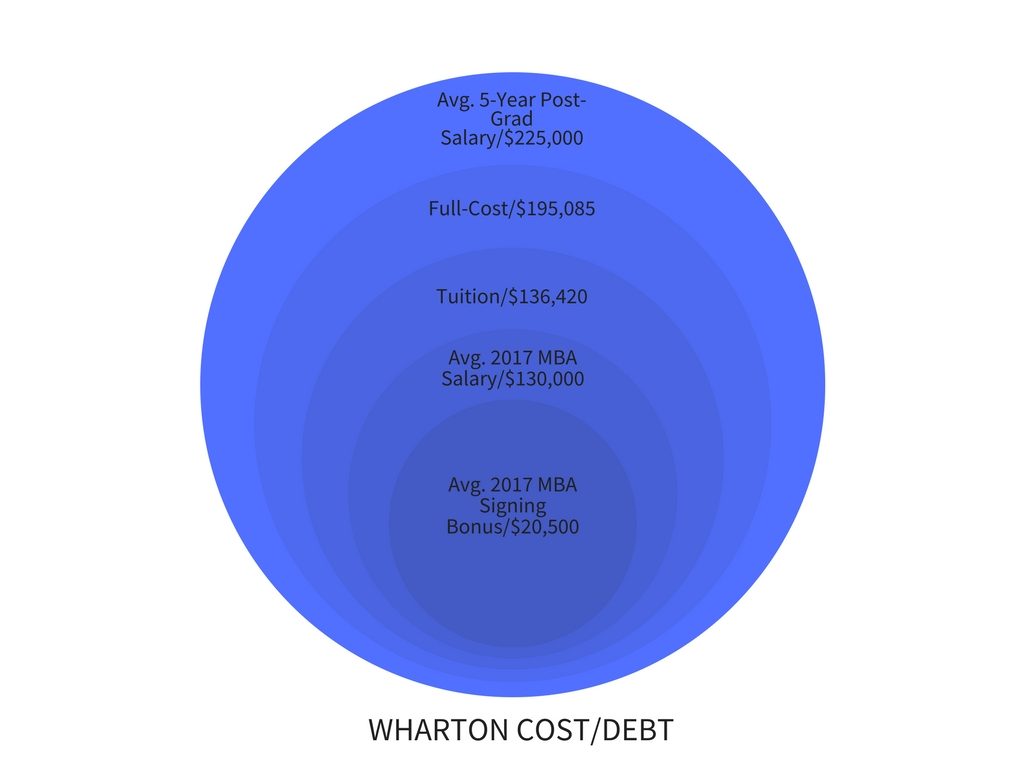 Saint Joseph's Haub School of Business
Notable alumni of Haub School of Business at Saint Joseph's University include CEO of NutriSystems, Inc. Michael J. Hagan, Chairman and founder of Philadelphia Consolidated Holding Corporation James J. Maguire, and Senior vice president of PNC Bank Denise Viola-Monahan. SJU's $30,294 tuition set against an average base salary of $65,000 means the school offers a competitive MBA to those who don't want to break the bank.
Temple's Fox School of Business
Fox School of Business at Temple University's notable alumni include Systel CEO Jai Gulati, former COO and president for ConocoPhillips John Carrig, and CEO of Actavis and co-founder of Health Care Compliance Association Brenton L. Saunders. Fox's tuition sits at $57,048 for residents and $80,484 for nonresidents. With a 97 percent job placement rate compared to $25,623 average debt and a $85,278 average base salary, Fox's salary-to-debt ratio looks attractive.
Drexel University LeBow College of Business
The LeBow College of Business at Drexel University alumni include President and CEO of Rohm and Haas Raj Gupta, former CEO of Science Applications International Corp. Kenneth C. Dahlberg, and the Phillie Phanatic Tom Burgoyne. Tuition is $59,565, and graduating MBAs carry an average debt of $43,894. With a reported average base salary of $84,080, LeBow's salary-to-debt ratio is competitive. Considering the comparatively low price point, LeBow emerges as an incredibly attractive ROI.
---
---
University of Delaware Lerner College of Business
A short 20-minute train ride from Center City Philadelphia and under two hours from New York City, the Lerner College at the University of Delaware has an eye-catching reported average base salary of $90,291. Compared to tuition, which ranges from $33,000 to $55,000, depending on residency, Lerner's ROI could shine through if figures hold true for most MBA earners from this institution.
Penn State Smeal College of Business
Although its central campus is located in Happy Valley, PA, the Smeal College of Business at Penn State offers an executive MBA program in Philadelphia. The program is priced at a hefty $102,000, but average graduate debt is reported at $36,500, and median salaries ranging from $97,890 to $101,857. With such an impressive salary-to-debt ratio, Smeal is an attractive option for those who prefer easy metro access rather than living in the thick of the action. Notable alumni include Chairman and CEO of Petroleum Products Corp. John Arnold, and Former Chairman and CEO of Merrill Lynch & Co. William Schreyer.
About the Author