The Best Long Angeles MBA Return on Investment Bets

Return on Investment (ROI) is one of the most important factors a prospective MBA can take into consideration when choosing the right business school.
Of course, the true value of each MBA program may ultimately be something impossible to measure. The kind of connections made through professional networking, the soft skills that students attain which help them navigate through both their personal and professional life—these aren't things that can be easily quantified. But, thankfully, factors like average salary increase, rate of post-graduate employment and the overall tuition of a program are. And these numbers can help students start to better see an overall picture of what each MBA is worth.
The Best Long Angeles MBA Return on Investment
The Marshall School of Business – USC
The Marshall School of Business at the University of Southern California is consistently one of the top ranked MBA programs in the state of California and even throughout the country. Specific ROI aside, these sorts of honors should also be a factor when considering the overall value of the program: for example, Marshall has been named the third best program for "Most Satisfied Business School Graduates" by Forbes and sixth on The Economist's ranking of "Best Alumni Networks."
Based on tuition for the 2017-18 school year, the total expense (tuition, fees and living expenses included) to pursue a full-time MBA at Marshall would be $95,881 for the first year and $82,522 for the second, for a total of $178,403.
Now take into consideration the fact that the average salary for graduates of Marshall's full-time MBA program within three months of graduation is $115,309, and that the large majority of job offers (38 percent) for MBA students came from on-campus recruiting or job postings through the university. The second highest source of employment (21 percent) came from internships held while in the MBA program. Furthermore, a number of top organizations—such as Apple, AT&T, and Walt Disney Studios—hired the graduates of Marshall's 2016 MBA class. All of these factors boost the overall ROI of Marshall's program, making it one of the top valued programs in L.A.—even with the high price tag.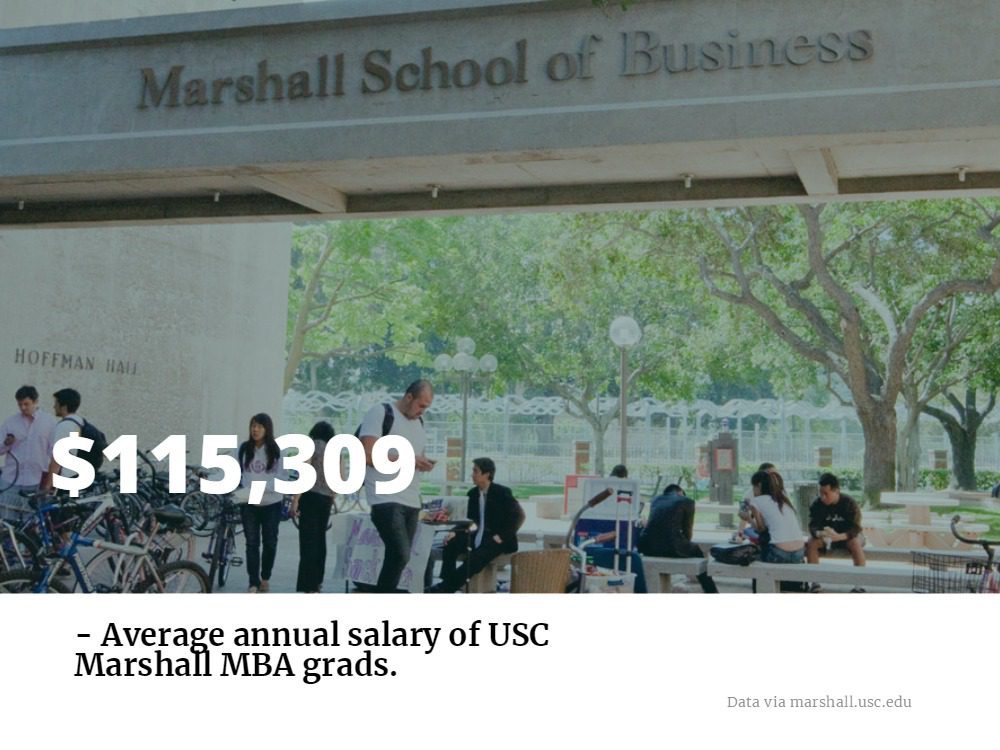 Anderson School of Management – UCLA
The Anderson School of Management at UCLA is another program which offers a high ROI when considering the types of opportunities and salaries available to students after graduation. While the tuition cost is certainly high—roughly $194,220 (including fees and living expenses) for the the two years of the program, the benefits to students are undeniable.
A look at the full-time employment report for the most recent MBA class finds that 92.4 percent of students were offered full-time employment within just three months of graduation, with 87.7 percent acceptances. By far (72.2 percent) , students found their employment opportunities through Anderson-facilitated resources, such as internships, on-campus recruiting, or from UCLA Anderson alumni and classmates.
The salaries for graduating Anderson students also reveals a positive trend: the average post-graduate compensation was $118,150, with 70.6 percent of students earning signing bonuses of up to $89,500. The connections sewn by Anderson internships and alumnae also reveal a significant payoff in the types of organizations hiring Anderson alum: companies like NBC Universal, IBM, Barclays, Google, and other major corporations now have Anderson MBA graduates on staff.
The Paul Merage School of Business – University of California, Irvine
The UC Irvine Paul Merage School of Business is one of the top business schools in the Los Angeles metro area, as evidenced by its consistently high rankings from various publications, such as the Financial Times and U.S. News & World Report.
With the program's recognition for its high lifetime earnings combined with the relatively low cost the degree, it's no surprise that that the program at UC Irvine produces a high return on investment. The estimated total annual cost of an MBA at Merage ranges from $67,422—$83,967, depending on if you whether or not you are a resident of California and whether or not you will be using campus. This is compared with an average post-graduate salary of $97,808 for the 2017 graduating class. About 50 percent of all students were employed by graduation, and 81 percent held full-time jobs within three months.
Graziado School of Business and Management – Pepperdine University
One of the reasons Pepperdine's Graziado School of Business boasts such a high return on investment is the many different formats in which students can pursue a full-time degree. With the opportunity to take the full-time MBA over the course of 12, 15, or 20 months, the Graziado MBA typically costs less overall ($74,250 for the 12-month program, $99,000 for all others) and means less time away from a full-time paycheck.
Combine this with the success rate of 82 percent of students accepting job within three months after graduation and a $120,000 starting salary (at highest), and its understandable why Graziado graduates find incredible value in their degree.
About the Author