USC or UCLA? Which Business School Is Right For You?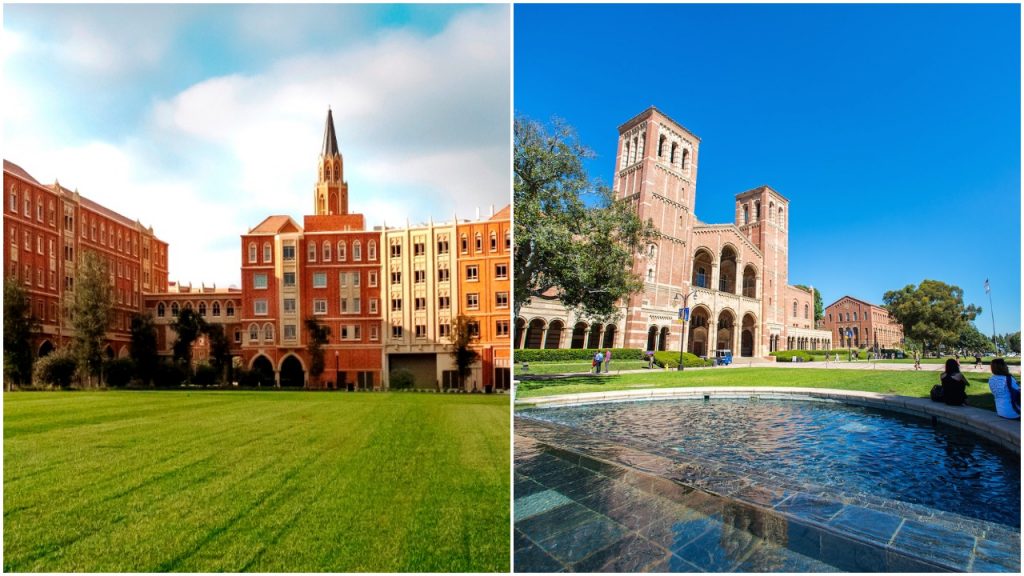 If you are in the midst of choosing your perfect MBA program, it's likely you've already considered factors like cost, location, and prestige. But even within each of these categories it can be difficult to narrow down your selection to just one perfect school. Some of the nation's top MBA programs can be found just within California, considered one of the best states for higher education. Today, our School v. School comparison will take a look at two of these top California programs: UCLA Anderson and USC Marshall.
UCLA Anderson School of Management
UCLA Anderson MBA Programs
The UCLA Anderson School of Management offers a number of unique opportunities for students to pursue their MBA degree. The traditional full-time MBA takes two years to complete, including real-world business research and a collaborative student environment. Anderson also offers a three-year Fully Employed MBA Program (FEMBA); a part-time flexible program for working professionals to pursue their education while still being able to maintain employment full-time. For experienced professionals with several years of experience, Anderson's Executive MBA offers an advanced management education during a two-year long program. Finally, Anderson offers the unique Global EMBA, a degree offered by UCLA Anderson and the National University of Singapore over 15 months to prepare top managers for roles in multinational organizations.
Why Anderson?
Anderson's MBA program focuses on creating leaders and enhancing communication skills through courses like Leadership Foundations and Management Communications, and resources from the highly-ranked Parker Career Management Center
100 percent of students seeking professional internships during their degree receive them, with 52.9 percent of all internships landed through on-campus recruiting opportunities. On average, Anderson interns make a monthly salary of $7,224.
The capstone field study project encourages students to gain hands-on experience. Students may apply for the Applied Management Research program, which allows them to research and provide insights for a real-world client, or participate in the Business Creation option, which gives teams of students the chance to launch their own business.
UCLA Anderson v. USC Marshall Rankings
| | UCLA Anderson | USC Marshall |
| --- | --- | --- |
| U.S. News & World Report (U.S.) | 16 | 20 |
| Financial Times (Global) | 25 | 59 |
| The Economist (Global) | 6 | 40 |
| Forbes (U.S.) | 15 | 33 |
What is Missing?
When compared program by program to Marshall, Anderson lacks the flexible and accelerated opportunities that USC provides, with no online or year-long programs available.
With a smaller percentage of acceptance, Anderson is a more competitive admissions process than Marshall, accepting just 20 percent of applicants while Marshall accepts 33 percent.
Marshall and Anderson have a nearly identical gender distribution, but Anderson may have farther to go when it comes to integrating a female perspective. Just three years ago a study highlighted issues of discrimination and bias against female faculty
USC Marshall School of Business
Marshall MBA Programs
USC Marshall also offers a variety of MBA programs, including degree options that allow for greater flexibility and less time commitment than those at Anderson. Similar to Anderson, Marshall offers a two-year full-time MBA program for early career professionals as well as an three-year part time MBA for Professionals & Managers. There is also an Executive MBA available at Marshall over the course of 22 months for middle to senior level managers. Marshall also provides more flexible degree options: the IBEAR MBA is a 12-month program in general management for mid-career professionals, while the Online MBA allows students to complete their degree online over the course of 21 months.
Why Marshall?
USC Marshall is dedicated to creating and funding research opportunities for its students. Between 2014 and 2015, $687 million was dedicated to sponsored research.
On average, MBA graduates earned salaries of $115,309 three months after receiving their degree, and there are more than 375,000 USC alumni association members throughout the world.
The full-time MBA at Marshall offers students the opportunity to specialize their degree, as well as offering a number of dual degree programs, such as a dual J.D./MBA, MBA/MPl, MBA/MSW, and many more.
Marshall offers students an unmatched global education with PRIME International Experience Learning, a required 10-day site visit overseas as part of the Global Context of Business course.
What is Missing?
While the cost for a full-time MBA at both Marshall and Anderson are similar, the price tag for the Marshall executive MBA program is significantly higher, at $108,814 for the degree compared to $74,235 at Anderson.
At $115,000 per year, the average salary for graduates from Marshall is slightly lower than those at Anderson.
USC Marshall v. UCLA Anderson Cost
| | UCLA Anderson | USC Marshall |
| --- | --- | --- |
| Tuition (for two years) | $117,176 | $115,351 |
| Full Cost | $194,220 | $178,403 |
Both USC Marshall and UCLA Anderson are two of California's top business schools, some featuring the best MBA programs on the west coast. Between the two schools, major features such as overall cost and prestige differ only slightly. Marshall may have the edge when it comes to flexibility in MBA programs, offering an online and accelerated option unavailable at Anderson, and is a strong school for those interested in a global education. However, for students interested in entrepreneurship who seek strong resources and career support after graduation, UCLA may be a better fit.
About the Author