Denver or Portland: Which City Should I Choose?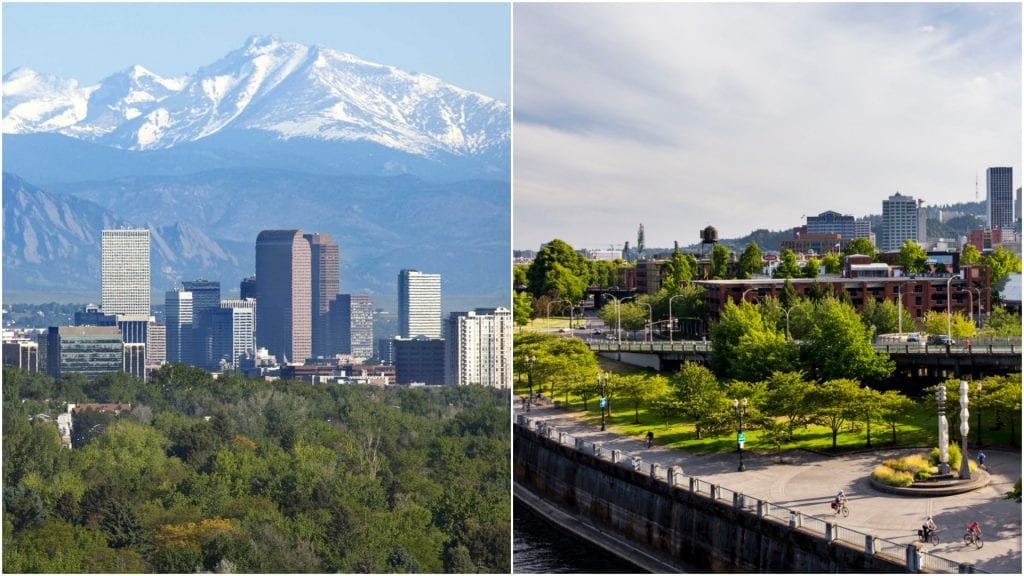 So you've narrowed down your list of 'must-haves' for your MBA program and possibly your future roots. You need beautiful weather, dozens of options for outdoor fun, nightlife, food and drink, an innovation economy, and a competitive cost of living. You're down to two: Portland and Denver. How should you choose? Here we'll try and offer you a hand by comparing Stumptown and the Mile High City on a few important points.
As we've discussed in previous stories, the Portland economy is on the rise. Heavy hitters in tech, retail, manufacturing and many other industries all have their headquarters in Portland. Ranked in Forbes' "Top Five Places for Business and Careers," the city also boasts one of the largest knowledge based economies in the country.
Denver is equally appealing for its diverse industries and highly educated population. Of course no mention of Denver would be complete without acknowledging its burgeoning legal cannabis economy, in which MBAs can thrive.
Denver or Portland: By The Numbers
According to bestplaces.net, the overall cost of living in Denver is slightly less than in Portland. The unemployment rate is a half of a percent higher in Denver than in Portland, which could help you to put a check in its 'pros' column. Also, recent job growth in Denver comes in at 2.8 percent, compared with Portland's rate of just under one percent. Some other facts and figures:
Median Household income: $62,000 in Portland, $60,0000 in Denver
Median Home Cost: Both cities are substantially higher than the U.S. average, with Portland at Portland at $223,000 and Denver at $222,000
Population by Occupation: 18 percent of Portlanders are in management, finance, and business careers, and 20 percent of Denver residents are. This is above the national percentage which is fifteen. Engineering and tech careers each have a similar number of residents, at around 8 oercent of the population.
Notably, Portland has a 0 percent sales tax, where Denver's is at the high end of the national average at 8 percent.
Denver or Portland: Business Schools
Oregon State, University of Oregon, Portland State, and Willamette University all have highly ranked MBA programs. Specialty studies in sustainable tech and social impact have a home in these schools, along with the traditional gamut of finance and management concentrations.
University of Colorado's Denver Business School, University of Denver's Daniels College of Business, and Colorado State University's College of Business all offer a similarly diverse group of specializations for working professionals and full time students.
Denver or Portland: Top Companies
Along with Nike, Boeing, Columbia Sportswear, and manufacturing company Daimler, Portland has an amazing array of startups that b-school grads will find appealing. Denver too is a location rife with opportunities for entrepreneurs. The city has has its own fair share of startups, with Wunder Capital (solar energy project management); Wurk (HR and payroll management for the cannabis industry); Quantum Metrics (data analytics and machine learning apps); and Radar Relay (cryptocurrency trading) at the top of the list.
Culture, Weather, Transportation
Denver is a no-brainer for those who like to hit the slopes in the winter for skiing or snowboarding, and if that's not your thing, there are hundreds of options for white water rafting, hot springs, hiking, and zip lining.
Portland has all of the above too, with Mount Hood nearby, along with some of the country's most beautiful forest landscapes for hiking and mountain biking. No discussion of Portland can be completed without talk of the rain—it has a whopping 26 percent more rain than Denver throughout much of the year. But the same extreme can be found in Denver with snow. The Mile High City has nearly 30 percent over the national average and 57 percent more than Portland.
And as we've seen in our earlier explorations, Portland is home to a rich music, arts and food and drink scene, with distilleries, breweries, and coffee offering amazing opportunities for entrepreneurs.
About the Author