MBA in the UK: Is London or Manchester Right For You?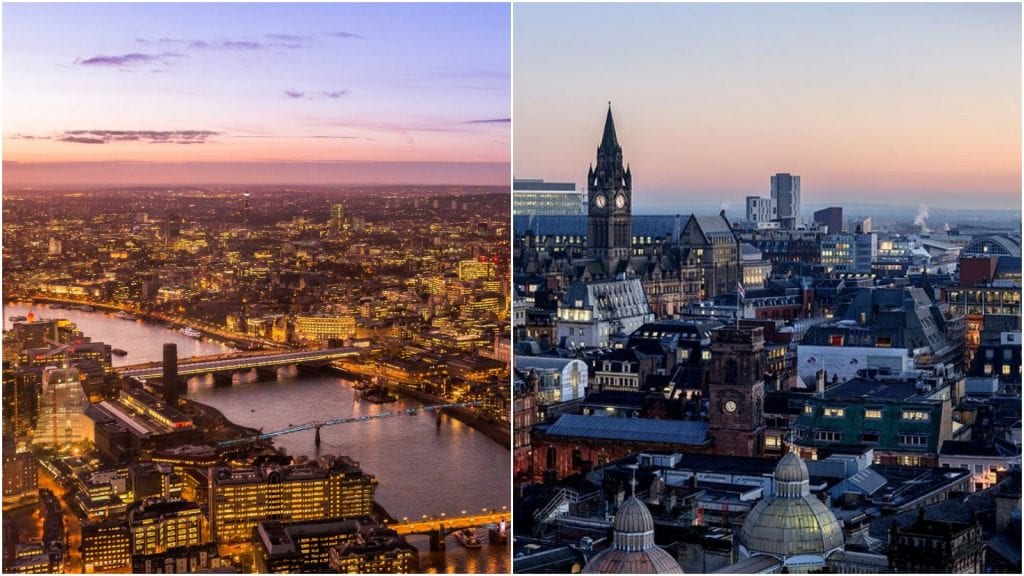 With close to 9 million residents, London has the fifth-largest metropolitan economy in the world and is responsible for producing 22 percent of total GDP in the United Kingdom.
The city is home to the second-oldest central bank in the world, The Bank of England, and an expansive financial service industry network. Gold and precious metal trading, insurance, money markets, derivatives markets, and international bank lending activities together make London an economic powerhouse.
Manchester, one of the world's first industrialized cities, is a fast-growing region in the UK today. The Greater Manchester area produces 7 percent of financial services yield in the UK and has a total GDP of £62 billion.
Many top companies are headquartered in Manchester, as well as over sixty banks. Manchester ranks second in terms of British global financial influence.
All indications point to Manchester's economy continuing to grow, even with Brexit on the horizon. According to Manchester City Council, the business growth rate in greater Manchester is three times the national average.
We have reviewed top MBA education choices in both of these international cities.
London Schools

The London Business School offers an MBA, Master's programs in Management, Finance and Analytics, Executive Education, and PhD programs. London Business School was ranked number one business school in Europe five years in a row by Financial Times.

Cass Business School holds a triple-crown accreditation from AMBA, EQUIS, and AACSB. Financial Times European Business School Ranking awarded Cass 2nd place in 2018. Cass is known for a balanced approach using practical and theoretical education for undergraduate, MBA, MSc, PhD, and Executive Education Programs.

Imperial College London has a strong focus on research and innovation in the areas of science, medicine, engineering, and business. Imperial College London's MBA program was ranked number one in the UK and second overall in the world by QS Online MBA rankings 2019.

University of Westminster has a multitude of program offerings with an emphasis on a global approach. In addition to full degree programs, University of Westminster has professional and short courses in focuses such as Accounting, Finance and Economics, Business, and Management.
Manchester Schools

Alliance Manchester Business School emphasizes research and has centers focused on Sustainable Consumption, Work and Equities, and well as Health Policy and Organization. The Financial Times ranked AMBS MBA program tenth in Europe, 36th in the world, and fourth in the UK.

Salford Business School is accredited by EPAS for postgraduate Finance and Management suites of programmes and CEEMAN for School organization. Salford Business School has a truly international approach and attracts over 3000 international students per year. Salford Business School offers business, finance, and law programs.

The London School of Business & Finance Manchester offers an Online Global MBA with specializations in Finance Management, Carbon Management, Innovation and Technology Management, and Hospitality, Sport and Tourism Management to name a few. Program duration is 18-36 months. London School of Business & Finance is accredited by ACCA and CIMA and has more than 30,000 students and alumni worldwide.
Manchester Metropolitan University offers undergraduate, graduate, Continuing Professional Development programs, and an online Global MBA. In 2012, an award-winning, environmentally sustainable business school building and Student Hub was opened. Manchester Metropolitan University has a strong emphasis on diversity and equality, having made inclusion a top priority.
About the Author