Ireland's Top 5 Companies for MBA Graduates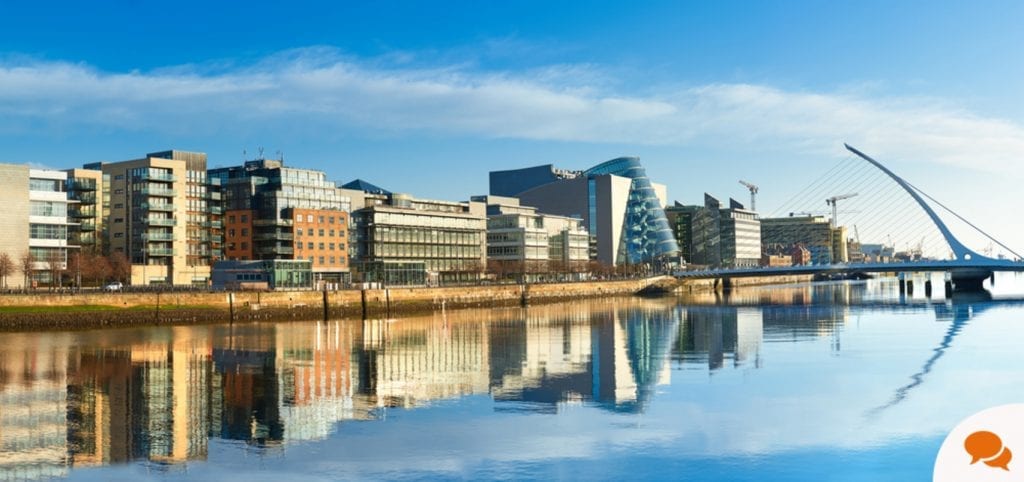 Ireland is one of the most beautiful countries in the world, without a doubt. Nicknamed the Emerald Isle, it's widely considered a friendly and welcoming place to live and work. The country is also home to one of the youngest populations in Europe, making it a great location for graduates.
After the global economic downturn in the early 2000s, Ireland bounced back well. It grew three times faster than any other European country in 2017 with an unemployment rate of 6 percent. Ireland also has a very high standard of living and is home to many multinational companies in a variety of sectors: technology, IT, engineering, energy, finance, and tourism.
For MBA graduates, there are quite a few top Ireland companies to consider.
The Top Ireland Companies for Business School Grads
Medtronic
Medtronic is a global leader in medical technology and services ranked #150 on the Forbes 2000 list. Since 1981, the company has had a headquarters in Ireland and employees more than 4,000 people across the country. Most jobs can be found in Galway, Dublin, and Athlone.
For MBA graduates, Medtronic has a leadership development rotation program. Employees in Ireland can work in R&D, customer innovation, product development, manufacturing, and marketing. The company looks for graduates who want a challenging career in medical technology. There's a current opening for a Senior Employee Relations Specialist in HR with five to seven-plus years of experience.
Accenture
Accenture is an Irish multinational professional services company in strategy, consulting, digital technology, and operations. It's a Fortune Global 500 company that's incorporated in Dublin, Ireland and more than 459,000 employees worldwide. It ranks 248th on Forbes 2000 list and 298th on Fortune 500.
Year after year, the company is recognized as a leading worldwide employer. For MBA graduates, Accenture offers a great opportunity for internships as well as employment. There's a global MBA program for Accenture strategy that offers current students and graduates a chance to gain a depth and breadth of experience across the company. Current job opportunities include a Mergers and Acquisitions Specialist role in Ireland.
Johnson Controls
Johnson Controls is a multinational conglomerate headquartered in Cork, Ireland. The company produces fire, HVAC, and security equipment for buildings and employs 105,000 people in 2,000 locations around the world. It's listed 389th on the Fortune Global 500 list and 299th on the Forbes 2000.
MBA students and graduates will enjoy Johnson Controls for its unique internship and co-op programs. In Ireland, there are internship opportunities in research & development, software engineering, finance, payroll, human resources, and business support. As for graduates, there are current openings for a Total Rewards Analyst who has an MBA and one year of experience as well as a Sr. Director and Head of IT Operations.
CRH plc
CRH plc is a manufacturer and supplier in the construction industry. The company is primarily listed on the London Stock Exchange with a secondary listing on the Irish Stock Exchange. It employees more than 77,600 people across 31 countries around the globe, manufacturing a diverse range of building materials and products. The current headquarters is in Dublin, Ireland.
For MBA graduates, there are positions in a range of categories including marketing, IT, engineering, production, HR, logistics, sales, procurement, and supply chain. There are also internship positions for operations management, quality control, accounting, and more. Currently, there's a job opening for a Performance & Reporting Specialist in Procurement who has a master's degree and one to three years of experience.
Eaton Corporation
Eaton Corporation is a multinational company that was founded in the U.S. but has its corporate headquarters in Dublin, Ireland. The company employees more than 99,000 people in industrial manufacturing and sells its products in more than 175 countries. The company is 361st on the Forbes 2000 list with a revenue of $21.6 billion a year. Eaton has two business sectors: industrial (hydraulics, aerospace, and vehicle) and electrical.
For MBA graduates, Eaton has a Leadership Development program and an Early Talent Program for recent grads. These two-year rotational programs allow MBA graduates to get their feet wet by working in two different manufacturing facilities in a range of industries, including HR, Supply Chain, Engineering & Technology, Finance, and Operations.
Additional Ireland Companies
Google, Facebook, and Apple all have headquarters in Ireland.
Google's Dublin headquarters currently has 185 jobs available across business strategy, finance, marketing, technology, and more.
Facebook's Dublin office is a thriving hub that serves the entire EMEA region. There are currently 154 open positions in HR, Communications, Marketing, Accounting, and more.
Apple has a Cork, Ireland facility, which employs more than 6,000 people. Jobs include marketing, project management, data scientist, customer support, and more.
About the Author