Top MBA Recruiters: HSBC
HSBC is a multinational investment bank headquartered in London. It's the seventh-largest bank in the world and the largest in Europe, with $2.5 trillion in total assets. A financial services holding company, HSBC traces its origins to Hong Kong where it first opened a branch in 1865. Now, it has more than 3,900 offices serving 38 million customers in 65 countries around the globe.
As an international firm, HSBC is focused on diversity and claims that it is at "the heart of our business." The bank aims to create an environment where everyone can reach their potential no matter their background or where they work around the globe. This is why it should be no surprise that HSBC is ranked 49th on Forbes' list of the "World's Most Valuable Brands."
HSBC Career Prospects
HSBC offers a supportive and inclusive environment to develop a fulfilling career. For over 50 years, the company has hired ambitious individuals looking to make a strong contribution to HSBC's long-term sustainable growth. You can work in a range of departments and roles including business, technology, legal, or communications.
As for the type of people HSBC hires, the company says, "We are looking for people who are keen to learn. You will find countless opportunities to train and acquire new skills, ranging from formal training and qualifications to on-the-job experience and mentoring."
There are a range of fields you can work in globally, including, but not limited to:
Accounting & Finance
Analytics
Asset Management
Capital Markets
Corporate Banking
Digital
Funds Management
HR
Investment Banking
Marketing
Operations
Procurement
Project Management
Real Estate
Strategy
Wealth Management
HSBC Salary and Benefits
The company offers market-competitive benefits. In particular, the company is well known for offering work flexibility, with 49 percent of employees saying they work flexibly. They have invested significantly in technology and infrastructure to make it easier for their employees to work flexibly.
On the job training, experience, and mentoring are also highly important to HSBC. In 2018, more than 6.2 million hours were spent on formal training programs for employees. They have global policies designed to enhance skills and create opportunities for growth.
In fact, in 2017, the company launched HSBC University, a learning hub for the bank. It's an intranet site with a broad range of courses that employees can explore at their own pace. There are also dedicated learning spaces and facilities for training in Birmingham, Dubai, and Mexico City.
As for what you can expect to earn, on average, salaries range from $50,716 to $157,370. Senior Product Managers are some of the highest-paid employees earning $123,951 on average. Other high-paying roles include: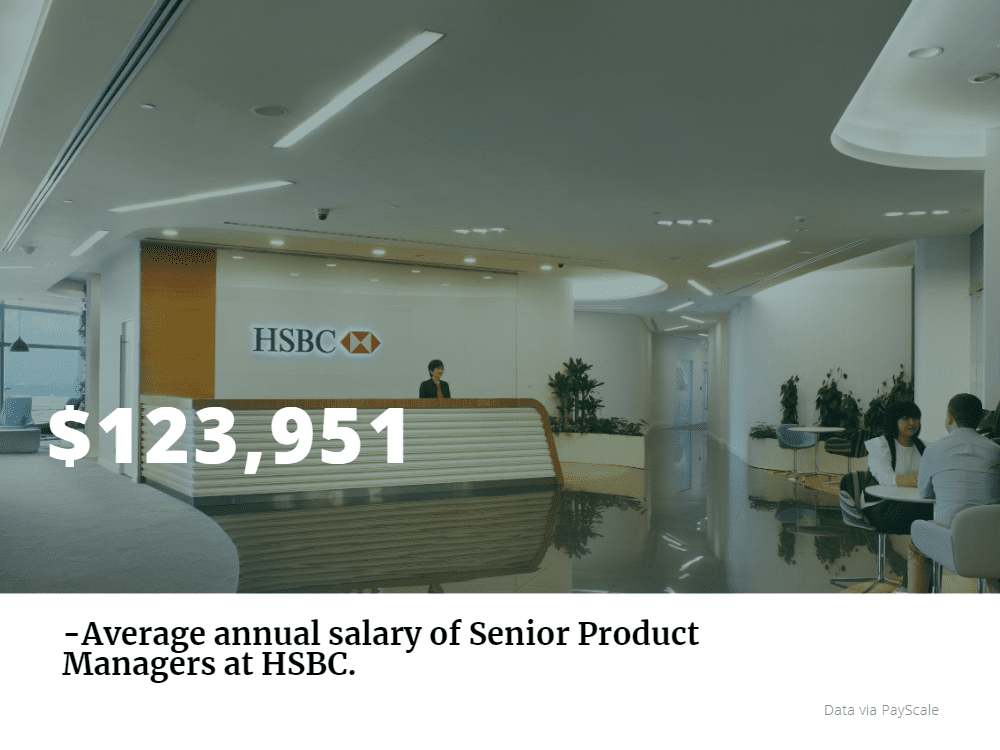 HSBC Employee Sentiments
For the most part, it seems that HSBC employees enjoy their jobs and the company overall. On Glassdoor, out of almost 12,000 reviews, 73 percent of employees would recommend HSBC to a friend, 84 percent approve the CEO, and overall they give the company 3.7 out of 5 stars. Here's what employees had to say about their careers.
PROS
1,441 people said that work/life balance was a part of the company's culture.
610 people said that they enjoyed the working environment.
352 people said that they had good benefits, a stable job, and great colleagues. "Great benefits, great coworkers, help people all day." —Digital Contact Agent
215 people loved the ability work from home or other flexible options. "Flexible working hours, nice benefits" — Senior Vice President
CONS
383 people warned of long working hours and overtime.
244 people claimed that senior management was very difficult to communicate with.
119 people said that compared to other similar employees the pay was low.
Getting a Job at HSBC
For current MBA students and recent MBA graduates, there are many opportunities to start a successful career at HSBC. In particular, there are Global Graduate Programmes designed to help recent graduates gain the skills and experience they need to progress in their career. There are multiple options for the graduate program, including:
Global Banking and Markets
Commercial Banking
Global Private Banking
Retail Banking and Wealth Management
Technology
Global Operations
Programs are typically two years in length and will place recent graduates in a fast-paced, dynamic environment where you'll have a chance to learn more about HSBC and build trusted relationships with clients.
There are also many global internship opportunities for MBA students. Typically lasting between one and sixteen weeks, these internships will help students explore the various career options available at HSBC and give students the experience they need to hit the ground running post-graduation. There are internships available around the world in a range of fields, including:
Global Banking and Markets
Commercial Banking
Global Private Banking
Retail Banking and Wealth Management
To apply for a job at HSBC, you'll be asked to go through a number of steps.
Prepare your CV
Take the online assessment (immersive online assessment and job simulation)
Complete your telephone or face-to-face interview
You can learn more here.
About the Author