Top MBA Recruiters: Siemens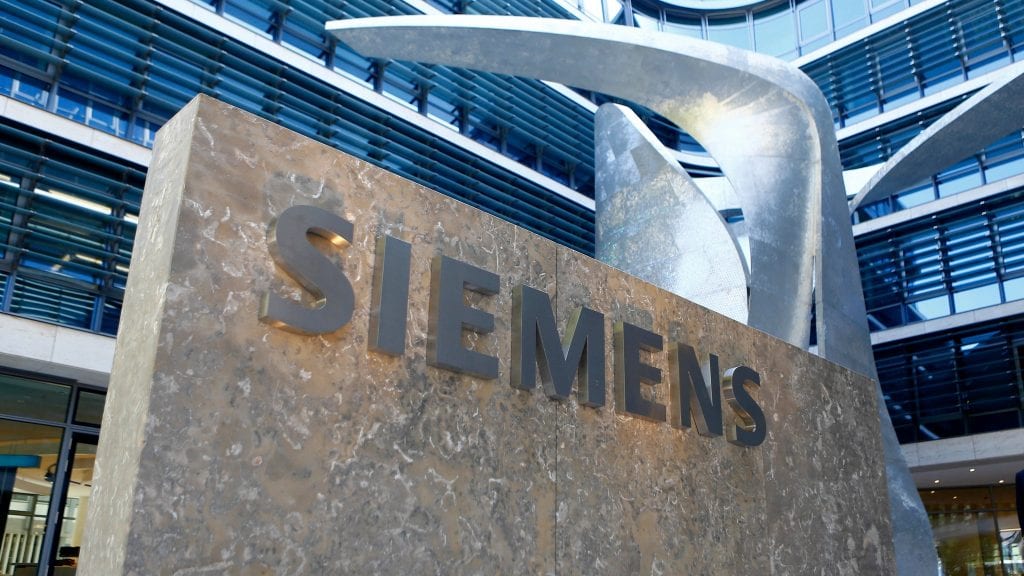 As the largest industrial manufacturing company in Europe, Siemens has a reputation for developing quality products from power generation technology to building automation, medical technology, railway vehicles, fire alarms, and PLM software. The Munich-based company was founded 172 years ago in 1847 as a multinational conglomerate with offices all over the world. Which means working at Siemens post-MBA graduation is very attractive.
In this article, we'll take a look at what it's like to work at Siemens, including the recruitment process, current job openings, salaries, employee reviews, and company culture.
About Siemens
Siemens and its subsidiaries employ around 385,000 people worldwide with global reported revenue of almost €87 billion. With operations in 200 countries spread out amongst 285 production and manufacturing facilities, there are plenty of opportunities for employment. Some of Siemens' most prominent locations include:
Germany
Brazil
China
India
Middle East
USA
Well known for its innovative new products, Siemens is a particularly attractive company for MBA graduates interested in healthcare. The company's medical and diagnostic equipment division generates 12 percent of the company's total sales—the second-most profitable division after industrial automation.
Culture of Siemens
"Siemens is one of the most diverse workplaces I have seen. Getting to interact with people from all over the world and learning how to effectively deal with new challenges every day is really exciting. The work-life balance here is great too, there's a lot of flexibility with work hours and schedules, which is really unique."

Rangan Majumdar, Engineer USA
"One of the great things for me about working at Siemens is that you're given the opportunity to improve yourself. Whether that be through training or education or just progressions in your job and career, there's always an opportunity there if you want to pursue it to try and find something better."

Greg Smith, Sales Manager UK
Siemens Salaries
According to PayScale, the average salary at Siemens is $82,000. However, it's a much larger range depending on your job function and title. With a master's degree, you can expect to earn between $57,000 and $114,000. Project Managers earn an average of $85,482 while Financial Analysts earn $71,025.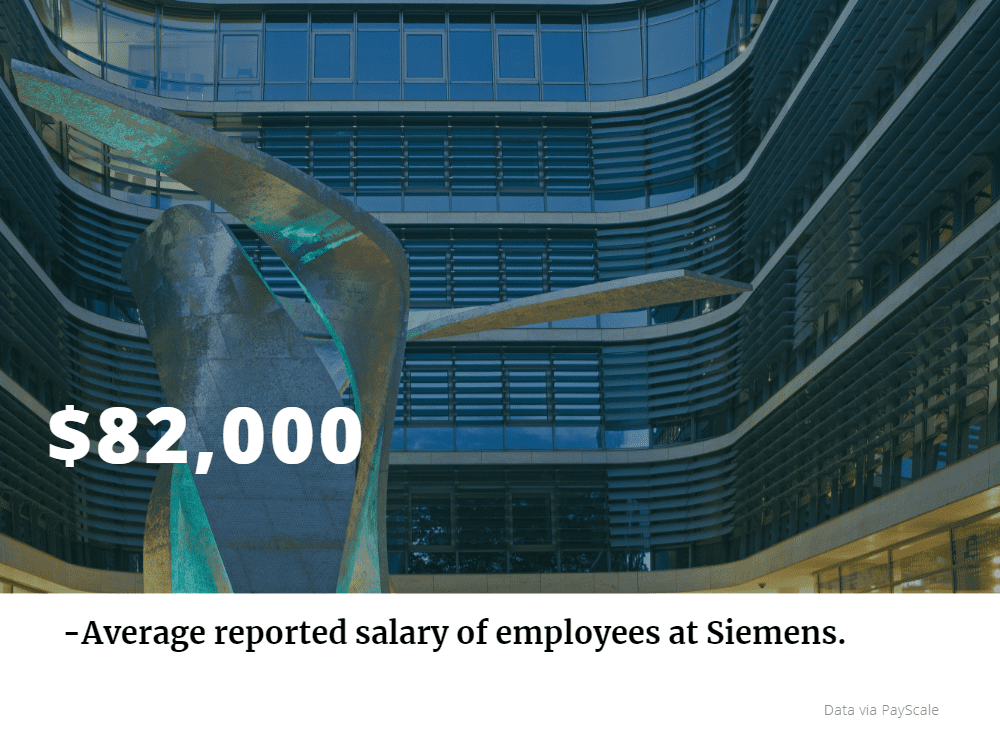 Siemens Career Opportunities
There are many career opportunities and programs available to recent MBA graduates. In fact, Siemens has an entire career division designed to help young professionals kick-start their career after school.
Siemens' Apprenticeships and Dual Study Programs are open to technical, IT, and commercial professionals. You'll start in one of these programs by studying the basics and then applying what you learned in a training center. Think of it as a work-based education program that's available in 20 countries around the globe.
If an apprenticeship isn't the right move for you, there are many more talent programs that you can take advantage of at Siemens. A few of the stand out options include:
CEO* Program: This program is designed for the best and most talented individuals in their fields. Almost every candidate has an MBA from a top institution such as INSEAD, Wharton, MIT Sloan, or IMD. From there, the most talented individuals are selected to take part in the 24-month program where they are tasked to complete three projects while supervised by top executives.
Finance Excellence Program: If you're a recent MBA graduate looking to impact the world of finance and become a successful CFO, this is the program for you. Over two years, you'll work in both strategic and operational finance functions around the world, receiving the training you need to become a senior financial leader.
Siemens Graduate Program: Over two years, the Siemens Graduate Program allows professionals to tackle three challenging assignments in more than 1,700 locations worldwide. At the start of the program, you'll be assigned a mentor and develop a career path based on your qualifications and interests.
Recruiting at Siemens
At Siemens, it's never too soon to begin your career. The company offers a range of internships for undergraduate and graduate students interested in exploring a range of career paths. You can participate in both a 12-month industrial placement and a 3-month summer placement internship across a range of functions, including:
Mechanical Engineering
Electrical Engineering
Manufacturing
Software Engineering
Research and Development
Quality, Health, and Safety
Human Resources
Communications
Finance
Business Development
Information Technology
Internships are offers in 25 major offices and 13 manufacturing sites in the UK. You'll follow a structured program that will help lay the foundation of your career.
Applying to Work at Siemens
Complete your online application, including submitting your CV.
Take a games-based assessment of your behavioral traits and cognitive ability to see if you fit the Siemens culture.
Complete a video interview with the Talent Acquisition team.
Participate in a final strengths-based interview in-person at an assessment center and take part in a group exercise.
About the Author