Sep 17, 2018

There's always new and exciting job opportunities out there for MBAs. Whether your a seasoned business professional who sought an MBA to reach a high level position, or a new MBA grad looking for an entry level consulting job, here's this week's top new MBA jobs.
Jul 16, 2018

What's going on in Boston this week?
---
The Harvard Business Review recently explored how managers can best support employees to "take care of themselves emotionally while also making sure they are doing their work."
Annie McKee, author of How to Be Happy at Work and a senior fellow at Penn's Graduate School of Education, offers three helpful suggestions:
Set a tone of compassion in the office. It will not only give your employees confidence to approach you with struggles, but also give you the ability to spot warnings signs.
Be creative with solutions. A flexible schedule may allow a person to maintain their output without much disruption.
Check in from time to time, both to reassure the employee and to make sure that further adjustments or accommodations aren't needed.
You can read the full article over at HBR.
MIT Center for Information Systems Research's Kristine Dery is currently studying how agile management—the increasingly popular management methodology adopted by the likes of Microsoft, Ericsson, and Spotify—relates to the employee experience.
MIT Sloan School of Management senior lecturer and industry liaison Carine Simon writes, "The traditional method of managing, the waterfall method, which is very inflexible, planned-in-advance, linear, and not iterative at all, wasn't lending itself at all to the flexibility and the adjustments that were necessary to make great software."
Simon adds, "[Agile is] iterating with customer feedback, prototypes, and tests, versus taking some requirements and issuing the product maybe a year later, when the customer's requirements have changed or technology has evolved."
Many companies have taken note of agile's prevalence and begun to "ask whether the method's practices and philosophies could be scaled up to apply with equal success to other projects or even entire business functions," according to Simon and Dery.
Simon continues, "In customer-centric processes where customer input is key, and in that sense it's quite uncertain or fast-changing, then those would be the types of areas in a firm that lend themselves to agile."
Check out the full article here.
BU Questrom School of Business' Siobhan O'Mahony was recently awarded a 2018-19 Batten Fellowship by the Batten Institute for Entrepreneurship and Innovation at University of Virginia Darden School of Business.
The Batten Fellows program, according to Darden, "provides support for prominent thought leaders and high-potential scholars who seek to generate new knowledge about entrepreneurship and innovation."
O'Mahony, an Associate Professor of Strategy & Innovation and Academic Director of Research and Curriculum for Innovate@BU, explores how "technical and creative projects organize for innovation."
O'Mahony plans to use her fellowship to "research entrepreneurial ecosystems and how those systems influence entrepreneurs and their efforts around venture creation."
Read all about O'Mahony's fellowship as part of the full article here.
Jul 5, 2018

Being a woman in business isn't easy. While the industry works to improve gender equality, there is still a long way to go. Currently, women only hold 18.1 percent of directorships at publicly held companies. According to the latest report from MSCI, a research and analytics firm for investors, it could be until 2027 before women fill 30 percent of those roles.
And women in business school face similar struggles. Just five years ago, only three of the top 25 schools in the United States had 40 percent or more women enrolled in its MBA programs. And while, currently, nearly half have reached that mark, gender parity is still a ways off. Part of the struggle has to do with female leaders in business school. Currently, there's only one female dean at a top-tier business school, and there are few other women who've made it to the top of their business schools as deans.
The challenges faced by female business school leaders are myriad, which is why we felt it was so important to recognize those women who've become prominent leaders in business schools around the world. Continue reading…
Jun 5, 2018

Let's explore some of the most interesting stories that have emerged from Boston business schools this week.
---
The MIT Sloan School of Management recently hosted an Innovation Period workshop entitled "Music Making as Effective Teaming Tool," which focused on leadership training through music. The workshop was developed in conjunction with New York nonprofit Found Sound Nation, which uses "collaborative sound-making as a tool to help enhance communities and build bonds."
MIT Leadership Center Associate Director Abby Berenson explains, "Through music-making, they create a sense of community and a sense of teams, and through teams, this leadership practice. That's really at the heart of what we try to bring for any of the SIP workshops we do."
Sloan MBA student Faye Cheng added, "Being able to experience failure in a low-risk setting gave [me] new insight into how it can open up new avenues for creativity and innovation. It didn't have to be a perfect sound, it was just 'Let's try things out and layer them on.' In real life, it can be more daunting to fail in that way or make a decision and have to undo it later."
You can read the full article here and listen to the students' songs below.
The Harvard Business Review recently published an article by HBS Organizational Behavior Ph.D. candidate Alexandra C. Feldberg and UVA Darden assistant professor of marketing Tami Kim in which they explore the prevalence of racial and gender bias within customer service.
As part of their ongoing research, Feldberg and Kim "audited 6,000 hotels in the U.S. by sending email inquiries from fictitious email accounts that signaled senders' race and gender. By systematically examining replies to these inquiries, we observed that frontline employees were less responsive to nonwhite customers and objectively less helpful and friendly. In other words, compared to white customers, black and Asian customers received worse quality service."
They offered four effective strategies that large companies can implement to combat racial and gender bias:
"Develop anticipatory service protocols." In other words: "standardize scripts and develop rules."
"Develop channels for employee feedback" to accommodate any new customer service issues.
"Emphasize not just "best" service," which the researchers argue can be "onerous and subject to interpretation," but "equal" service.
"Diversify employees' experiences … through hiring and employee rotations."
You can read the full article here.
The Simmons School of Management blog recently re-published an interview with associate professor Edward T. Viera, Jr., whose 2017 textbook on applied statistics raised a number of interesting questions related to how big data and statistics can be utilized in the health care industry, for instance.
Professor Viera explains, "Statistics allows us to analyze complex problems and provide reliable results, which humans cannot as easily do. Statistics offers the tools to "objectively" analyze a situation so that we can make reliable, data-driven, informed decision … with unprecedented precision."
He adds, "Through the use of health care analytics, which deploys advanced software and hardware technologies, we can monitor and adjust our research or treatment based on the collection of data in real time."
Check out the complete interview with Professor Viera here.
Mar 20, 2018
Clear Admit recently explored which business schools help prepare MBAs the most for a career in consulting, which you can read below.
---
With starting salaries in the $140,000 to $150,000 range and a customary $25,000 signing bonus on top of that, it's no wonder so many business school students target the prestige consulting firms known as the "MBB"—McKinsey & Company, Boston Consulting Group (BCG), and Bain & Company—as their post-MBA landing pads. That $170,000+ annual compensation package can quickly cut any MBA loan debt you may have taken on down to size.
Indeed, management consulting has been one of the most coveted career paths for fresh MBA grads for ages. And though the technology industry has in recent years been stealing some grads from the consulting industry's traditional slice of the pie, the most recent MBA employment reports reveal that consulting is already making a comeback against tech at certain schools.
The opportunity to work with a range of clients comprised of many of the world's most celebrated businesses across industries—tech included—is part of the appeal of consulting. In many ways, a top consulting gig allows MBA grads to continue their management education while getting paid for it—and further honing their skills and expertise by helping solve a wide variety of business challenges. And, not for nothing, breaking into the MBB is a highly competitive pursuit—one that almost assures that your colleagues will be smart, driven people you'll get a lot out of working with.
Finally, where the top consulting firms are choosing to find their talent reflects on the quality of the education those schools' students are getting. In many ways, the hiring practices of the MBB can serve as a gold star standard of sorts for MBA programs.
Elite Firms Hire Grads from Elite Business Schools

The crème de la crème of leading business school talent has headed toward the top consulting firms for decades—and performed well there—creating a virtuous circle of sorts in which the firms' appetite for such talent only grows. And while this piece focuses on MBB, we should note that a host of other consulting firms—Deloitte, A.T. Kearney, Accenture, Strategy&, and Oliver Wyman among others—are also highly prized post-MBA destinations.
If you are looking to see which business schools send the greatest percentage of their graduates into consulting overall, don't miss our September 2017 analysis of leading consulting industry feeder schools. Which schools top the list? And what stands out about how these schools successfully train students for careers in consulting?
Looking at Class of 2016 graduates, the University of Virginia's Darden School led the pack, with 38 percent of its graduates heading into consulting. Columbia Business School was next, sending 35 percent, followed closely by Northwestern University's Kellogg School of Management, which sent 33 percent.
The 2017 employment reports, which have been released since our analysis last fall, show some shifts year over year. Darden tied with Emory's Goizueta School of Business in terms of the percentage of Class of 2017 grads who headed into consulting, with each school sending 34 percent. Close on their heels were Columbia, Duke's Fuqua School of Business, Northwestern's Kellogg School of Management, and Dartmouth's Tuck School. All four sent 33 percent of their most recent graduating class off to consulting firms.
2 Non-U.S. Schools Lead All Others in Consulting-Bound '17 MBA Grads
But year after year, one thing remains the same. INSEAD, with campuses in France, Singapore, and Abu Dhabi, beats all leading U.S. business schools when it comes to consulting. INSEAD's 2016 MBA employment report, detailing employment outcomes for December 2015 and July 2016 INSEAD grads, shows that 46 percent went into consulting. And the most recent figures reveal that almost a full half—49 percent—of the 1,029 students who completed the INSEAD MBA program in December 2016 and July 2017 chose to either enter or return to the consulting field.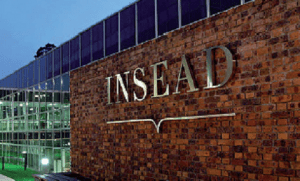 We should note here that INSEAD is distinct from many other schools in that it includes sponsored students who are returning to their pre-MBA employers among its hiring stats. This is in contrast to many U.S. schools, where the reported number and percentage of students hired by sector and employer corresponds to those students actively seeking employment, excluding sponsored students. Of the 49 percent of INSEAD 2017 grads headed into consulting, 33 percent were new hires and the remaining 16 percent were returnees.
London Business School (LBS) was the runner-up for the Class of 2017, sending 41 percent of grads into consulting. This was a 6 percentage-point gain over the school's previous class of MBA graduates. Like INSEAD, LBS's reported sector designation and top employer information includes sponsored students, only its employment report does not disclose what percentage of the class those returning students represent.
Dec 6, 2017

Columbia Business School (CBS), together with Columbia Engineering, yesterday announced a new full-time Master of Science in Business Analytics degree. Distinct from CBS's MBA degree, the new program features a three-semester curriculum and is really geared toward students who want to learn the modeling techniques and data science tools that help businesses use data to influence decision making. A unique capstone project will serve as a key element of the new program, through which students will work with actual clients and relevant data sets to put the skills they've learned to work helping solve those companies' real-world business problems. The capstone course will extend over the full three semesters of the program.
The program was developed jointly by faculty at both CBS and Columbia Engineering, and the resulting curriculum is designed to prepare graduates to excel in careers both as consulting analysts and associates and as business analysts and data scientists in fields including financial and professional services, technology, advertising and media, and other professions that require both a deep understanding and practical application of data analytics.
"By tapping into the vibrant and diverse business ecosystem that can only be found in New York, Columbia Business School and Columbia Engineering are uniquely situated to offer this new Master's degree," CBS Dean Glenn Hubbard said in a statement. "We see this as a must-do program for any future business person who wants to have a leg up in using data to make informed business decisions."
CBS Enters an Already Crowded Field
Columbia is far from the first to announce a new data analytics master's program—and it likely won't be the last. It joins a long and growing list of other leading business schools that have sensed demand from both students and recruiters for programs that marry some of the skill sets of the MBA with the deeper study of data science and analytics that engineering faculty can provide.
MIT Sloan School of Management last year launched its own Master of Business Analytics (MBAn) degree, with leadership and support from the MIT Operations Research Center. In just one year, applications to the program have more than doubled—from 300 to 800—making the degree the most competitive at the school, with an admissions rate of less than 4 percent, the school reports. And just last month Sloan unveiled a new Business Analytics Certificate program that will be open to students in all MIT masters-level programs who want more rigorous academic content focused on data science.
Not to be left out, last month the University of Virginia's Darden School of Business announced the launch of a new MBA+MSDS dual-degree program, which grants a Master of Data Science degree from UVA's Data Science Institute and an MBA from Darden in 24 months (tuition for the MBA+MSDA program is the sum of each individual program's standalone tuition). The program welcomed a pilot cohort this past summer, and Darden is currently accepting applications for the full program, which will launch in 2018.
NYU Stern, for its part, is now accepting applications for the inaugural class of a new specialized one-year Tech MBA, first announced last spring. And just yesterday Stern shared that an $8 million alumni gift will fund creation of a new center for technology, business, and innovation.
---
---
Harvard Business School (HBS), too, sees where the action's at and doesn't intend to sit idly on the sidelines. In August 2017—together with the Harvard John A. Paulson School of Engineering and Applied Sciences and the Faculty of Arts and Sciences—HBS announced a partnership with 2U, Inc. to deliver a new online certificate program in business analytics. Expected to welcome its first cohort of students in March 2018, the Harvard Business Analytics Certificate Program is designed to help business leaders—including MBA grads—keep up with and leverage the explosion of data now available in every industry.
Some Schools Were Out in Front
Of course, amid this recent flurry of activity to enhance academic offerings at the intersection of technology and business, some schools can claim clear first-mover advantage. MBA students at CMU's Tepper School of Business can opt to pursue a Technology Leadership MBA Track, a joint partnership between the Tepper School and Carnegie Mellon's top-ranked School of Computer Science—indeed, it is one of the most popular offerings in the MBA program. Tepper also offers a three-year, dual-degree MBA/Master of Software Engineering program, also in partnership with the School of Computer Science.
And Stanford Graduate School of Business has for several years offered its students the opportunity to pursue a dual degree of significant relevance to students interested in careers in tech. Its joint MA in Computer Science/MBA degree links two of the university's world-class programs and helps students develop a unique skill set ideal for becoming a manager and/or entrepreneur for new technology ventures. Stanford's program includes a year of courses at each the GSB and in the Computer Science department followed by a third year of elective courses in both programs, enabling students to shave off one to two semesters it would take to complete both degrees separately.
---
---
It Only Makes Sense
Whether beginning several years ago or just getting off the ground now, that business schools are recognizing and responding to market demand for business fundamentals married with data science know-how makes complete sense.
"The role of analytics has grown increasingly critical for most sectors of the economy," Columbia Engineering Dean Mary C. Boyce said in a press release. "Our partnership with Columbia Business School combines our strength in data science, optimization, stochastic modeling, and analytics with their strength in data-driven decision-making for business and marketing to create a rigorous new master's degree program."
What Sets Columbia's New Program Apart?
So what sets the newest program announced yesterday by Columbia apart from others in a crowded field? One distinguishing feature of the M.S. in Business Analytics is the capstone project that will put students to work on real-life consulting projects with companies using the companies' own data, the school argues. "By working on real-world consulting projects, with real-world data, students will use the modeling techniques and data science tools to provide pragmatic solutions to the practical problems that businesses are facing today," Costis Maglaras, professor and chair of CBS's Decision, Risk & Operations Division, said in a press release.
Students in the new Columbia Business analytics degree program will also have valuable access to dedicated career placement services, the school notes, starting with completing a required Professional Development and Leadership course. "The M.S. in Business Analytics combines classroom instruction by distinguished Columbia professors with the experience of working on real-world problems via the capstone project course," Columbia Engineering Professor Garud Iyengar said in the press release. "We expect this program to have 100 percent placement of its graduates as do our very successful M.S. in Management Science and Engineering and M.S. in Financial Engineering programs."
Applications are currently being accepted for the first cohort of this new M.S. in Business Analytics. Students can choose to complete the program in one year by taking a summer semester or can take three non-contiguous semesters (fall, spring, fall), which would reserve the possibility of a summer internship.
For more information about the new Columbia M.S. in Business Analytics, click here.
This article has been edited and republished with permissions from our sister site, Clear Admit.