Post tagged "new-york-city"
Jun 18, 2018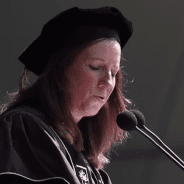 ---
New research co-authored by Columbia Business School associate professor of business Kinshuk Jerath calls into question the efficacy of search tools like broad match, which automate the process of "figuring out all the possible keywords that consumers might search for."
According to the article, paid search ad spending will reach nearly $40 billion in the U.S. alone by 2019. Jerath writes, "Tools like broad match have led to too many advertisers competing over the same keywords, because now bidding on keywords is so easy. The result is that the search engines are actually the only real winners."
In a paper entitled Keyword Management Costs and "Broad Match" in Sponsored Search Advertising, Jerath and co-authors Wilfred Amaldoss from Duke Fuqua and Amin Sayedi of UW Foster found that "broad match is only effective to a point, a threshold driven largely by the accuracy of broad match that is controlled by the search engine, not the advertiser."
"Anything that makes advertising cheaper creates more competition—and can ultimately hurt your return on investment. "
You can read more of the research here.
Deloitte CEO Cathy Engelbert, Lehigh College Business and Economics '86 graduate, used her recent commencement address to share three life lessons that stressed to graduates of Lehigh's 150th Class the importance of "always remembering what matters to them most."
Engelbert advised students to "do what hasn't been done" and "find creative, impactful ways of using new technologies for good." She said, "I encourage you to stay optimistic and play an active, key role in carving the path leveraging your uniquely human skills—like creativity, empathy, communication, and complex problem-solving."
Her second piece of advice was to "schedule your personal updates," just as one might update "various devices to ensure they are operating at peak performance."
Engelbert's third and "most important" lesson was to "stay anchored on what matters to you most."
"I'm sure many of you have a purpose you're passionate about. That doesn't end today with graduation. You can carry that through whatever you're going to do next … from graduate school to entering the workforce. There's a push to come together as social issues grow in depth, severity and priority. I challenge you to take a bold stance and make a difference in your day-to-day work."
Read the full commencement report here and footage from the ceremony below.
NYU Stern School of Business professor of marketing Scott Galloway was recently interviewed as part of a CNNMoney piece on Walmart's plan to take on Amazon as the country's preeminent universal retailer, particularly when it comes to online grocery delivery. Galloway writes:
"Walmart is the only firm that has the management, capital and the scale to compete with Amazon. They've probably done as good a job of getting off their heels and on their toes as any retailer in the world."
You can read the full story here.
May 22, 2018
Right after the eve of graduation, Columbia Business School formally introduced its newest essays and deadline dates for the upcoming 2018-19 academic year.
Columbia Business School MBA Essays (2018-19)
Goal: What is your immediate post-MBA professional goal? (50 characters)
Essay #1: Through your resume and recommendations, we have a clear sense of your professional path to date. What are your career goals over the next 3-5 years and what, in your imagination, would be your long term dream job? (500 words)
Essay #2: How will you take advantage of being "at the very center of business"? CBS urges those undertaking essay number two to watch this video from Dean Glenn Hubbard (250 words).
Essay #3: Please provide an example of a team failure of which you have been a part.  If given a second chance, what would you do differently (250 words)?
Optional Essay:  What else would you like to tell the Columbia admissions committee? You can use this space to provide your explanation if there any areas of concern in your own academic or personal history. This essay does not need to be traditionally formal and can include bullet points (maximum 500 words).
Columbia Business School MBA Deadlines (2018-19)
Early Decision (January) – October 3, 2018
Merit-Based Deadline – January 4, 2019
Final Regular Decision – April 10, 2019
May 17, 2018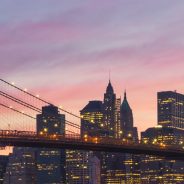 For graduating MBA students, the connections made through their university and business school program can be a crucial part of starting a career. At a top program like the Kellogg School of Management at Northwestern University, for instance, 73.9 percent of the 2017 graduating class who accepted full-time offers had the opportunity facilitated by the school. Roughly 30.1 percent of these school-facilitated offers were the results of on-or off-campus interviews.
Not only can your university be instrumental in setting up long-lasting career opportunities, but the companies that seek and recruit MBA students also play an important role. Companies like Guggenheim Partners, based in New York and Chicago with office locations throughout the world, are actively looking for talented MBA students and graduates for opportunities that could be the start of brand new career. And the best part? They'll come to you.
What is Guggenheim Partners?
Guggenheim partners is a global investment and advisory firm that believes in finding innovative solutions to deliver long-term results to their clients. The company, which is headquartered in New York City and Chicago, operates through three main businesses: investments, securities, and insurance services.
Guggenheim Partners is the culmination of years of the Guggenheim family business, dating back to the late 1800s. Today, the firm is operating with more than $305 billion in assets across a variety of managed accounts and funds. Over 2,400 professionals are currently staffed at the firm across six countries, and roughly 45 percent of the independently owned company is owned by employees themselves.
Why MBAs Love Guggenheim Partners?
One of the cornerstones of Guggenheim Partners today is their focus on finding innovative solutions to complex problems. In hiring, they seek creative people who can perform at high levels, take pride in their work and think creatively. In a word? An MBA.
Guggenheim Partners jobs might also be attractive to MBA graduates because they don't expect a long resume of professional experience to join their team. According to Payscale, the largest percentage of employees (roughly 40 percent) have between one and four years of professional experience, still earning paychecks of up to $57,000 per year, on average. For MBAs with more experience, of course, it only gets better: the average pay for employees with five to nine years of work experience reveals salaries averaging $93,000 per year.
It also does appear that the company rewards those with advanced degrees. While there is no data on employees with MBAs directly, Payscale does note that those with the company's highest salary average (around $110,000 per year) are those with Master of Science degrees.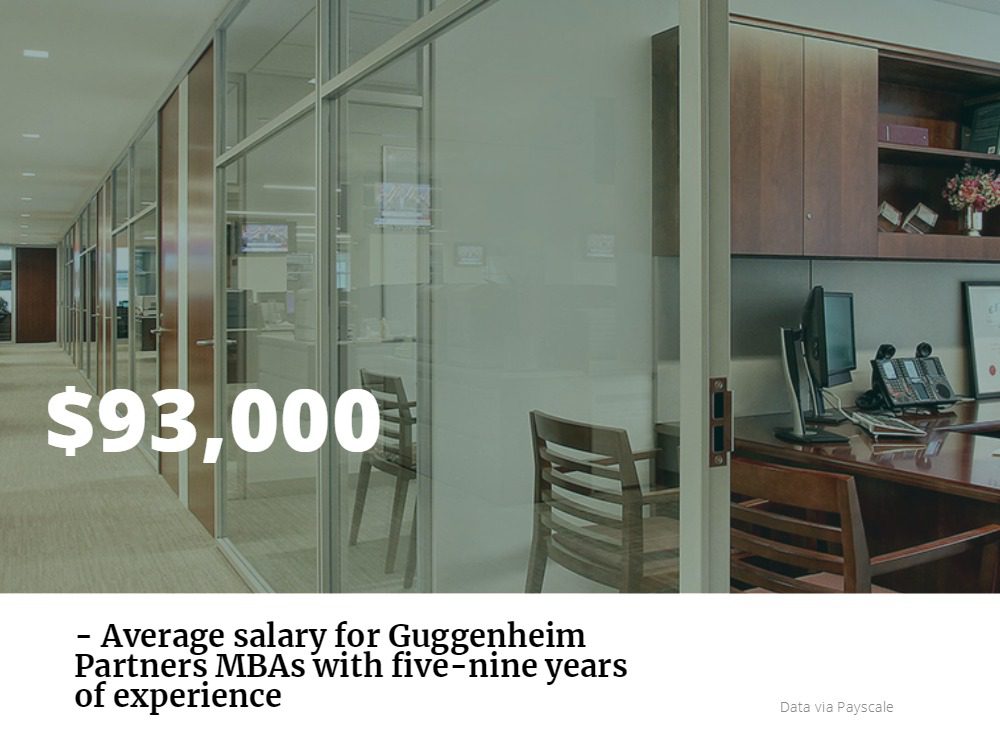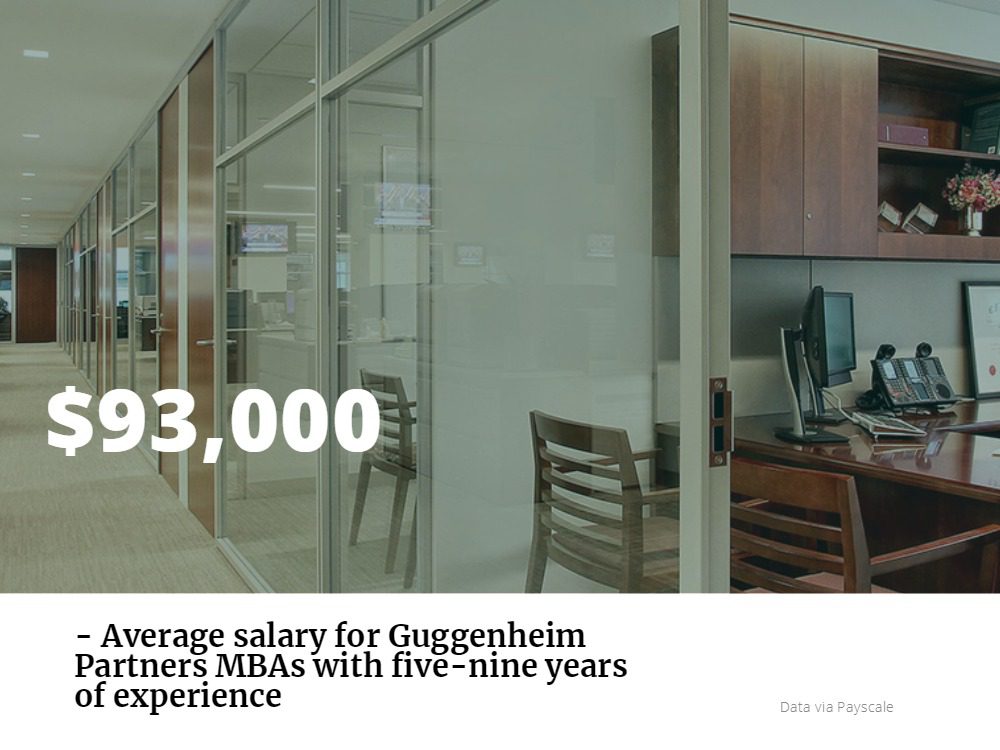 Life at Guggenheim Partners
MBA graduates looking for full-time Guggenheim Partners jobs will likely begin as full-time analysts or associates at one of several recruitment groups around the country. Groups from both the Investments and Securities segment of the company recruit full-time Analysts, such as Sales & Trading (NY and Boston), Research (NY), Corporate Credit (NY), Operations (Chicago) and several others. Those interested in full-time Associate positions will be recruited through the Investment Banking division of Guggenheim Securities, based in New York.
On Ivy Exec, a website that gathers company and employment data, Guggenheim Partners jobs received fairly high marks across the board. A full 100 percent of surveyed employees said they would recommend the job to a friend, 80 percent said it was a great place to work, and 80 percent said they are proud to have the company on their resume.
Guggenheim Partners Jobs
Guggenheim Partners recruit students for full-time jobs in their final year of study, seeking motivated candidates with an impressive academic background and strong interpersonal skills. They also look for graduates with the potential to take on leadership roles while being able to work effectively on a team.
Students can interview on campus for full-time associate or analyst positions, apply directly for open entry level roles, or get their foot in the door even sooner by joining the company's internship program. The program, which was created to provide students with "visibility and exposure into the day-to-day activities of key business units within Guggenheim Partners" goes above and beyond to create opportunities for advancement, including networking opportunities, speakers, performance evaluations and mentoring.
The Guggenheim Partners internship program is available at all office locations, though some locations offer special focuses for the internship in fields like Investment Banking, Commercial Real Estate, Corporate Credit, and more.
For a list of current opportunities available at Guggenheim Partners, you can check out their career page here.
May 11, 2018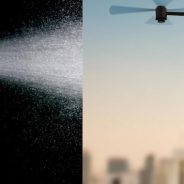 As it prepares to welcome students for orientation next week, NYU Stern School of Business has shared preliminary class profiles for its two new specialized one-year MBA programs—the Andre Koo Tech MBA and the Fashion & Luxury MBA. Stern announced the launch of the new May-to-May programs one year ago. The inaugural classes will each be made up of approximately 30 students.
Though designed for students from different backgrounds targeting diverse post-MBA career paths, the two programs do share several things in common. Each pairs traditional core curricula and specialty and elective courses with real-world projects to provide hands-on experience for students interested in careers within tech/entrepreneurship and fashion/luxury industries. They also "represent a new category of MBA and have been developed in partnership with the business community to address a talent gap," the school notes.
Real-World Immersion
Both programs prioritize experiential learning opportunities that connect students and faculty with top companies to address real business issues. Each features two immersion experiences pairing students with companies to work on projects related to consulting, product management, brand strategy, supply chain optimization, and financial forecasting.
As part of their first term, students in the Fashion & Luxury program will participate in visits to New York companies to work on live cases with industry partners. The goal of these, the school notes, is for students to emerge from their summers with a "strong foundation of problem-solving tools." The Fashion & Luxury program also features a second international immersion in the winter term.
Students in the Andre Koo Tech program will take part in summer term immersions with New York area tech companies. They will then spend their winter terms in the San Francisco Bay area as part of an immersion designed to allow them to explore the West Coast tech ecosystem and work on high-impact projects with Silicon Valley tech companies.
Preliminary Class Profile Highlights
The preliminary class profiles for each program's incoming Class of 2019 include a wealth of information about student demographics, background, experience, class sizes, and more that offer incoming and prospective students a sneak peek at what to expect.
The incoming class for the Tech MBA program is 42 percent women, making it "comparable to two-year MBA programs with the highest percentages of women," Stern notes. International students also make up 42 percent of that class. Perhaps most notable, 87 percent of students in the tech-focused MBA program will be entering with previous coding experience, many with skills in multiple programming languages.
Like the Tech MBA, the incoming Fashion & Luxury MBA Class of 2019 is also capped at 30 students in an effort "designed to maximize industry engagement…for high-touch learning and built-in 'live case studies' with companies year round," the school notes. Women make up 88 percent of the incoming class. More than half—54 percent—brings previous experience in consumer products. In terms of undergraduate study, the class includes equal percentages of former business and humanities majors, at 35 percent each.
Incoming Students Share Hopes and Expectations for the Programs
Clear Admit caught up with incoming students in each program to learn more about their backgrounds and what attracted them to the Stern one-year MBA offerings.
Nicole Imbriaco, an incoming student in the tech program, graduated from Rutgers in 2016 with a B.S. in finance and business analytics. She has experience with HTML/CSS and SQL, among other coding languages.
"I believe it will afford me the opportunity to merge my strengths within business and technology and expand my skill set equally within both disciplines," Imbriaco said. She added that she hopes the specialized MBA degree will facilitate a drastic career pivot, allowing her to focus more intensely on professional interests that have shifted since she graduated from college.
The loss of her mother during her senior year at Rutgers inspired a newfound interest in healthcare, she shared. After graduating from college, she worked at Goldman Sachs, which she says was a valuable experience that helped her redefine her career goals. "Being around some of the most intelligent people I have ever met, I realized I was being drawn towards better utilizing technology within the health/wellness industries," she shared.
Imbriaco believes the Andre Koo Tech MBA will give her a skill set that she can apply to a variety of industries. She hopes upon completing the program to use "the combination of business, analytics, and technology-focused skills to contribute towards making a difference in the fields of cancer research," she said.
Incoming Fashion & Luxury Class of 2019 student Christian Trautwein is a 2012 graduate of Brown University with a B.A. in political science. Since graduating he has worked as a merchandise manager with Walmart E-commerce. Trautwein was attracted to the one-year MBA program by the "promise & opportunity" it offers to graduates. NYU's proximity to the fashion industry was also a draw. "My desire to build a fashion brand paired perfectly with the robust program NYU Stern has built," he said.
More details about Stern's new one-year MBA programs, including how to apply, can be found here. In their inaugural application cycles, these programs featured slightly earlier application deadlines than the two-year MBA program, with a September 15th first deadline, a November 15th second deadline, and a January 15 third deadline. Deadlines for the 2018-19 application season have not yet been posted.
---
This article has been edited and republished with permissions from our sister site, Clear Admit.
May 9, 2018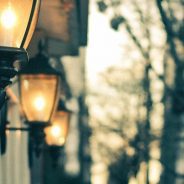 Let's explore some of the most interesting stories that have emerged from New York City business schools this week.
---
Lehigh University College of Business and Economics management professor Liuba Belkin's work was recently cited by NBC News regarding a potential new NYC law that would effectively ban workers from being forced to reply to after-hours emails and other messages. The reason behind the proposed law is that the increasingly common practice in the U.S. is decreasing work-life quality, which was a provincial point of Belin and co-author William J. Becker's study "Exhausted, but Unable to Disconnect: After-Hours Email, Work-Family Balance and Identification."
The potential new law would not effectively ban those from sending messages after hours, but being forced to work off-the-clock would be subject to a fine of around $500 for each offense. France, NBC News writes, passed a similar law in 2017 "requiring businesses with 50 or more employees to negotiate after-hours email rules with workers, potentially allowing them to ignore post-work correspondence."
Human resources manager Steve Wang thinks the lofty comparison to France's work culture is not as easy in the U.S. The country has stricter labor laws, instituting 35 hour max work weeks, and a law preventing people from working 4.5 hours straight without any breaks, for instance.
Click here to read more about the law and Belin's study.
Four of the best health care MBA programs reside in New York; three of which fall right inside the five boroughs. Columbia Business School, the Zicklin School of Business at Baruch College, the Stern School of Business at NYU, and the SC Johnson Graduate School of Management at Cornell in Ithaca each offer exemplary healthcare management learning options for any hopeful MBAs, some of which are coupled with dual degrees.
Find out more about the best healthcare MBAs you can find in New York here.
Cornell University's SC Johnson Graduate School of Management recently hosted Carlyle Group co-founder and former Marriot VP of Finance and Development Daniel A. D'Aniello at this year's Lewis H. Durland Memorial Lecture.
D'Aniello used the talk as an opportunity offer invaluable entrepreneurship, stewardship, and mentorship advice to Johnson students from his distinguished career as co-founder of one of the world's largest investment firms. He also "emphasized the importance of humility in recognizing one's errors and understanding how to spend one's time." He elaborates:
"Allocate your valuable time to things that are going to scale, grow, and become profitable. Time is your highest opportunity cost."
You can read more highlights from D'Aniello's talk here.
May 7, 2018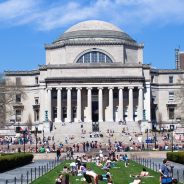 New York City is not only home to a number of the finest business schools in the world—it's also where you can find some of the best healthcare programs this country has to offer. Continue reading…
May 1, 2018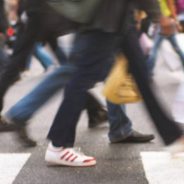 Some students want to complete their MBA coursework as quickly and efficiently as possible—time is money after all! Continue reading…
Apr 30, 2018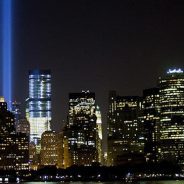 Let's explore some of the most interesting stories that have emerged from New York City business schools this week.
---
Rutgers Business School recently published the incredibly unique and singular story of how Art Certosimo, RBS alum and Senior Executive VP of Bank of New York-Mellon heading the Global Markets Group, almost single-handedly saved the US Treasury market in the immediate aftermath of 9/11.
After Art extricated his team to a temporary base in New Jersey on the 12th, Art quickly understood that he needed to procure a "massive fiber-optic cable to the data center in New York City" or risk a meltdown of the entire U.S. Treasury Market and "the possible demise of the credibility of U.S. sovereign debt."
"Art and Tom Renyi, CEO of BNY (another Rutgers graduate, and dear friend of RBS and REMBA) had a conference with Colin Powell, Donald Rumsfeld, Dick Cheney and a host of 4- and 5-star generals, and explained to them that this was 'priority #1' for that day, 9-12."
You can read the full account of the event here.
Fandango, Exult, Xchanging, Accretive Health, and Accolade founder Michael Cline recently took part in the Gabelli School of Business Speaker Series at the school's Lincoln Center campus to share his insights on the "major milestones that occur over the course of starting a new venture."
Cline explained that the entrepreneurial journey "looks more like an inverted bell curve, swooping down for quite some time before slowly creeping back up until the idea becomes something the creator is proud of creating."
Gabelli undergrads reportedly got a lot of Cline's lecture. Undergrad Zach Zimmerman, BS '19 writes, "It was great to see Mr. Cline's perspective as a serial entrepreneur and understand the emotional roller coaster behind creating anything great. When you get in a 'swamp of despair,' which happens with any great project, it is important to stay focused, driven, and persistent."
Get the full scoop on Cline's talk here.
The Lehigh University College of Business and Economics recently hosted its two-day 2018 Symposium on Teaching and Learning in which staff and students presented new interdisciplinary research techniques and classroom strategies.
Just a few examples include "journalism students using drones to tell stories; biology students exploring the body in virtual reality; urban studies students using outdoor spaces as labs for testing ideas to improve city life; and students in organic chemistry making tutorial videos for their peers."
Sarah Stanlick, Lehigh professor of practice in sociology and anthropology and director of the CCE, hoped that the symposium opened people's eyes to "some really interesting, innovative pedagogues, the fact that research can be really impactful outside of the university, that there are partnerships and ethics and humility that need to be brought into these lifelong learning collaborations and that there is power in higher ed to be world-changing."
You can read more about the symposium here.
Apr 25, 2018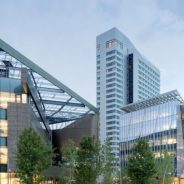 More students at Cornell's Johnson Graduate School of Management have been able to spend a semester of their time in business school studying at the Cornell Tech campus in New York City thanks to a generous gift by Cornell alumnus Richard G. Schneider (B.S. '70).
The gift went toward subsidized housing costs for around 25 Ithaca-based students who took part in Cornell Tech's New York City fintech and digital marketing intensives. The intensives took place during the first seven weeks of the spring 2018 semester and offered MBA students the chance to collaborate and learn from each other in the heart of the Big Apple.
Schneider has spent 35 years in consulting, 25 of those at Deloitte Consulting LLP. At Deloitte his primary focus was on the consumer products and healthcare/life science industries, but he also led the firm's consulting strategy practice for seven years and was responsible for all MBA campus recruiting for five years. Although his MBA is from Harvard Business School, he served on Johnson's Advisory Council from 2006 to 2014 and remains an emeritus member.
He saw his gift as an opportunity to give back to Cornell. "I had been involved with Cornell in various ways," he said in a news release, "but this gave me a chance to play in an area that I knew a lot about—the business school world. It just gave me a chance to give back to the school and really feel like I was contributing."
Schneider's decision to invest in the New York City intensives was due in part to Johnson Dean Mark Nelson's assessment of where Johnson needed help. Nelson explained how crucial it was to make it easier for Ithaca students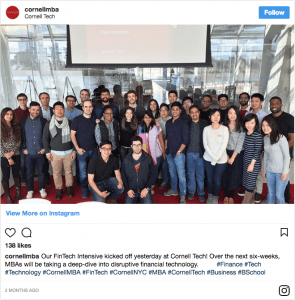 to participate in and benefit from Cornell Tech in New York City. One of the most significant barriers was affordability.
Schneider's contribution helped to make it easier for Ithaca MBA students to relocate to New York City for half a semester. It was good news for a program that has captured the imaginations of Cornell students since its inception.
According to Cristina Chang (MBA '18), who completed the fintech intensive this spring, it was one of the most rewarding scholastic experiences she's had so far.
"There are lots of events co-hosted by Cornell Tech and other organizations, such as the Women in Venture Capital symposium co-hosted with Bloomberg," she explained. "I never imagined I would have these kinds of opportunities to meet these outstanding leaders in person."
Julia Heim (MBA '18) had a similar experience in the digital marketing intensive. "Being so close to the industry in NYC has allowed our professors to get great companies and speakers to campus," she said. "Having access to the latest trends and industry knowledge is something that is so invaluable, and I am grateful for having had the opportunity to be part of this intensive."
Overall, Schneider is excited about the opportunities that Cornell Tech presents for students and believes that it "could be the biggest thing for the university … for decades."
---
This article has been edited and republished with permissions from our sister site, Clear Admit.
Feb 26, 2018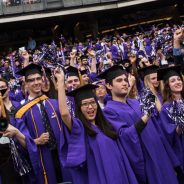 The time of the two-year MBA is coming to an end. Now, many top schools offer accelerated MBA programs that can be completed in as little as 12 months—with one school offering a nine-month MBA program designed just for business school graduates. So where you can find the fastest MBA degrees in NYC?
For most of these one-year NYC business school programs, the MBA curriculum and experience is similar to that of the traditional two-year MBA but condensed into a more intense 12-month format. These are the ideal programs for business professionals who do not have the time to take off two years of work but want the full MBA experience. Continue reading…