When to Get an MBA?

When applying to an MBA program, what you've accomplished in your professional career matters a great deal. Unlike virtually every other graduate program, including those in law, medicine, engineering, and so on, the most competitive MBA candidates (and the vast majority) don't go directly from undergrad to an MBA program. First, they join the workforce.
Many accomplished and ambitious college seniors might wonder why they can't make the more convenient move directly to an MBA program before embarking upon a career. The reason: because experience provides the context a student needs in core MBA courses like Finance, Marketing, and Strategy. The MBA student's experiences—including successes and failures, increasing responsibilities, and challenges overcome—allow him or her to come to the
program with career goals in mind, contribute actively and vocally, and benefit from all discussions, resources, and assignments.
MBA admissions committee members know that someone with the average amount of pre-MBA full-time work experience, i.e. three to five years, can take full advantage of the MBA experience. Mature candidates likely know what they want to do and what programs' resources can best help them reach their goals. Full-time MBAs require a considerable investment of time and money, and even the brightest recent graduate won't have the perspective to (fully) maximize his or her return on this investment.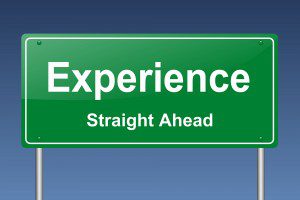 With enough experience under your belt, you have to consider how your work history compares to your potential MBA classmates. MBA admissions committees have one central purpose: admitting the people they believe will add value to the learning environment and gain value from it, in turn, to attain their future goals. Experience sits atop a list of desirable qualities, but certain types of experience are more valuable than others. Someone managing a family business and leading direct reports might be ready to join an MBA program much sooner than a candidate who joined a big four accounting firm and is slowly climbing the ranks.
So, what should you do if you're eager to pursue an MBA, but have limited experience? Or, conversely, how do you navigate program selection if you have more than five years of experience? MBA programs have thought about both scenarios. A few programs specifically target younger applicants, establishing a program track that will help these less experienced, yet often very driven and talented younger applicants locate the resources and pursue the coursework that will help them most. Just two of these programs are the University of Maryland's Sellinger School of Business's Emerging Leaders MBA program and Harvard Business School's 2+2 program. The more experienced applicant, on the other hand, might be tracked into an Executive MBA Program, particularly if he or she has already moved into a relatively senior position, and needs the degree to make it even further.
——
If you still have questions like: why get an MBA? What are the benefits of an MBA? Other than helping my career, are there other reasons to get an MBA? Then check out the following articles for further guidance:
Also, make sure to browse through our news section to keep up to date on the top MBA programs and latest MBA rankings.
About the Author