The Fastest MBA You Can Earn in Los Angeles

Los Angeles may not be typically associated with the break-neck pace of life like New York or Washington DC, that doesn't mean your business school career has to be slow there. A fast MBA is becoming an increasingly large priority for new MBA students throughout the U.S., and, luckily, Los Angeles has plenty of fast options.
With businesses constantly growing in the city (LA added 6,400 new jobs just last April), the faster MBA students can get their degree in hand means the faster they can get to work. Not to mention that accelerated or shortened MBA programs usually mean spending less money on tuition and living expenses while in school—minimizing the amount of time students will have to forego an income.
We looked at some of the fastest MBAs you can earn in Los Angeles, with some unique programs taking as little as 12 months to complete. These MBAs will allow you to get quickly down to business without sacrificing the quality or integrity of the program.
Finding a Fast MBA in Los Angeles
Marshall School of Business – USC
The USC Marshall MBA is one of the top ranked programs in the country, and with the One-Year International MBA for Mid-Career Professionals (IBEAR MBA), you can have that degree in your hand in just 12 months. The program, which is designed for mid-career professionals looking to expand their leadership opportunities in global business, provides career development opportunities, personalized career plans, and plenty of chances to explore the world.
The program is truly global and the average class size of 55 can represent anywhere from 12-15 countries. Participants, with an average of 11 years of professional experience, come from a wide range of academic backgrounds, including those with undergraduate majors in computer science, science & engineering, and even the humanities. These mid-level professionals can seriously minimize the amount of time they must take away from work, and in the process gaining an IBEAR alumni network of 1800 across 60 countries.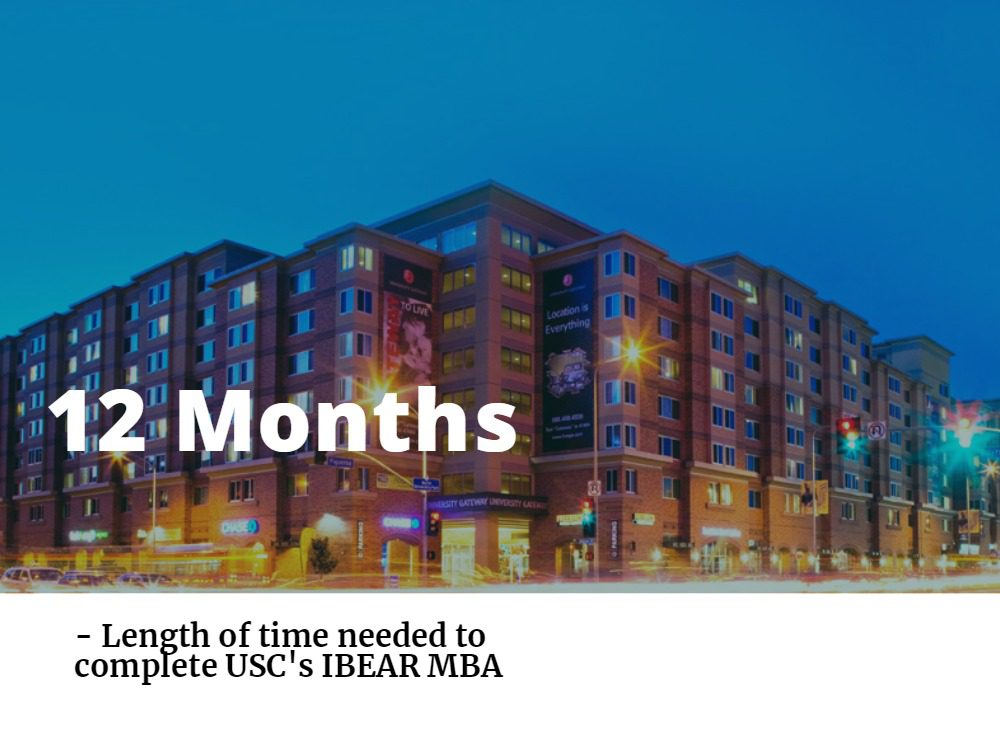 Mount Saint Mary's University, Los Angeles
The Mount Saint Mary's MBA program is designed to create effective global leaders who are trained in value-based decision making to bring real and impactful change to the businesses they lead. And the best part? The program takes just 18 months to complete. One of these semesters consists of "Foundations" courses for business leaders just starting out, and may be waived for candidates that have taken similar courses during their undergraduate studies, which may even further reduce the program's length.
The Mount Saint Mary's fast MBA is a unique program that centers itself around theme-based models, combining business disciplines like marketing, law, or finance, to give students a broader view of the interdisciplinary nature of business. The 18-month program also includes a final project that will require teams of students to partner with a "real world" organization to solve their business problems.
Argyros School of Business – Chapman University
The Professional MBA program at Chapman University's Argyros School of Business allows students to customize their degree and move through the program at their own pace. For dedicated students, the program can be completed in as little as 21 months. The class schedule is flexible, which allows students the chance to move at their own pace throughout the program, choosing between both evening and daytime courses. Students may also choose a specialization in which to focus their degree, such as marketing analytics, entertainment, and global business, among others.
Even though the Chapman Professional MBA is flexible and at times fast-paced, the university does not compromise in quality and students will have the same benefits available to them as those in more traditional programs. Students in the Chapman MBA program will be taught by professional and renowned faculty, have access to the university's career services department, and even have opportunities to travel around the world.
---
---
California State University, Long Beach College of Business Administration
The Accelerated MBA program at California State University, Long Beach is designed for young professionals with little experience in the business world. Focusing on entrepreneurship and innovation, the program will train these up-and-coming business leaders in how to bring new products to the market, identify business opportunities, and manage small business ventures.
The Accelerated program at CSULB can be completed in as little as 13 months, allowing students to jump back into work with an MBA on their resume just over a year after they start. The program is also heavily centered around internship experience, which will allow students to gain crucial hands-on experience while earning their degree, and get closer to the school's objective of ensuring every student has a job offer by graduation.
Anderson School of Management – UCLA
The UCLA-NUS Executive MBA, offered jointly through UCLA's Anderson School of Management and the National University of Singapore Business School, can be completed in just fifteen months and results in two fast MBA degrees from two of the world's top business schools.
If you are looking for a truly global degree—and the international experience to back it up—this could be the perfect degree for you. Every three months, your cohort of students from around the world will gather for two weeks at locations from Los Angeles to Shanghai and anywhere in between.
About the Author