Pick Your City: Should You Get an MBA in Toronto or Vancouver?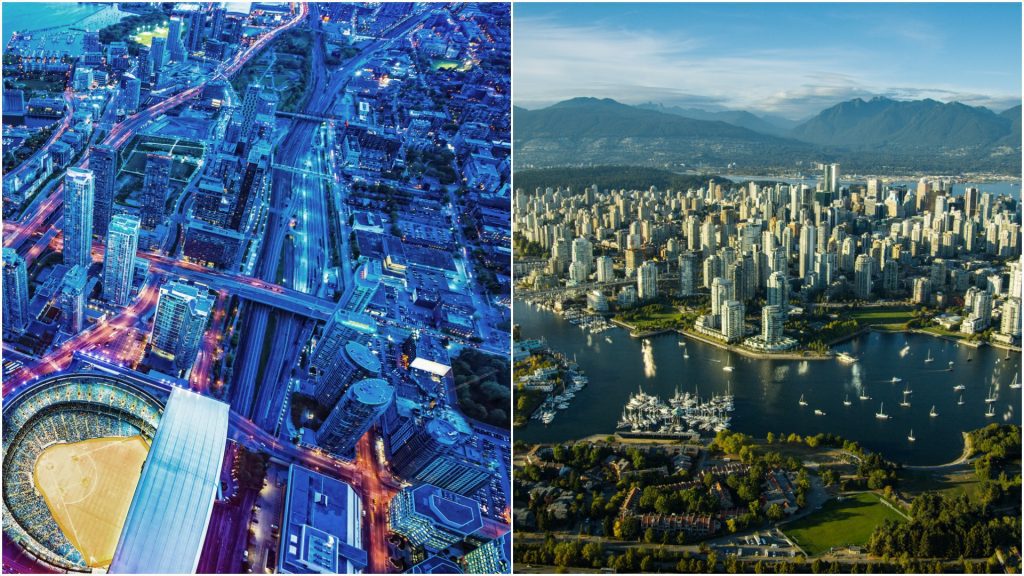 Should you get an MBA in Toronto or Vancouver? What are the benefits of each city, how much will each location cost, what can you expect in terms of job opportunities, and what MBA programs are available?
At a glance, the two Canadian cities are very comparable, offering similar big-city experiences for residents. However, when you dig a little deeper, some major differences arise. In our "Pick Your City" series, we break down two similar locations to help you choose your best MBA program.
Toronto or Vancouver: Cost of Living
Before we start digging down into the nitty-gritty details comparing Toronto to Vancouver, let's take a look at the facts. When it comes to how much it costs to live in each city, which city comes out on top? According to Numbeo, it's actually more affordable to live in Vancouver, if you can believe it.
To maintain the same standard of living in both cities, you would need $6,293 CAD in Vancouver compared to $6,900 CAD in Toronto (assuming you rent in both locations). This breaks down to:
Consumer prices in Vancouver are 8.72 percent lower
Rent prices in Vancouver are .18 percent higher
Restaurant prices in Vancouver are 11.46 percent lower
Groceries in Vancouver are 13.75 percent cheaper
Overall, if you live in Vancouver, your purchasing power is 13.41 percent higher than in Toronto.
However, a major cost of living difference between each city comes down to where specific residents live. According to data from Expatistan, a furnished apartment in the most expensive part of Vancouver can cost about 11 percent more than living in the most expensive part of Toronto.
Toronto or Vancouver: Culture
But what about when you start looking at living in Toronto or Vancouver outside of how much it costs? Lifestyle, activities, and culture can be a significant differentiator for where you want to live and earn your MBA. In many ways the cities are very similar; they offer all the same essential conveniences that you would expect from any big city.
Toronto Lifestyle
Toronto is the largest city in Canada. It's known for being the financial and cultural hub of the entire country. It has a global city vibe that's always bustling. Think of it as the New York City of Canada. If you love the city lifestyle, you may love Toronto.
When you are downtown in Toronto, you'll be surrounded by hundreds and thousands of people all going about their business at the same time. And speaking of business, Toronto's salaries are the highest in the country, and there are many incredible job opportunities (we'll talk about this more a little later).
One major selling point for Toronto is its extreme diversity. More than 50 percent of residents belong to a visible minority population group. Residents of Toronto come from all different backgrounds, cultures, and locations. It's a vibrant community for anyone from anywhere, which can translate to some incredible food, activities, and shops
Vancouver Lifestyle
Vancouver is also a big city, but it's a lot more laid back. People say the city has a more relaxed pace, which can mean it's a little boring if you're looking for nightlife. However, if you're looking for better work/life balance, Vancouver takes the lead.
However, that also means that business can be a little slower in Vancouver. Don't expect quite as high salaries or as many open jobs. Though there are still many companies thriving in the area, which we'll talk about more later.
One of Vancouver's main features is its landscape. It's surrounded by mountains, which makes it not only one of the most beautiful cities in Canada but one of the best for outdoor enthusiasts. There are many opportunities for skiing, kayaking, hiking, and more all within 30-minutes of downtown.
We also have to mention Vancouver's incredible public transportation. It has the world's longest fully automatic driverless train system in the world: Skytrain. It's known for its efficiency and regularity. There's also the Seabus, which ferries people to North Vancouver in 20 minutes.
Toronto or Vancouver: Job Opportunities
When it comes to job opportunities and the economy, Toronto stands out. The city is home to the Toronto Stock Exchange as well as being the headquarters of Canada's five largest banks (known as the Big Five). Also, many large Canadian and multinational corporations call the city home. You'll find jobs in almost every industry from technology to design, financial services, life sciences, education, arts, fashion, business services, tourism, and more.
Some of Toronto's top employers include:
Accenture
Bayer
AIG Insurance Company of Canada
CIBC
Ford Motor Company
Proctor & Gamble
Oracle
IMAX Corporation
Salesforce
Royal Bank of Canada
Xerox
As for Vancouver, it's consistently named one of the top five worldwide cities for livability and quality of life. And since the Port of Metro Vancouver is the third-largest port by tonnage in the Americas (beating out NYC), it offers some uniquely thriving industries, doing more than $172 CAD billion in trade with over 160 different trading economies annually. Vancouver is also a center of software development, biotechnology, aerospace, video game development, animation studios, and television production. There's also a strong focus on lifestyle and health culture, being the hub for Lululemon, Arc'teryx, Nature's Path Foods, and more.
Some of Vancouver's top employers include:
Best Buy Canada
BC Assessment
BC Hydro
HSBC Bank Canada
Fraser Health Authority
Nintendo
Oppenheimer Group
SPK Consulting
Arrow Transportation Systems
Toronto or Vancouver: MBA Programs
Both Vancouver and Toronto are home to some well-known business schools with quality MBA programs. We'll take a quick look at the top three programs in each location.
Toronto MBA Programs
University of Toronto Rotman School of Management: Rotman offers both a part-time and full-time MBA program with sixteen possible majors, including Brand Management; Business Design; Sustainability and Health Sector Management.
Wilfrid Laurier University's Lazaridis School of Business and Economics: The Lazaridis School offers both a part-time and full-time MBA program along with multiple dual-degree options with specializations in everything from Operations Management to Innovation and Entrepreneurship.
York University's Schulich School of Business: The Schulich School offers both a flexible part-time MBA as well as a full-time MBA. Students can specialize in more than twenty different areas, including Arts, Media & Entertainment Management; Organizational Studies; Business & Sustainability and Social Sector Management.
Vancouver MBA Programs
University of British Columbia Sauder School of Business: The Sauder School offers both a full-time and part-time MBA program with three pre-determined career tracks in Product & Service Management, Innovation & Entrepreneurship, and Finance.
Simon Fraser University Beedie School of Business: The Beedie School has both a full-time MBA and a part-time MBA. The school stands out for enrolling just 55 students each year and taking only 12 months to graduate.
Vancouver Island University: The Vancouver Island University offers a 14 to 16-month MBA program featuring 12 core courses in subjects such as Managing and Strategy; Foundations of Marketing; Foundations of Economics; and Basics of Accounting and Quantitative Methods.
About the Author