News Roundup – UNC Hosts Former Obama Advisor, Georgetown Promotes Gender Equity, and More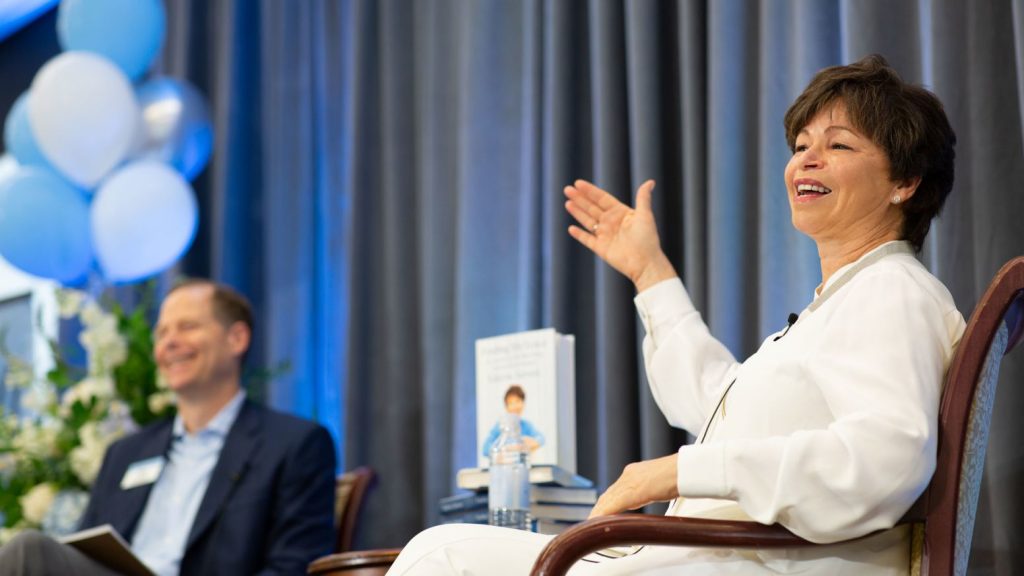 Let's take a look at some of the biggest stories from this week, including former Obama advisor Valerie Jarrett speaking at UNC Kenan-Flagler.
---
NYU Stern Professor Ingo Walter recently co-authored a book addressing challenges faced by many Americans: their pensions and the systems funding them.
Along with colleague Clive Lipshitz, Walter wrote Bridging the Gaps, which aims to address the concerns of the working class with regard to their financial future.
"Ultimately, we hope to make a positive contribution to the search for solutions to public pension sustainability as well as unlocking capital to remedy America's persistent infrastructure gap," Walter says. "We hope that this study provides greater transparency to complex public finance challenges. It lays out a range of ideas that can be explored by responsible officials and policymakers."
The book gives innovative suggestions on how governments can finance pensions while investing money in the vital infrastructure systems that keep Americans employed. Lipshitz and Walter's research was part of NYU Stern's Infrastructure Finance Initiative, sponsored by the Global Institute for Advanced Study. For more on Walter, Lipshitz, and the new book, read here.
---
UW Foster School of Business recently earned top spots in the lists of the country's most influential researchers and schools for financial accounting.
Experts at Brigham Young University have compiled the data based upon the volume of research produced by a number of leading teams over periods of 6, 12 and 29 years. Foster comes in at FIFTH in the world among renowned institutions for financial accounting research.
The BYU data also explores the number of individuals with the most valuable contributions, and five faculty members from Foster have contributed in the period since 1990 to land on this list. Four Foster professors made the top 100 list for research performed within the last twelve years. Foster School of Business has also been acknowledged for its training of doctoral candidates who have been influential in the field of accounting.
Foster holds the number THREE rank for overall research record of its accounting Ph.D.s over the past six years, and fourth for alumni contributions since 1990. Read more on the ranking methodology and the listings here.
---
UNC's Kenan Flagler Business School recently held its first annual MBA@UNC Alumni Immersion, featuring former Obama advisor Valerie Jarrett. David Hoffman, Professor of Leadership and Organizational Behavior and Senior Associate Dean for academic affairs led the conversation.
From 2009 to 2017, Jarrett chaired the White House Council on Women and Girls, along with managing the Offices of Public Engagement and Intergovernmental Affairs. Prior to her service in the Obama Administration, Jarrett was chair of the Chicago Transit Board, commissioner of planning and development, and deputy chief of staff for Chicago Mayor Richard M. Daley. She also served as CEO of Chicago's Habitat Company.
Jarrett received her undergraduate degree in psychology from Stanford, at which point she decided to earn her law degree at the University of Michigan. After practicing corporate law, she shifted into public service after discovering that this was her true passion.
To the audience of Kenan Flagler alumni, Jarrett advises:
"You have a safety net with the great education you received. You can do it. You can try it. You can experiment. Work toward something meaningful, even when it's a grind. If you think you don't want to do it, don't. The only adventure is in the zigzag."
For more on the talk and the Alumni event, read here.
---
The Pepperdine Graziadio Business School announced its new partnership with Dignity Health Global Education which will launch a new online certificate in Healthcare Marketing.
Designed for both administrators and marketers in the healthcare field, the goal of the certificate is to further innovation by training staff in strategic marketing and communications skills. According to Kurt Hayes, Chief Learning Experience Officer at Dignity Health Global Education, "Rapid technological advances coupled with societal and regulatory [factors] make it imperative to stay ahead of the curve."
The certificate is comprised of nine units, and it can be completed in nine weeks with an average of six hours per week of studying and coursework. Lynda Palmer, faculty practitioner at Pepperdine Graziadio, says, "This is a unique program that teaches marketing concepts with a healthcare spin … It will equip healthcare professionals with the tools they need to develop [effective] strategies for their organization."
For more on the new Healthcare Marketing certificate, read here.
---
Georgetown University's McDonough School of Business has announced that it will deliver a Gender Equity Executive Leadership Program beginning this summer in Amsterdam. Participants from 17 energy utilities from around the world will participate.
In partnership with the United States Agency for International Development (USAID), McDonough began the program in 2018 with individuals from 21 countries including Nigeria, Jordan, and Kenya. The goal of the program is to train utilities to instate gender equity practices across every level of their organizations.
Brooks Holtom, the program's Academic Director and Professor of Management at Georgetown McDonough, says, "This program has helped participants think deeply about how they can positively contribute to the active recruitment, development, and retention of women in male-dominated positions and industries."
Beginning with a week-long in person module, the program also employs virtual modules. It concludes with a final in person session at McDonough in 2020.
Osinubi Oyinlola, a 2017-18 participant from Nigeria, says, "The program has changed my perception of various aspects of my job as head of organizational development, which includes policy formulation, recruitment, and manpower planning. I have learned to consider gender equity [at all times]."
Read here for more on this year's program.
About the Author