Search results for career:
Feb 7, 2013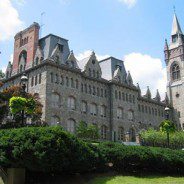 History
For more than 100 years, Lehigh University's College of Business and Economics has been home to a thriving academic community, one that has launched the careers of students who are both critical thinkers and pioneers in industry.
That commitment to scholarship has always been an integral part of our culture and has long been a core component of our curriculum, which is highly collaborative and cross-disciplinary in nature.
Lehigh's MBA program first received accreditation by the Association to Advance Collegiate Schools of Business in 1953. Today, Lehigh offers a flexible, on-campus and online FLEX MBA program and a one-year, full-time 1-MBA program. In addition, Lehigh offers a Joint MBA degree in Engineering and Educational Leadership.
Location(s)
Located one hour from Philadelphia and one hour and 30 minutes from New York City, Lehigh's campus in Bethlehem, PA offers courses on three campuses: the Asa Packer campus, the Murray H. Goodman campus and the Mountaintop campus. MBA courses primarily meet in the Rauch Business Center on the Asa Packer campus. Some courses also meet on the Mountaintop campus in Iacocca Hall, Ben Franklin TechVentures and Building C., Lehigh's newest learning space.
Facilities
Rauch Business Center houses ClassroomLIVE distance learning enabled learning environments, computer labs and many of the Lehigh University College of Business and Economics' business research centers. These include the Value Chain Research Center, the Financial Services Laboratory, the Martindale Center for the Study of Private Enterprise, the Murray H. Goodman Center for Real Estate Studies and the Small Business Development Center.
Opened in 2010, the CBE's Dexter F. Baker Institute for Entrepreneurship, Creativity and Innovation is located adjacent to the Rauch Business Center in the Wilbur Annex. MBA students may also access the Small Business Development Center at Lehigh's nearby Goodman Campus. Graduate students also have the option to live on campus in numerous provided locations.
Faculty
The College of Business and Economics employs 80 faculty members in total, including 15 in Accounting, 20 in Economics, 19 in Finance, 20 in Management and 12 in Marketing.
Student Body
Lehigh University enrolls approximately 330 students in the College of Business and Economics Graduate Programs.
MBA Degree Offerings
Lehigh offers the following MBA programs: the 1-MBA (one-year, full-time program), the FLEX MBA (flexible, on-campus and online hybrid program) and the Joint MBA in either Engineering or Educational Leadership.
Feb 6, 2013
If you're interested in advertising with MetroMBA, we'd love to hear from you. The ambitious professionals who visit our site are serious about taking their careers to the next level by pursuing an MBA. Our audience is segmented by metro area, which means that we can offer our partners targeted advertising opportunities.
Fill out the contact form below to learn more about advertising with MetroMBA.
Feb 6, 2013
MetroMBA is your hub for exploring MBA programs in your metro. We bring together the latest news and information about each program and let you compare them side by side to find the best fit. Pick your metro to view the latest regional MBA news and to explore a list of business schools near you. Filter your results by area of concentration or use our regional maps to pinpoint the degree programs closest to your home or office. Then delve deeper into your target programs by reading our school profiles, which put in-depth program information at your fingertips.
Find the best option to advance your career with MetroMBA. Your Metro. Your MBA.
MetroMBA's Mission
MetroMBA is committed to providing timely, accurate, insightful information about regional MBA programs in and around urban centers in the United States and beyond. Serving a primary audience of MBA applicants—and believing in the intrinsic value of the MBA—we aim to produce thoughtful content about the particular questions facing regional MBA applicants, helping equip them with the information they need to gain admission to the school best suited to them in their target metro.
We also aim to be a comprehensive resource for others interested in graduate management education in any of our regional metro areas of coverage, including current MBA students and alumni, the MBA admissions community, and prospective employers.