Mar 30, 2018

This coming weekend, Harvard Business School (HBS) will host an annual Entrepreneurship Conference sponsored by its own homegrown Entrepreneurship Club. The conference brings together hundreds of participants including "founders, joiners, and venture capitalists," all of whom hope to connect through a smorgasbord of lectures, panels, chats, and networking sessions.
This year's conference, scheduled for Saturday, March 31, is expected to draw more than 500 participants, including many top professors and professionals holding court on a variety of topics. Three keynote lectures will be given by CEOs and founders from Catalant Technologies, Strava, and edX. Strava's Michael Horvath, who is also a professor of entrepreneurship at Dartmouth's Tuck School of Business, will share his experiences having held several high-level roles at multiple startups.
In addition to the keynote lectures, the conference is also stacked with nine different panels. Some will include general discussions on topics such as starting a business during your MBA program and financing your startup. Others are more specific, covering some of the hottest fields in entrepreneurship right now. Examples of these include "Blockchain: The Next Transformative Technology?" and "AI/ML: Artificial Intelligence in Diverse Contexts." Finally, attendees will also get to take part in a venture capitalist meet-and-greet and a networking lunch and cocktail hour.
HBS is extremely supportive of entrepreneurship, according to Jim Aisner, the school's director of media and public relations. He spoke at length about the myriad ways in which HBS is a fantastic place for both seasoned and budding entrepreneurs, underscoring the range of support Harvard's large entrepreneurial community offers to those looking to start their own businesses.
"Entrepreneurship is a major component of life at HBS, with some 35 faculty members doing research, course development, mentoring/advising, and teaching in this area," Aisner told Clear Admit.
Harvard's program requires all first-year MBA students to take an entrepreneurship course, and there are also a large number of entrepreneurial-focused electives on offer in the second-year Elective Curriculum. In addition, the school boasts multiple conferences and events that reach programs outside the business school. "There is a whole ecosystem [at Harvard] promoting and nurturing entrepreneurship," Aisner notes.
Significant Programming Supports HBS Student Entrepreneurs
HBS is also home to the Arthur Rock Center Accelerator, which helps selected teams develop their ventures over the course of the year. In addition, the Rock Accelerator offers summer fellowships to support students from the entire student body who seek to develop entrepreneurial ventures during the summer and hosts a semiannual conference that brings 100 alumni back to campus each year.
Rock Venture Partners is a program that lets small groups of students learn more about investing in startups by supporting Rock Accelerator teams as they go through pitching and starting their ventures. Then there is the Harvard Innovation Lab, or i-lab, a resource available to current students at any Harvard school interested in exploring innovation and entrepreneurship at any stage. "The Innovation Lab creates a hotbed of cross fertilization for teams from across the university," says Aisner.
Given this supportive environment, it won't come as a shock that many HBS students decide to start their own businesses rather than pursue a more traditional career path in their post-MBA life. Out of more than 900 students, eight percent of graduates from the Class of 2017 chose to start their own businesses upon graduation, up from six percent in the Class of 2016. Although this growth is indicative of a national trend toward more and more recent MBA grads founding startups, HBS outperforms many top schools in this regard. By comparison, at Chicago Booth just 3.2 percent of 2017 MBA grads went immediately into running their own startups. Meanwhile, at the University of Pennsylvania's Wharton School, just 2.3 percent of the most recent graduating class founded businesses.
As another indicator of its commitment to fostering entrepreneurship, HBS will host its annual New Venture Competition on April 18th, which bestows more than $300,000 in prize money to outstanding new ventures. Contestants may apply in either the business track, with ventures that drive substantial market value, or the social enterprise track, with ventures that drive social change. This recent Clear Admit article noted that the social enterprise track received 69 entries this year, more than ever before.
Nationwide, more and more students have begun to pursue startups at all stages of their MBA careers. From this weekend's student-led Entrepreneurship Conference to the wide range of related centers, faculty, and other support, HBS's investment in nurturing its entrepreneurial students is clear.
This article has been edited and republished with permissions from our sister site, Clear Admit.
Mar 28, 2018

The annual Harvard Business School (HBS) New Venture Competition—and its more than $300,000 in cash prizes—always attracts plenty of interest. Sponsored by the Rock Center for Entrepreneurship and Social Enterprise Initiative, it offers Harvard Business School students the opportunity to enter ventures in one of two tracks:
Business Track: For ventures that drives substantial market value and economic returns.
Social Enterprise Track: For ventures that drive social change through nonprofit, for-profit, and hybrid models.
This year, there were a record 69 entries for the Harvard Venture Competition Social Enterprise Track—20 more than last year!
From those 69 entries, a team of expert social enterprise leaders from across Harvard was able to choose 16 semifinalists. These semifinalists have already passed an extensive review and deliberation process and will now present their ideas in front of a panel of expert judges that include philanthropists, impact investors, and social entrepreneurs.
The final presentation will occur on April 18, with each semifinalist team vying for the $75,000 grand prize and $25,000 runner-up prize. As enticing as those cash prizes are to students with ventures they're looking to launch, all participants enjoy the many following benefits:
Access to a series of workshops and office hours covering topics such as "how to develop a social enterprise plan" and "identifying the market for social ventures;"
The catalyst to develop a business plan and executive summary, which will be required for the final presentation;
Feedback from expert judges out of leading social organizations such as ACCION International, Echoing Green, and Invested Development, and
Reimbursement of up to $1,000 in startup expenses.
Without further ado, here are the 2018 Social Enterprise Track semifinalists:
C3 Solutions: A carbon capture company
CareZoom: An online platform for healthcare delivery
Covalent Networks: A software platform for workforce development programs
Dignify: A digital network matching refugees and locals
EatWell: A healthy eating company for low-income families
Fontes Irrigation: On-demand irrigation for farmers in Mozambique
Hoom: A smart, sustainable $10,000 home
ImmerLearn: Use machine learning and novel data to maximize the effectiveness of social and public programs.
Joro: An app for tracking CO2 emissions
Neptune: A better grease trap
OnTrack Births: Providing access to quality maternal care in India
SHLD: A Snapchat program that provides teens with wellness tips and suicide prevention
STEMgem: An IoT device toolkit
Trey: Empowering college athletes for future success
Umbulizer: A low-cost, portable ventilator for patients
UPON: Eliminate labor underutilization and increase women's access to the workforce.
To learn more about each of the semifinalists, read the HBS Impact Insights Blog post.
This article has been edited and republished with permissions from our sister site, Clear Admit.
Mar 23, 2018

Less than a week after Christopher Wylie, the whistle-blower in the ongoing Cambridge Analytica controversy, helped reveal the "dirty tricks" the data mining firm used to help swing elections in North America, Europe, and Africa—including the 2016 U.S. general election—business schools are reacting to the dynamic story.
In short, UK television outlet Channel 4 News filmed several Cambridge Analytica members in an undercover operation, in which they revealed numerous strategies, including: soliciting fake bribes, hiring prostitutes to seduce potential candidates in elections, and more. Company chief executive Alexander Nix was also filmed in the video, which you can watch here, boasted the company's outreach methods on social media, saying: "It sounds a dreadful thing to say, but these are things that don't necessarily need to be true as long as they're believed."
Another member of the Cambridge Analytica team also argued that they constructed President Donald Trump's popular "crooked Hillary" campaign slogan from 2016.
Further, the controversy revealed how the company pilfered upwards of "50 million" Facebook profiles, most of which came without consent. Facebook and its founder Mark Zuckerberg played silent on the ongoing story up until March 21, plainly saying in a CNN interview "I'm really sorry that this happened."
"Aleksandr Kogan, the data scientist who passed along data to SCL Group and its affiliate Cambridge Analytica, built a Facebook app that drew data from users and their friends in 2013. He was allowed access to a broad range of data at the time.

Though Kogan's data was properly obtained, he breached Facebook's policy when he shared that information with a third party, Facebook has said. When Facebook learned about the information being shared, it asked Cambridge Analytica to destroy the data. Cambridge said it had."
Wylie notes that Cambridge Analytica probably never destroyed that data, inevitably leading towards the company's involvement in the 2016 election. Several of the nation's most prominent business schools talked about the story on Twitter, which you can read below.
---
André Spicer, Professor of Organisational Behaviour, on Cambridge Analytica and the possibility of tech companies being forced to expand regulations on privacy and social responsibility.

Read André's comments: https://t.co/O5IAlUTD5t#cambridgeanalytica#cassbusinessschoolpic.twitter.com/GWv95RUIMc

— Cass Business School (@cassbusiness) March 21, 2018
"The really big issue is if regulators start questioning the business model of tech firms. Currently, consumers give away their data in exchange for free services, but what if regulators start putting a price on people's data?" –
Cass Business Professor André Spicer
Q&A with @cyberlawclinic's @vivekdotca about Facebook and Cambridge Analytica, U.S. privacy protections, and the regulation of the tech industry https://t.co/LPKwwSKSXw

— Harvard University (@Harvard) March 22, 2018
The head of the European Parliament announced on Monday that the EU will investigate whether the data of more than 50 million Facebook users were misused when it was accessed by Cambridge Analytica! https://t.co/q946Hed417

— FOX MBA & MS (@FoxMBA) March 22, 2018
Cambridge Analytica said it's suspending its CEO immediately and is launching an independent investigation into allegations it misused data on millions of Facebook users. https://t.co/EKeXiuHeQF

— MIT Tech Review (@techreview) March 21, 2018
Mar 20, 2018

The new, official U.S. News & World Report ranking of the best business schools in the United States has been released, with some minor shake-ups at the top. For the second year in a row, Harvard Business School remains tied for the first overall in the ranking. However, the University of Chicago Booth School of Business officially supplanted The Wharton School at the University of Pennsylvania, which fell back from its tie at the top to third overall.
The rest of the top ten, as we previously mentioned, largely resembled last year's U.S. News release, except for the inclusion of the Ross School of Business at the University of Michigan and the exclusion of the Yale School of Management. Surprisingly, Michigan Ross may have made the strongest showing in the newest ranking, not only managing a position in the top 10, but landing tied for seventh overall—ahead of Columbia Business School and the Dartmouth Tuck School of Business. The Yale School of Management slipped to a tie at 11th overall with Duke University's Fuqua School of Business.
U.S. News & World Report 2019 Best Business School Rankings
| Rank | School |
| --- | --- |
| 1st (Tied) | Harvard Business School |
| 1st (Tied) | University of Chicago Booth School of Business |
| 3rd | The Wharton School at the University of Pennsylvania |
| 4th | Stanford GSB |
| 5th | MIT Sloan School of Management |
| 6th | Northwestern University Kellogg School of Management |
| 7th (Tied) | University of Michigan Stephen M. Ross Business School |
| 7th (Tied) | UC Berkeley Haas School of Business |
| 9th | Columbia Business School |
| 10th | Dartmouth College Tuck School of Business |
Chicago Booth, Michigan Shine Among Rising Full-Time MBA Programs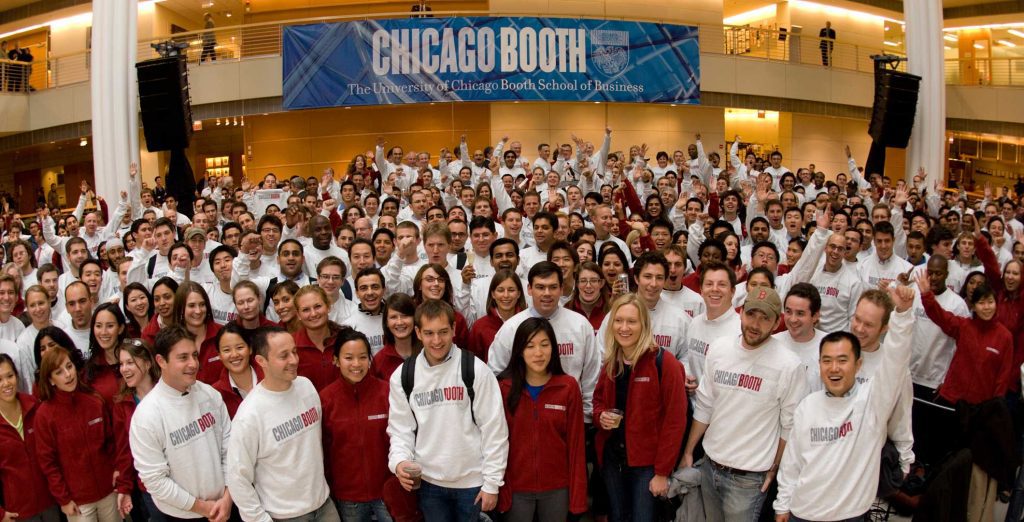 For the first time in school history, the Booth School of Business secured its place atop of the U.S. News ranking (albeit tied with HBS). In a statement, Booth Dean Madhav Rajan noted, "We are pleased to be recognized in this manner, and gratified that the recognition is across the board. We continue to strive to be the pre-eminent academic school of business."
After its place among the top ten business schools was revealed, Michigan Ross Dean of Business Scott DeRue stated in a release, "We are excited to once again be ranked among the top 10 MBA programs in the country by U.S. News & World Report. This recognition is a testament to the extraordinary talent at Michigan Ross, our innovations in action-based learning, our partnerships with leading companies across the globe, and the most supportive alumni community in the world. We are developing leaders who have the character and capabilities to transform the world through business, and it's an honor to be recognized among the very best in the world."
On its website, the school also proudly boasted that, outside of Stanford GSB, no business school in the ranking earned more top ten placements in specialty areas, earning high grades for: "Accounting (No. 4), Entrepreneurship (No. 7), Finance (No. 10), International (No. 5), Management (No. 3), Marketing (No. 4), Non-Profit (No. 5), Productions/Operations (No. 3), and Supply Chain (No. 6)."
Outside of the top ten, the USC Marshall School of Business watched its stock rise again this year. Two years ago, U.S. News handed USC Marshall the 31st spot on its best business school ranking, which jumped to 24th last year, and 20th this year. Just a few spots back of USC was the Jones Graduate School of Business at Rice University, which saw the largest leap of any of the top 25 schools—jumping six spots from the previous year.
Nine schools among the top 100 in the new rankings managed to jump at least ten spots, including three MetroMBA favorites: the Whitman School of Management at Syracuse University, the Neeley School of Business at TCU, and the Fordham School of Business at Fordham University. Whitman, in fact, tied for second highest rise, improving 18 spots overall from last year's 88th overall placement to 70th this year. No school improved more, however, than the Weatherhead School of Management at Case Western Reserve University in Cleveland, Ohio, which improved a remarkable 22 spots from last year's 77th overall placement to 55th this year.
A handful of schools also secured a spot in the top 100 after not appearing at all the previous year, including the Howard University School of Business, the American University Kogod School of Business, and Argyros School of Business and Economics at Chapman University.
Which Schools Fell The Hardest?
Along with the Yale School of Management losing its prestigious top ten status, a handful of schools tumbled in the 2019 ranking—with some virtually flat-lining. No school fell more than the Poole College of Management at North Carolina State University, slipping an astounding 35 spots from 55th last year to 92nd this year. Eleven schools lost their top 100 status in total. The reasoning behind the sudden drops are likely linked to the publication's change in how it ranks the business schools.
In regards to the ranking methodology, U.S. News placed less value in test scores and student GPA. In a release this afternoon, U.S. News reported the following:
"For the first time U.S. News reduced the value of reported GPA, GRE and GMAT scores for full-time and part-time MBA programs and GRE scores in the education rankings if less than 50 percent of an entering class submitted these scores. U.S. News believes this lack of data means the scores are not representative of the entire class."
The change, arguably, could stem from the fallout of the Temple University Fox School of Business, which was knocked off all of the publication's rankings for the 2018 calendar year because of falsely reported data regarding test scores.
Stay tuned to MetroMBA on all the biggest MBA ranking news.
Mar 20, 2018
Clear Admit recently explored which business schools help prepare MBAs the most for a career in consulting, which you can read below.
---
With starting salaries in the $140,000 to $150,000 range and a customary $25,000 signing bonus on top of that, it's no wonder so many business school students target the prestige consulting firms known as the "MBB"—McKinsey & Company, Boston Consulting Group (BCG), and Bain & Company—as their post-MBA landing pads. That $170,000+ annual compensation package can quickly cut any MBA loan debt you may have taken on down to size.
Indeed, management consulting has been one of the most coveted career paths for fresh MBA grads for ages. And though the technology industry has in recent years been stealing some grads from the consulting industry's traditional slice of the pie, the most recent MBA employment reports reveal that consulting is already making a comeback against tech at certain schools.
The opportunity to work with a range of clients comprised of many of the world's most celebrated businesses across industries—tech included—is part of the appeal of consulting. In many ways, a top consulting gig allows MBA grads to continue their management education while getting paid for it—and further honing their skills and expertise by helping solve a wide variety of business challenges. And, not for nothing, breaking into the MBB is a highly competitive pursuit—one that almost assures that your colleagues will be smart, driven people you'll get a lot out of working with.
Finally, where the top consulting firms are choosing to find their talent reflects on the quality of the education those schools' students are getting. In many ways, the hiring practices of the MBB can serve as a gold star standard of sorts for MBA programs.
Elite Firms Hire Grads from Elite Business Schools

The crème de la crème of leading business school talent has headed toward the top consulting firms for decades—and performed well there—creating a virtuous circle of sorts in which the firms' appetite for such talent only grows. And while this piece focuses on MBB, we should note that a host of other consulting firms—Deloitte, A.T. Kearney, Accenture, Strategy&, and Oliver Wyman among others—are also highly prized post-MBA destinations.
If you are looking to see which business schools send the greatest percentage of their graduates into consulting overall, don't miss our September 2017 analysis of leading consulting industry feeder schools. Which schools top the list? And what stands out about how these schools successfully train students for careers in consulting?
Looking at Class of 2016 graduates, the University of Virginia's Darden School led the pack, with 38 percent of its graduates heading into consulting. Columbia Business School was next, sending 35 percent, followed closely by Northwestern University's Kellogg School of Management, which sent 33 percent.
The 2017 employment reports, which have been released since our analysis last fall, show some shifts year over year. Darden tied with Emory's Goizueta School of Business in terms of the percentage of Class of 2017 grads who headed into consulting, with each school sending 34 percent. Close on their heels were Columbia, Duke's Fuqua School of Business, Northwestern's Kellogg School of Management, and Dartmouth's Tuck School. All four sent 33 percent of their most recent graduating class off to consulting firms.
2 Non-U.S. Schools Lead All Others in Consulting-Bound '17 MBA Grads
But year after year, one thing remains the same. INSEAD, with campuses in France, Singapore, and Abu Dhabi, beats all leading U.S. business schools when it comes to consulting. INSEAD's 2016 MBA employment report, detailing employment outcomes for December 2015 and July 2016 INSEAD grads, shows that 46 percent went into consulting. And the most recent figures reveal that almost a full half—49 percent—of the 1,029 students who completed the INSEAD MBA program in December 2016 and July 2017 chose to either enter or return to the consulting field.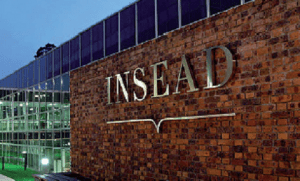 We should note here that INSEAD is distinct from many other schools in that it includes sponsored students who are returning to their pre-MBA employers among its hiring stats. This is in contrast to many U.S. schools, where the reported number and percentage of students hired by sector and employer corresponds to those students actively seeking employment, excluding sponsored students. Of the 49 percent of INSEAD 2017 grads headed into consulting, 33 percent were new hires and the remaining 16 percent were returnees.
London Business School (LBS) was the runner-up for the Class of 2017, sending 41 percent of grads into consulting. This was a 6 percentage-point gain over the school's previous class of MBA graduates. Like INSEAD, LBS's reported sector designation and top employer information includes sponsored students, only its employment report does not disclose what percentage of the class those returning students represent.
Feb 27, 2018

To commemorate Black History Month, Harvard Business School presented a series of cases, courses, and podcasts highlighting influential black business leaders. Within its MBA curriculum, HBS has also been working to increase the representation of compelling African-American protagonists culled from a wide range of industries in the case studies at the heart of its distinctive case study method. 
Senior Lecturer Steven Rogers (no not that one), who teaches the course "Black Business Leaders and Entrepreneurship," was one of the catalysts for this initiative. Rogers uses his course as an opportunity to honor the unsung impact that many African-American business leaders have had on the way America does business. As part of the Black Business Leaders Series of podcasts, Rogers interviews living African-American leaders about the dizzying highs and devastating lows of doing business.
John Rogers Podcast
One such interview features Ariel Investments Founder, Chairman, and CEO John Rogers (no relation), whose financial management firm handles about $13.1 billion. Ariel currently has 90 employees and considers itself a miniature version of Fidelity. "John Rogers is one of America's great entrepreneurs," says Steven Rogers by way of introduction. "In the words of Warren Buffett, he is one of the greatest investors of our time."
The podcast delves into John's vocal criticism of diversity in Fortune 500 companies and how his comments got him in trouble with his board. It also discusses such topics as a severe lack of inclusion present in the financial management industry. It's a problem that impacts the entire sector, from job creation to community health.
"When African-American–owned companies are allowed to prosper and grow, we see the creation of more jobs," Steven Rogers explained in the podcast. "When people have jobs, they're self-sufficient. When people are self-sufficient, they live in healthy communities. That's exactly what happens when diversity and inclusion is actualized and people like John are given a chance to grow their companies."
To listen to the full podcast visit the school website.
Black Business Leaders Series Highlights
Don't miss these other great podcasts in the HBS Black Business Leaders series:
To access the complete Black Business Leaders Series, visit the HBS Newsroom.
This article has been edited and republished with permissions from our sister site, Clear Admit.