Post tagged "rice"
Jul 8, 2019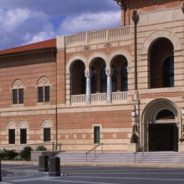 Hopeful applicants to the next full-time MBA class at the Rice University Jones Graduate School of Business have some new deadlines to remember.
New Rice MBA Deadlines
Round One
Application Deadline: Oct. 11, 2019
Decision Notification: Dec. 6, 2019
Round Two
Application Deadline: Jan. 3, 2020
Decision Notification: March 13, 2020
Round Three
Application Deadline: April 3, 2020
Decision Notification: May 8, 2020
---
Learn more about the Rice Jones MBA program here.
May 23, 2018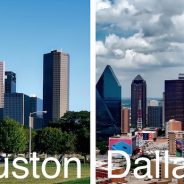 If you're looking to earn a Texas MBA, where should you go to school? Should you choose a top MBA program in Dallas or Houston? First, we need to take a look at the cities.
Living in Dallas vs. Houston
First, let's take a look at the cost of living in Dallas vs. Houston. According to Numbeo, the world's most extensive database containing user contributed data about cities, the overall cost of living is relatively similar: $4,242 in Houston compared to $4,000 in Dallas. Houston barely edges out Dallas with a slightly higher cost of living, and here's how that's broken down.
Consumer Prices: 35 percent higher in Houston
Rent Prices: 7.30 percent higher in Houston
Restaurant Prices: 27 percent higher in Houston
Groceries Cost: 95 percent higher in Houston
Local Purchasing Power: 26 percent lower in Houston
Other things to consider when choosing between Dallas and Houston include:
Industries

Houston is known for being the oil capital and is an ideal location for jobs in the energy industry.
Dallas, on the other hand, is known for real estate (Tramelle Crow is headquartered here), as well as hedge funds and asset management firms.

Economic Development: According to Site Selection Magazine, Houston and Dallas are comparatively equal when it comes to economic development, ranking second and third respectively.
Top Companies: Houston edges out Dallas for being home to more Fortune 500 companies. In fact, Houston is home to 27 top companies compared to 14 in Dallas. However, they rank second and third respectively.
However, according to Forbes, "while Houston and Dallas have decent amenities (and having better ones surely wouldn't hurt), they aren't places that offer a unique lifestyle brand, such as charming architecture or a cutting-edge arts scene."
Texas MBA Programs
The next step is to compare the top three MBA programs in each city. In particular, we wanted to take a look at the tuition rates (two years), GMAT averages, and post-graduation salaries at each program in each city to get a well-rounded picture.
Overall, there are a few things to note right away.
The top full-time MBA programs in both cities are ranked well. However, Houston programs tend to rank higher on major ranking sites such as The Economist and Bloomberg Businessweek.
Houston tends to be more expensive regarding tuition ($93,052 vs. $69,191), but it also pays a higher salary ($110,000 vs. $92,000). This balances out with around a $25,000 difference in tuition and a $20,00 difference in post-graduation salary.
Finally, GMAT averages for class profiles tend to be higher in Houston as well (688 vs. 660).
Here's how it all breaks down per school.
Top 3 Houston MBA Programs
McCombs School of Business – University of Texas at Austin
The McCombs School of Business offers a full-time MBA, an Evening MBA, a Weekend MBA, and an Executive MBA program. And it's considered one of the top business schools in the country, consistently ranking highly on various lists, including ranking 28 according to The Economist.
Tuition Rates (two years): $91,000
GMAT Averages: 703
Post-Grad Salaries (Mean): $117,068
Rice University – Jones Graduate School of Business
The Jones Graduate School at Rice University offers a full-time MBA program, an MBA for Professionals (part-time), and an Executive MBA Program. The school's full-time MBA program ranked 10th on the Bloomberg Businessweek list in 2017.
Tuition Rates (two years): $116,000
GMAT Averages: 711
Post-Grad Salaries (Mean): $112,158
Mays Business School – Texas A&M University
The Mays Business School has both a full-time MBA program as well as a part-time Professional MBA program. In addition, the school offers an Executive MBA. In 2017, The full-time MBA program ranked 20th overall by Forbes, and 22nd overall by Bloomberg Businessweek.
Tuition Rates (two years): $72,158
GMAT Averages: 649
Post-Grad Salaries (Mean): $103,299
Top 3 Dallas MBA Programs
Naveen Jindal School of Management – University of Texas at Dallas
The Naveen Jindal School offers a full-time MBA, part-time Professional MBA, Executive MBA, and Global Leadership Executive MBA program. The full-time MBA is well ranked according to the U.S. News & World Report, ranking 16th among public university programs in the U.S.
Tuition Rates (two years): $27,603
GMAT Averages: 678
Post-Grad Salaries (Mean): $86,644
Cox School of Business – Southern Methodist University
The Cox School of Business at SMU offers a full-time MBA, Fast Track MBA, Professional MBA (part-time), and an Executive MBA program. Most recently, SMU Cox achieved its first Financial Times ranking at 91st.
Tuition Rates (two years): $91,952
GMAT Averages: 661
Post-Grad Salaries (Mean): $96,587
Neeley School of Business – Texas Christian University
At the Neeley School of Business at TCU, MBA applicants can apply to the full-time MBA, Accelerated MBA, Professional MBA (part-time), Accelerated Professional MBA, or MBA for Energy Professionals program. The Economist ranked the Neeley School MBA ranks 61st overall on its most-recent ranking.
Tuition Rates (two years): $88,020
GMAT Averages: 640
Post-Grad Salaries (Mean): $93,010
Dallas vs. Houston Breakdown in Charts
When breaking down the data between MBA programs in Dallas and Houston, here's what it looks like:
Texas MBA Tuition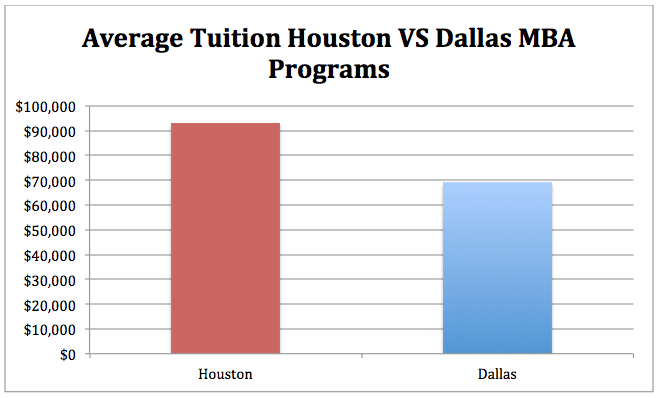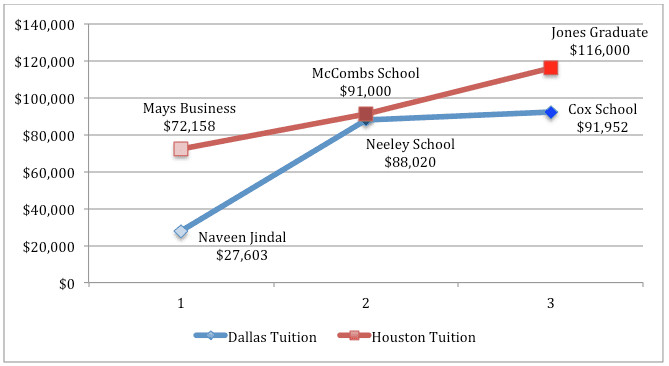 Texas MBA GMAT Averages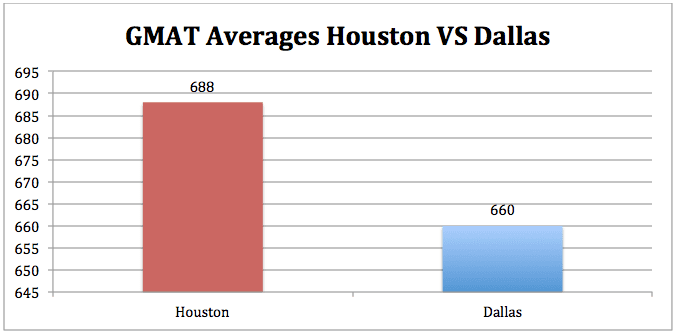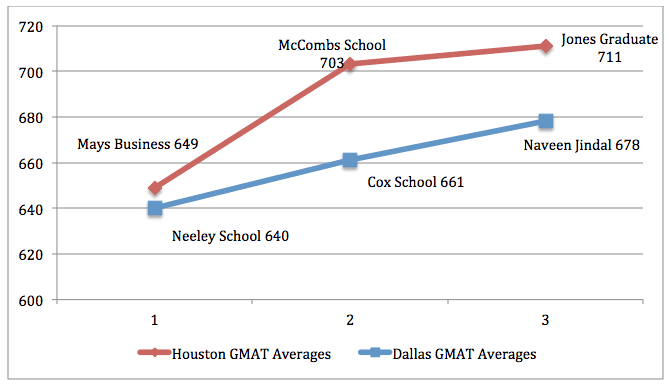 Texas MBA Post-Graduation Salaries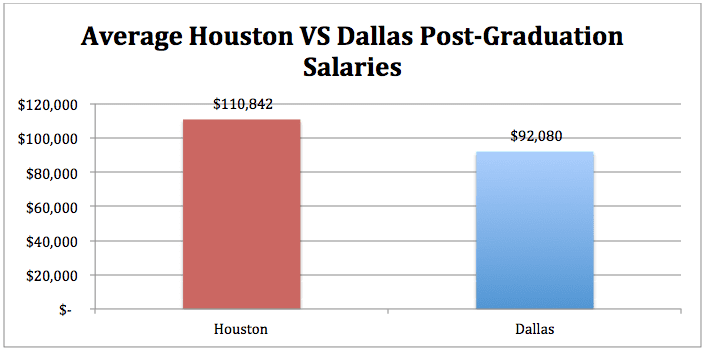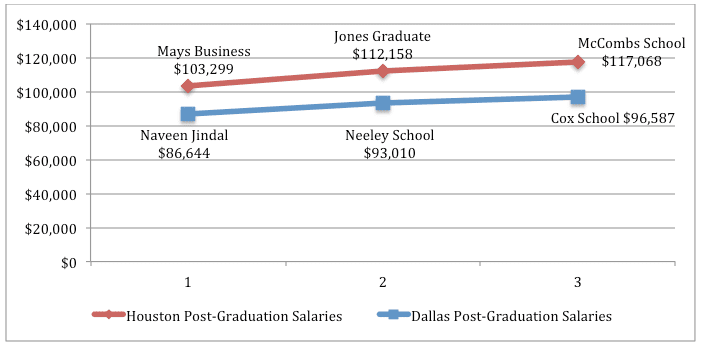 Nov 9, 2017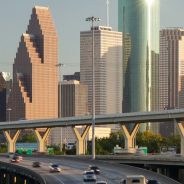 Houston metro is not just home to mouth-watering Texas barbecue and some of the most beautiful beaches in the country. It is also one of the most diverse places on the planet. The melding of cultures and trades yields a booming economy that spreads across a variety of industries, not to mention the best Tex Mex in the world.The city's thriving economy combined with a low cost of living also makes for a large contingent of cultural philanthropists and institutions, giving Houston one of the great art scenes in the US. Delicious food and cultural perks aside, earning an MBA in Houston is a practical decision for a multitude of reasons. Houston is one of the most populous cities in the US, and it is home to nearly two dozen Fortune 500 companies.
For future industry leaders looking to pursue especially lucrative careers, we've laid out the schools that produce the highest paid MBAs in Houston.
Rice University — Jones Graduate School of Business
For b-schoolers aspiring to take high-powered positions with an equally respectable pay off, the Jones Graduate School of Business may be a viable option. The MBA students who graduated in 2016 had an impressive average base salary of $112,158, with an average signing bonus of $25,475. About 34 percent of these grads pursued finance or accounting, and the second most popular industry was consulting (24.7 percent). Though Rice's rankings and stats are objectively impressive, this school also works to build a sense of community. Class sizes are relatively small, at 40 people per class, and professors strive to familiarize themselves with the students they teach.
Mays Business School – Texas A&M University
The rigorous MBA program at the Texas A&M Mays Business School is sure to provide MBAs with the tools they need to launch high-income careers. The average base salary for the class of 2016 was $103,299. This represents an impressive 87 percent increase from the average pre-MBA salary. The full-time track involves a formidable course load during the first year, as this is when 75 percent of students' 49 credit hours will be completed. This creates more freedom to pursue internships and electives in the following months, though internships are generally completed during the summer.
---
---
McCombs School of Business – University of Texas at Austin
At the McCombs School of Business, the mean starting salary for the MBA class of 2017 was a remarkable $117,068, with an average signing bonus of $28,349. A respectable 29 percent of these graduates accepted jobs in the technology field, while 21 percent secured jobs in consulting. This cohort-based program offers MBAs the opportunity to thoroughly map out their academic trajectory, so their education stays aligned with their career goals. This program is unique in that students complete one semester of required courses, and completely design their own curriculum for the remaining three semesters. Students can also design their course choices around one of seven possible concentrations.
Jul 26, 2017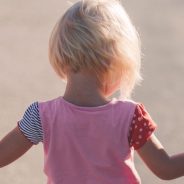 An MBA alum from the Rice University – Jones Graduate School of Business has combined her passion for quality family time with her entrepreneurial skills to create a new subscription box for busy parents.
Jun 27, 2017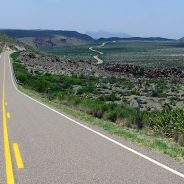 Can a full-time MBA program differ per city? While you might assume that they're all the same, the truth of the matter is that location can play a significant role in what's available at any given program. Different cities focus on different industries or even job functions based on the expertise and companies within the metro area.
Apr 5, 2017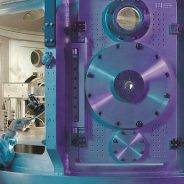 Bridging the gender gap in business has been an increasingly hot topic in recent years. As evidenced by the Fearless Girl statue facing off against the Charging Bull on Wall Street, and the women's marches that took place across the country earlier this year, both women and men are speaking up for equality in the business world. The recent HERWorld Energy Forum is yet another example. Continue reading…
Feb 8, 2017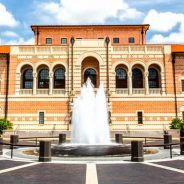 The Women in Leadership Conference (WILC), which celebrates and encourages women in business leadership roles, will take place this February at the Rice University – Jones Graduate School of Business.
Jan 2, 2017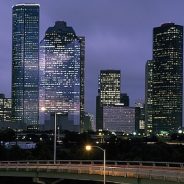 There's something to be said for living, working and going to school in Houston. According to the 2013 Annual Cost of Living Index, Houston has the third lowest overall cost of living among the nation's most populous metros. As for housing prices, those are also 36.6 percent below average. And when it comes to higher education, last year more than 403,300 students were enrolled in higher education in the Houston area, and more than 71,700 degrees and certificates were awarded for the 2013-14 year.
So, there's no doubt that Houston is a great place to live, work, and learn but what about if you can't make a move to Houston or you can't take time off of your job to earn an MBA? What then?
There's good news. There are two MBA programs in Houston that offer an online study option for the ultimate in flexibility. And to help you make the best decision on where to go to school, we've outlined the top online MBAs below. Continue reading…
Dec 14, 2016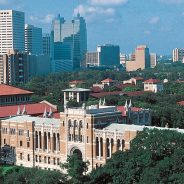 The full-time MBA program at the Rice University – Jones Graduate School of Business was recently named the 8th best program in the country for 2016 by Bloomberg BusinessWeek, a position which will have implications far and wide for the school and those involved with it.
Nov 29, 2016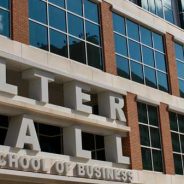 Among Philadelphia's ever-growing list of exceptional business schools, the Fox School of Business at Temple University has earned the right to stand out.
In the 2017 list of the nation's best entrepreneurship MBA programs for undergraduates and graduates from the Princeton Review and Entrepreneur Magazine, Fox Temple was the only school in the city to earn both honors—earning its way into the top 10 for each list.
This is the second year in a row Fox Temple managed to secure rankings on each list, coming in at 8th overall for its undergraduate program and 9th for its graduate program—one spot higher than last year.
"It's rewarding to see our entrepreneurship programs recognized nationally, and in the company of prestigious schools," said dean M. Moshe Porat shortly after the rankings were announced in mid-November. "Entrepreneurship education is a pillar across Temple University, and we at the Fox School are proud to lead this charge. More and more resources have been made available to students from all 17 schools and colleges at Temple. Our mission is to prepare and encourage students to think and act like entrepreneurs, no matter where their careers guide them."
Topping this year's list, unsurprisingly, was Harvard Business School, followed shortly after by the F.W. Olin Graduate School of Business at Babson College, the Jesse H. Jones Graduate School of Business at Rice University, the Kellogg School of Management at Northwestern and Booth School of Business at the University of Chicago to round out the top five.
The list was compiled after examining surveys from over 300 schools between May and August of 2016. The final tabulation considered academics and requirements, students and faculty, alumni entrepreneurship ventures, how students worked outside of the traditional classroom setting, school competitions and scholarships/aid.
The news of Fox Temple's newest honor follows a successful string of accolades through various other authorities, including the Financial Times, which named the school's Executive MBA program as the 18th best in the U.S. Check out some of Fox Temple's other prestigious honors here.