Nov 5, 2019

A specialized master's degree can be a valuable tool for enhancing your career prospects. If you have a specific career in mind—financial analysis, marketing, statistics, etc.—a master's degree in your specialty can provide you with the advanced training you need to be successful. So, the question is, what specialized masters is right for you and will give you the advantage you want?
To help you out, we're putting the most popular master's degrees head-to-head in our new series. First up, we're comparing Business Analytics and Accounting.
What is a Master's in Business Analytics?
A Master's in Business Analytics is designed for students interested in big data. These individuals are interested in using machine learning algorithms to process data and draw conclusions in everything from sports to consulting, manufacturing, and healthcare. It's all about making sense of vast amounts of data to streamline business.
What is a Master's in Accounting?
A Master's in Accounting is exactly what it sounds like—it's hyper-focused on accounting. Individuals who choose this path are interested in completing their CPA examination and pursuing a career in corporate accounting. You'll be prepared to take a strategic accounting role in audit, tax, financial management, and more.
Business Analytics or Accounting: Coursework
There's some overlap in the coursework you'll take as an accounting master's student and a business analytics student. Both master's programs delve into financial topics and include finance-related courses. In fact, some Master's in Business Analytics programs offer a professional track in finance.
Also, in both cases, you'll dive into analytical techniques and data modeling—though in the Accounting program it will always emphasize finance and accounting areas whereas Business Analytics tends to be more generic.
However, that's where the similarities end. In Business Analytics, you'll dive deep into computer programming, statistics, machine learning, and visualization. On the other hand, a Master's in Accounting will take you into financial reporting, auditing, business taxation, business law, and management accounting.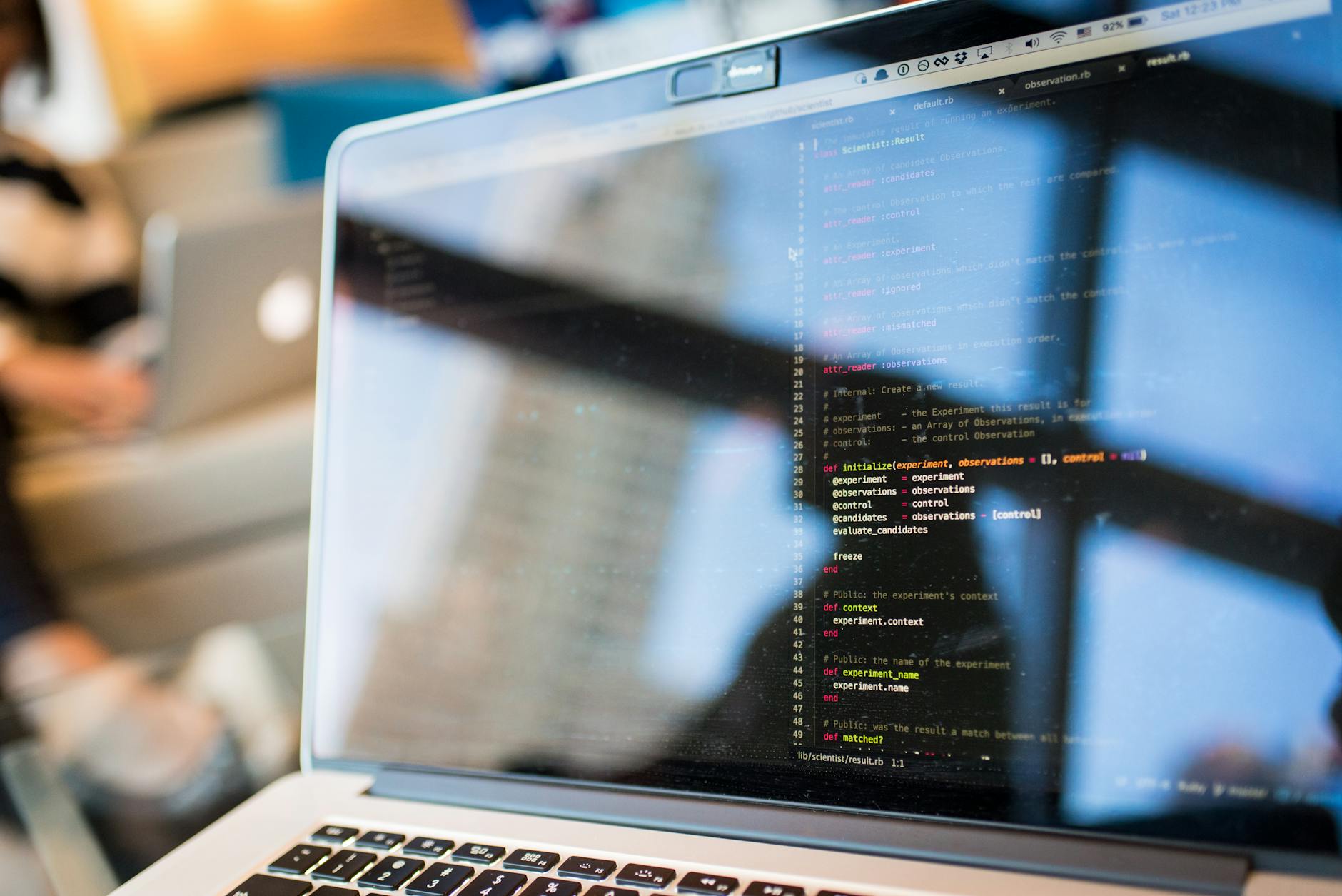 Business Analytics or Accounting: Accessibility
Both master's degrees can typically be completed in 12 months with some programs lasting up to two years. In addition, students can complete either program through full-time, part-time, online, or hybrid tracks. What's different is the application process and what type of student is best suited to each program.
Business Analytics students must be mathematically inclined and gifted in quantitative fields. Many of these Master's programs are STEM-designated, so candidates must be prepared to demonstrate high grades and test scores in these subjects.
Master's in Accounting applicants are expected to have a strong background in accounting, often having earned their undergraduate degree in the same field. Work experience is not typically required unless the student has no practical training in accounting.
Business Analytics or Accounting: Careers
As a Business Analyst, you may earn a higher salary than an accountant when starting—around $15,000 more—and you'll have more job opportunities. A Master's in Business Analytics graduate can work in a variety of analyst roles in everything from marketing to finance, strategy, and statistics. While, on the other hand, a Master's in Accounting graduate is typically regulated to an accounting, tax, or audit career.
Business Analysts are in high demand and have many opportunities regarding their careers, typically earning around $85,000 to start. They can work in almost any industry and in a variety of job functions, including:
Business analyst
Budget analyst
Financial analyst
Corporate strategy analyst
Actuary
Social media data analyst
Business intelligence analyst
Machine learning analyst
Master's in Accounting graduates are also in high demand and can work in a range of industries. Everyone from public accounting firms to government organizations, financial institutions, and nonprofits need accountants. However, when it comes to job functions, graduates are typically limited to working as an accountant or an auditor earning around $69,000 to start.
Business Analytics or Accounting: The Top Programs
To earn your Master's in Business Analytics or Accounting, there are many top programs across the country that are highly regarded. It all depends on your specific interests and goals.
If you want the best of both worlds, the USC Marshall School of Business is the only program to be in the top five for both degrees. It is highly regarded for offering great flexibility and quality curriculum.
In the Midwest, one of the top Master's program for Business Analytics can be found at Purdue University's Krannert School of Management. Its MS Business Analytics and Information Management program is 11 months long, affordable, and STEM-oriented. For a Master's in Accounting, you should look toward the University of Illinois Gies College of Business, which offers the best STEM-designated accounting program in the country with a 98 percent job placement rate.
On the East Coast, MIT Sloan offers the best Master's in Business Analytics program with 100 percent of the most recent graduating class earning employment offers by graduation. Whereas NYU Stern an excellent Master of Science in Accounting, ranked 9th overall by the U.S. News & World Report.
Apr 1, 2019

If there is one thing that unites all businesses, whether they are Etsy storefronts or multinational conglomerates, it's that everyone needs to know how much money it has coming in and where it is going. At large companies and firms, this responsibility falls onto accounting managers. If you are someone with an eye for detail who knows their way around a budget, you might be an excellent fit for this job.
What Is an Accounting Manager?
The accounting manager is, largely, the head of a company's accounting department. With the assistance of a small staff, the accounting manager keeps track of an organization's finances and makes sure that the organization is following all necessary financial laws.
Accounting managers prepare reports for executives, letting them know where they are in relationship to their monthly, quarterly, and annual goals. Accounting managers also help to forecast the company's financial future.
The following represent a few key responsibilities of accounting managers:
Conducting audits
Planning annual budgets
Evaluating financial data
Defining accounting policies
Establishing financial standards
Accounting Manager Salaries
According to Glassdoor data, the average annual pay for an accounting manager is $88,160. Accounting managers can also earn an average of $8,426 in cash compensation. Compensation can range from $2,120 to $23,206, depending on the company, background, and academic experience. This generally translates to higher salaries for MBA grads.
For instance, accounting managers at EY (Ernst & Young) will likely earn over $100,000 on average, according to PayScale data.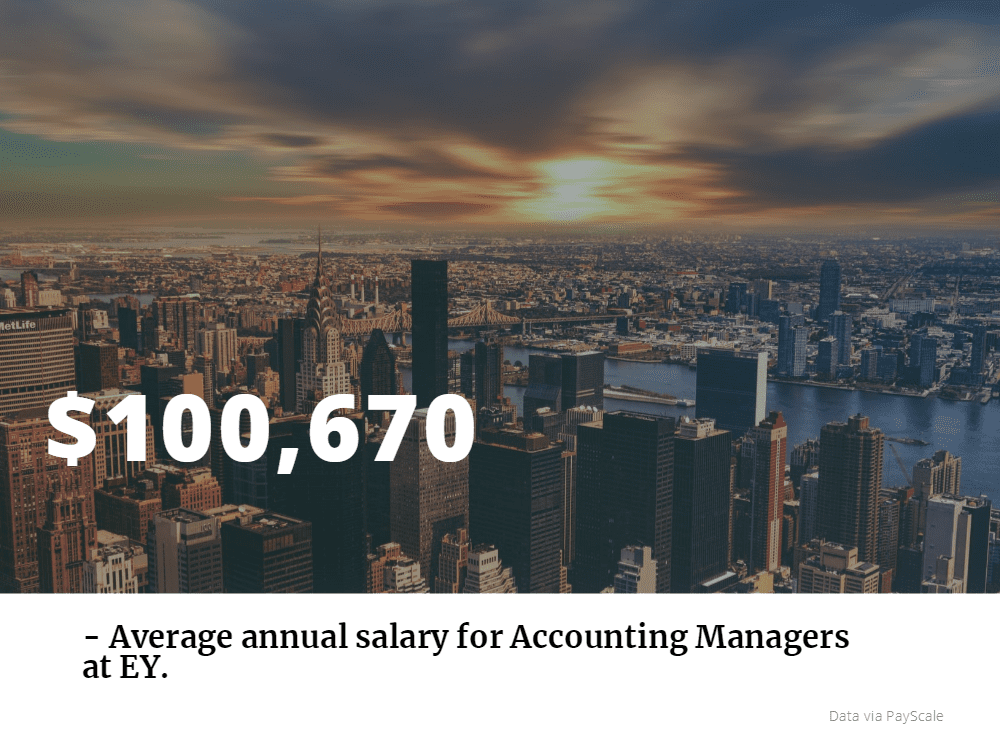 Where Do You Start?
Candidates for accounting manager positions must have at least a BA/BS in Accounting or Finance. Most positions require candidates to be licensed Certified Public Accountants, or CPAs. This is not an entry-level position; businesses generally expect candidates to have had some previous supervisory experience.
Given the nature of this position, ideal candidates are ethical and able to think critically. Small errors can cost either a client or a firm a considerable amount of money, so it is essential that accounting managers are thorough in their work, always ensuring that their records are accurate and complete.
In addition to the technical skills, accounting managers need to have excellent written and interpersonal skills, because they are required to manage staff, which entails interactions with a wide variety of people.
One way to gain the skills needed for this position is to get a MBA from a top-notch program. We've outlined three programs, which provide the skills needed to be a successful Accounting Manager that stands out from the pack.
University of Texas's McCombs School of Business
The McCombs School of Business at the University of Texas at Austin is home to one of the country's finest accounting programs. Students can gain considerable accounting knowledge while expanding their management abilities. They will be able to do this while living in Austin, one of the country's most livable cities.
University of Illinois – Urbana-Champaign's Gies College of Business
Students in the Gies College of Business at the University of Illinois can develop their financial skills in the college's flexible MBA program. The training will prepare graduates to take on the role of accounting manager at firms of any size.
Brigham Young University's Marriott School
Among the top business schools in the United States, the Marriott School at Brigham Young University does not get its fair share of attention, which is unfortunate as it is home to one of the country's top accounting programs. MBA students can go on the Finance track, which will prepare them for their futures as accounting managers.
Mar 12, 2019

In our latest installment of the MetroMBA "5 Questions" series, we speak with Jennifer Larson, the University of Illinois Director of Recruiting and Admissions of Graduate Programs at the Gies College of Business. Larson talks about the future career of a Gies MBA grad, the hands-on nature of the MBA program, and the many financial aid opportunities for students.
---
1. What are Gies' strongest industries and how does the school support students in those industries?
"Our recent graduates have worked for major corporations like Amazon, AT&T, Google, and Bank of America in a number of functional areas, including Consulting, Finance/Accounting, General Management, Information Technology, and Marketing.
Gies Business Career Services boasts a diverse employer base of Fortune 500 companies and other regional organizations across multiple industry sectors including, but not limited to, manufacturing, financial services, consumer products, and consulting. Almost 25 percent of the F500 and more than 40 percent of the F100 recruit from Gies College of Business.
Our students actively engage with global, national and regional employers on-campus and at major MBA consortium events. Illinois founded and participates with nine other Top 50 MBA programs in the Midwest MBA Career Fair, one of the largest regional MBA career fairs.
We offer alumni connections built through the Illinois Business Mentor Program and the Illinois MBA Alumni Association, bringing students and alumni together for an exchange of information on education, professionalism, aspirations, and ideas.
Our MBA students network and engage with alumni and employers for information sessions, workshops, networking events, career connections, and interview preparation. Illinois MBA alumni are counted among those who hold C-suite roles in manufacturing, consulting, financial services, and healthcare in both the public and private sectors.
We hear four predominant reasons why students pursue an MBA:
to build and expand their professional network,
to increase salary/earnings potential,
to create greater future job optionality,
to accelerate or change career paths.
Whatever the reason, Gies Business Career Services is an invaluable resource for our students from day one.
Career Services provides an integrated suite of career development, coaching, and alumni and employer resources that enable us to assist MBA students in achieving career success. This starts with pre-program groundwork.
Career Management Foundations is the eLearning portal to MBA Career Management in Gies College of Business. This launches your job search the summer before the MBA program commences. You will have the chance to engage in five distinctive career modules that expose you to career planning and active career management processes. These help our students define their goals and develop tools that will enable their professional advancement. Each module contains topic related information, videos, articles, assessments, and key deliverables.
We also provide customized career coaching and consultation for MBA students so they are fully prepared for the job search with a focus on building life-long job seeking skills that will help the student through each career transition. Combine that with being ranked #3 in ROI (BusinessWeek) and being a Top 25 U.S. Business School (Financial Times), there is no question that an MBA from Gies College of Business at Illinois delivers max value during and after your time in the MBA program."
2. Can you identify the ideal Gies candidate? Characteristics you look for?
"At Illinois, we don't look for students who want to sit in a classroom for two years. We admit students who are passionate about applying the concepts learned in the classroom, actively participate in and outside of the classroom, and are team oriented. We look beyond test scores. We value candidates who bring a strong sense of community, possess a good understanding of the importance of career outcomes, and can demonstrate excellent interpersonal and communication skills. We appreciate and welcome diverse personal and professional backgrounds beyond business."
3. If there was one feature of the MBA program you could highlight, what would it be?
"The MBA program at Gies College of Business is one of the most hands-on MBA programs in the country.
Action Learning at Gies is more than a course or a program; it's ingrained in our culture. Action Learning is integrated throughout our undergraduate and graduate programs. Because our students get hands-on experience during school, they graduate more prepared for the real-world, to add value from day one, and to succeed in their careers.
Action Learning projects are a critical part of the students' education. We work with clients who invest in developing our students. When a client is engaged and committed, students reciprocate with enthusiasm and dedication to the project. Through our Action Learning programs, students have a better story to tell recruiters, improve their ability to work as a team, and enhance their ability to solve complex problems."
4. What kinds of financial aid are available to MBA students?
"All candidates admitted to the MBA program in Gies College of Business at Illinois are automatically considered for our merit-based Dean's Scholarships with no separate scholarship application necessary. 85 percent of students admitted to the MBA program receive a scholarship offer from our diverse portfolio of awards. We also want our students back! The Illinois x 2 Scholarship offers a 50 percent tuition reduction for full-time MBA students who are University of Illinois alumni and meet the eligibility requirements. Find all the scholarships here.
The MBA program at Gies is dedicated to training an inclusive cohort of future leaders in a diverse, global setting. In addition to our traditional merit-based scholarships, we allocate eight full-tuition scholarships annually, for graduates of historically black colleges and universities.  Along with submitting a standard MBA application, applicants for these eight scholarships must have a competitive GMAT score (or equivalent GRE), at least two years of work experience, and a minimum GPA of 3.5.
Gies College of Business is committed to educating and directing talented women toward leadership roles in business. Gies College of Business is a Forté sponsor school dedicated to having a diverse group of Forté MBA Fellows, which is an honor given to select female MBA students at participating business schools. Both domestic and international women may be nominated as Fellows; each receives a generous scholarship from the MBA program at Gies College of Business."
5. What underrated area/activity in Champaign – Urbana should every student do?
"Champaign-Urbana has a robust arts, culture, and music scene. Here, urban engages rural for an unparalleled 'college-town' experience that offers access to several renowned museums, and a thriving arts and culture community. In large part because of the University of Illinois' diverse population, C-U has a strong foodie scene with a wide variety of restaurants and cuisines from all over the world. According to readers of Midwest Living magazine, the metro area of Champaign-Urbana is the best midwest food town.
---
For those interested in learning more about the full-time MBA program at Illinois Gies College of Business, head over to the school's official website.
Feb 20, 2019


Let's explore the most interesting stories to emerge from Chicago business schools this week.
---
As cultural awareness about the often unrecognized contributions of historically disadvantaged groups continues to grow, Northwestern University Kellogg School of Management professor Nour Kteily hypothesizes that the more people prioritize social equality, the more they might actively promote the accomplishments of women and people of color.
Kteily notes, "Political liberals have a natural affinity for targets that belong to groups that they see as socially disadvantaged, and a motivation to raise these groups' position in society. Given this, we reasoned that they would want to emphasize the good things that those who belong to groups that are otherwise overlooked are able to do."
His study analyzes which individuals are primed to consider how underrepresented groups are overlooked and observed for their likelihood to promote a black woman faculty member according to their political ideology.
"Both liberals and conservatives shift up when they read that disadvantaged minorities' accomplishments tend to be overlooked, but the ideological difference that exists at baseline remains," Kteily notes.
You can read more about the study here.
The University of Illinois Gies College of Business recently announced its newest leadership position: Associate Dean for Innovation & Chief Disruption Officer. The role will assist the business school to further innovative educational practices.
Robert Brunner, a longtime professor at the university, will ensure Gies remains up to date with current trends in technology and embraces future opportunities preemptively.
Jeffrey R. Brown, Josef and Margot Lakonishok Professor of Business and Dean, extolled Brunner's qualifications:
"Professor Brunner is an outstanding thought leader with a universal view of technological innovations. [His] extensive experience and passion make him the perfect fit as our very first Associate Dean for Innovation and Chief Disruption Officer. I'm delighted that he will be taking a more prominent leadership role within our College."
Brunner will be tasked with identifying future challenges in business and creating unique solutions. Brunner remarks, "In today's world, you're either part of the disruption, or you risk being disrupted. Gies College of Business is taking a proactive approach like no one else in the country. We are not business as usual and our students will benefit greatly because of it."
You can read more about Brunner and the new position at Gies here.
Here's a new negotiating tactic: enjoy a family-style meal with your counterpart before making your opening bid. When people in a business negotiation share not just a meal but a plate, they collaborate better and reach deals faster, according to new research from the University of Chicago Booth School of Business.
In the study entitled "Shared Plates, Shared Minds: Consuming from a Shared Plate Promotes Cooperation," professor Ayelet Fishbach and Cornell's Kaitlin Woolley examine how the way a meal is served and consumed boosts cooperation. These results show that sharing meals not only helps people collaborate better, but also reach agreements faster.
Woolley and Fishbach conducted the experiment with friends and strangers. The results found that friends arrived at a negotiation agreement faster than strangers did. However, sharing plates had a significant effect for both groups.
"The degree to which a person felt she was collaborating with her partner while eating—sharing food rather than competing for that last bite—predicted her feelings of collaboration during the negotiation phase."
Fishbach remarks, "Basically, every meal that you're eating alone is a missed opportunity to connect to someone. And every meal that involves food sharing fully utilizes the opportunity to create that social bond."
You can read more about the research here.
Jan 31, 2019

Let's explore some of the most interesting stories that have emerged from Chicago business schools this week amidst the Polar Vortex (stay warm, everyone).
---
More information does not necessarily lead to more informed decisions. New research from the University of Chicago Booth School of Business finds that people assume they can and will use more information in making decisions, despite the contrary evidence. Often, people make snap judgement without awareness and most collected information goes unused.
Ed O'Brien, Chicago Booth Associate Professor and co-author of "People Use Less Information Than They Think to Make Up Their Minds," asserts, "In our studies, participants thought they would withhold judgment and await a lot of evidence before making up their minds but in reality, they cast judgment right when the evidence came in."
Researchers note that the data suggests a gap between information seekers and information providers.
"For example, people who go online to research a topic or take part in a debate may only access a small fraction of what is available before making a decision while providers of that information may assume the seekers are taking in all the information and hear them 'loud and clear.'"
You can read more about Ed O'Brien's research here.
While luxury brands are a surefire way to indicate status, a new series of experiments reveal the surprising downsides of luxury consumption.
According to a new paper by Northwestern University Kellogg School of Management Professor of Marketing Derek Rucker and Ph.D. candidate Christopher Cannon, luxury consumers may find themselves at a disadvantage in the hiring process. This instance is even more particular when the job involves interpersonal warmth. Rucker and Cannon's research explores how consumers who wear luxury goods are viewed more negatively and perceived as "cold."
Cannon notes, "We don't find evidence in this work that the effects are driven by envy. We find evidence that luxury consumption can lead people to infer certain motives. Specifically, when people assume that someone has donned luxury goods in order to show off, this can lead them to see that person as less warm."
Cannon and Rucker point out the importance of evaluating the situation before donning your Gucci. "We've shown situations exist where luxury consumption produces positive outcomes, such as when filling the corporate publicist role in the experiment. Rather than luxury always being good or always being bad, it depends on whether status or warmth is more important."
You can read more about the luxury research here.
Alan Howe (BADM '82), a professional board director, has served across multiple industries—including enterprise software, wireless, telecom, composite materials, and IT services—specializing in "turnaround" situations. He recently returned to the University of Illinois Gies College of Business to share his expertise with the next generation of business leaders.
"I tell students that what they think they're going to be doing in the next three years is probably radically different than what they'll be doing in 10 to 15 years, so get ready for change. Be adaptable because you never know where the next opportunity may come from," Howe asserts in a recent profile.
In the interview, Howe further explains what makes a great business leader:
"The best characteristic is humility. You can't 'big dog' in a corporate setting or talk about how smart you are. Lead with humility. Also listen and learn from people around you."
You can read more from the Howe interview here.