Post tagged "metromba"
Nov 22, 2017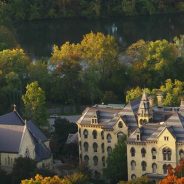 A team of Notre Dame Mendoza School of Business MBA students won first place and a cash prize of $5,000 in the 22nd Annual International Case Competition (ICC). The competition was held earlier this month at Carnegie Mellon's Tepper School of Business and was organized by Tepper's Operations Management Club.
The competition provides student teams experience in organizing and prioritizing issues, applying decision-making skills, working in teams, and developing innovative solutions—all under the pressure of competition, according to the Operations Management Club. The competition unfolds over two rounds—a 20-minute presentation followed by a 10-minute Q&A session in the first round, and a 30-minute presentation to the judges in the finals.
The Mendoza team was made up of Christopher Kunnen ('18), Austin Gilbertson ('19), and Zachary Kozak ('18). They beat out 10 teams from top universities across the country, including MIT Sloan School of Management and Carnegie Mellon University Tepper School of Business.
"Overall, case competitions are a great experiential component to the MBA experience," Kozak said. "The competitions combine both real-world problem solving and simulating the time-constraint project management challenges that we as professionals will experience in the future."
The Notre Dame MBA team won thanks to their ability to identify the key issues in the case and its development of data-driven insights and recommendations that went beyond expectations.
"We employed a key take-away from one of our favorite professors, Dan Connors, who teaches the course Lessons from Turnaround Situations in the fall term," Kozak said. "Dan, a former Bain consultant, conveyed to us early on to follow the strategy of 'Listen, Deliver and then Add' for any business problem. We replicated this approach when analyzing the problem and then building our presentation."
ICC also connects leading operations talent with multinational sponsor companies for networking and recruiting opportunities, including Eaton, Amazon, and Emerson.
Nov 20, 2017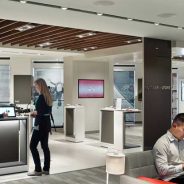 Telecom giant Verizon Communications provides wireless and wired telephone, internet and television service, in addition to cloud-based services to businesses. One of the largest wireless service providers in the United States, and among the largest communications technology companies in the world, Verizon employs nearly 200,000 employees—including a large number of MBAs.
Working at Verizon
Working at Verizon has its perks. In addition to competitive salaries and performance-based incentives, benefits include 401(k) savings with company match and discounts on Verizon products. Some Verizon offices also feature in-house gyms, or discounted gym memberships. The company is also committed to lifelong learning, providing training, development, and tuition assistance
Other worthy benefits Verizon employees can take advantage of include:
Adoption expense assistance
A matching gifts program
Military discounts
Employee Relief Fund for victims of natural disasters
Best-in-class health and insurance benefits
Healthy Pregnancy Program for expectant mothers
Verizon was also recently recognized as the top company for diversity leadership by Diversity MBA Magazine.
"Being good at diversity and inclusion is not an option at Verizon. With more than 180,000 employees serving customers in more than 2,700 cities spanning more than 150 countries, Verizon is privileged to serve a very vibrant and diverse marketplace," said Magda Yrizarry, Verizon Chief Talent and Diversity Officer.
"Being successful with a customer base like this is not possible without a diversity of people, ideas, and experiences," Yrizarry added.
According to Diversity MBA Magazine, Verizon recruiters maintain close relationships with organizations like the Society of Women Engineers, the National Society of Black Engineers, and Hispanic Business Students and Professionals. The company also has a fantastic track record of hiring women and minorities, with women and people of color making up about 60 percent of the company's board of directors, while women specifically make up 37 percent of senior management.
Verizon was also one of the first major companies to offer benefits to same-sex couples in domestic partnerships and provide free preventative care services to women, such as on-site mammography screenings. The company is also well-known for its practice of recruiting veterans.
"Verizon is a diverse company in its people, ideas, services, and the communities it serves," Yrizarry said. "Our workplace culture ensures that everyone, no matter their ethnicity or background, has opportunities to contribute to the solutions required to stay relevant and competitive in the marketplace, grow professionally and advance their career."
Joining the Verizon Team
Verizon offers a number of internships and MBA Leadership Developmental Programs to graduate business students. According to MBA Exchange, these programs offer MBAs a first-hand rotational learning experience focused in different aspects of the company. With so many different paths and career opportunities at the company, these programs are an opportunity to build strong leadership skills in a particular division of Verizon.
MBA opportunities include:
Marketing MBA Internship
MBA Business Transformation Internship
MBA Finance Leadership Developmental Program
MBA Marketing Leadership Developmental Program
MBA Product Management and Strategy Internship
Supply Chain MBA Internship
What Are These Jobs Like?
Let's take a look at some of these Leadership Developmental Programs. The Supply Chain MBA Leadership Development Program is a two-year rotational program designed to develop future Supply Chain leaders at Verizon. MBAs work on projects that develop skills in supply chain, operations, strategic planning, and sustainability. Students in the Supply Chain MBA Leadership Development Program may be assigned to any of the following focus areas:
Supplier Management
Strategic Supply Chain Planning
Inventory Management and Logistics
Meanwhile, the Marketing MBA Leadership Development Program challenges business students with high-impact projects that develop their skills in branding, product management, and marketing strategy. The two year rotational program is designed to develop skills in:
Business or consumer product management
Marketing strategy
Marketing operations
Branding
Promotions
Who is Verizon Looking For in New Hires?
Verizon specifically states the type of candidates they are looking for in various job descriptions on the web. These jobs call for "a motivated self-starter" who is "never satisfied with the status quo." The telecom giant seeks candidates who are always trying to beat a personal best and thrive in fast-paced environments where new challenges come up every day. Prospective hires should be flexible, dependable, and work well in varying environments.
It's also a plus if any MBA internship candidate has:
Proven record of academic, professional and leadership achievement
Excellent organizational, analytical and critical thinking skills
Strong quantitative and technical skills
Great verbal, written, communication and presentation skills
Proficiency with Microsoft Office Suite
You can find more Verizon job opportunities here.
Nov 15, 2017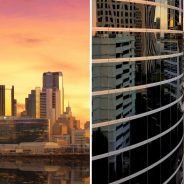 Among the bustling metros of the Lone Star State, Dallas and Houston are the biggest. Locals from the Houston and Dallas metros are die-hard about their towns, and their business schools take their MBA programs seriously. Both cities offer plenty of part-time options to prospective MBAs, so let's take a deeper dive.
Location
While Houston and Dallas are only about four hours away by car, each metro offers completely different living experiences. As far as weather goes, if you dislike humid climates, Dallas may be the location for you. If you love being by the water, Houston may be up your alley—though the city, unfortunately, is more at risk for tropical storms and hurricanes.
Houston is statistically the more expensive city to live in, but not by a significant margin. According to Numbeo, a database of user contributed data about cities, you would need around $4,242 in Houston to maintain the same standard of life that you can have with $4,000 in Dallas, assuming you do not own a home. As far as entertainment goes, it's really a tie: Both metros boast great restaurants, shopping, sports entertainment, and nightlife.
Here are a couple more quick stats comparing Houston and Dallas, courtesy this awesome infographic from SpareFoot:
Houston is the 5th best US city for good jobs, Dallas ranks 18th.
Houston is the 5th best US city for job seekers, Dallas is 6th.
Dallas has the 13th lowest unemployment rate in the US, Houston is 18th.
Dallas has the 9th most affordable housing marketing in the US, Houston is 8th.
Not every MBA candidate can manage a full-time degree program. So many business school students continue to work throughout their studies, balancing a job and graduate school through a part-time MBA program. Many of these programs take place in the evenings and on weekends, allowing for flexibility along with continued professional growth.
Dallas Part-Time MBA Programs
The following schools in the Dallas metro offer part-time MBA programs:
The Southern Methodist Professional MBA features a flexible and modular curriculum that students can customize to their learning and future career goals. Students have the option to choose a concentration and a minor from nine subject areas, including: accounting, finance, general business, information technology and operations management, management, marketing, real estate and strategy, and entrepreneurship.
The estimated total cost of the aforementioned Professional MBA program is $93,696. This figure excludes costs such as books, materials, housing, or transportation. However, approximately 60 percent of students receive some form of financial aid, either need-based or consumer loans.
The Professional MBA program at the Naveen Jindal School of Business consists of taking two classes each semester, and classes are usually offered Monday-Friday from 4 to 10 p.m. The program is offered three different formats: a Evening Cohort, Flex, and Online. The Evening cohort option can be completed in 24 months, and allows the entire intake to experience the 30 required classes together. The Flex program lets students finish their degree on their own schedule, online and on campus. Similarly, the Online MBA offers plenty of scheduling options, but a limited choice of electives and concentrations.
Tuition costs depend on the amount of courses taken per semester and which track students are enrolled in. At UT Dallas, students pay lower per credit when taking more classes per semester. The estimated cost for tuition and fees for in-state residents in the Evening PMBA program is $42,347, and $78,449 for non-residents and international students. Tuition and fees for resident students in the online program is estimated at $49,531, with non-resident tuition at $84,016. Scholarship opportunities are available.
The Professional MBA at the Neeley School of Business meets twice a week in the evenings. The cohort-based program that can be completed in as little as 24 months or as many as 33 months—the amount of time it takes to complete the program depends on how students schedule their elective courses.
One year of the Texas Christian Professional MBA program costs an estimated $33,090, which includes tuition and other program fees. Books and other course materials are estimated at about $1,000.
Students in the University of North Texas MBA program have the option of taking courses on a full-time or part-time basis, and can earn a MBA degree in such areas as finance, health services management, marketing, logistics and supply chain management, organizational behavior and human resource management, strategic management, or business studies. Students completing the MBA in business studies also have the opportunity to complete a concentration in international business, library science and technology, real estate, or sustainability.
The UT Arlington Professional Cohort MBA structure is created for experienced professionals who want to continue to work full-time and follows the same 45-credit hour curriculum as the MBA flexible structure. The cohort structure allows students to complete courses in accelerated five or eight-week sessions, which allows students to complete their MBA in 24 months. This format is only offered at the Fort Worth campus. The estimated cost of the MBA program at the University of Texas at Arlington College of Business is $25,382.
Houston Part-Time MBA Programs
The following schools in the Houston metro offer part-time MBA programs:
The University of Houston Professional MBA program is a flexible program that takes 22 months to complete and consists of 48 credit hours. Students must complete 21 core credit hours and 27 elective credit hours.
Tuition costs at Bauer are estimated at $42,000 for Texas residents, $66,600 for non-resident students, and $72,000 for international students. Costs can change depending on how many classes a student is taking and their student status MBA students can get financial assistance in the form of student loans and scholarships, such as the MBA Bauer Excellence Scholarship. Students can receive up to $10,000 per year, qualify for in-state tuition (for nonresidents) and receive a two-year subscription to The Wall Street Journal.
The Cameron School of Business offers a flexible MBA that holds classes on the weekends and in the evenings. Students in the MBA program at Cameron are required to complete 36 academic hours: 27 hours are in core course and nine credit hours are elective courses.
The cost of the Cameron School of Business MBA program is $1,163 per credit hour. Students taking eight or fewer credit hours per semester are required to pay a $47 activity fee. Those students taking nine or more hours are required to pay $82. Students must also pay a $100 new graduate student fee and an $80 technology fee. Students are required to pay all fees every fall and spring semester.
The Texas Southern MBA program at the Jesse H. Jones School of Business provides a general management education to students who are looking to advance their current careers in business management, and can be taken in a full-time or part-time schedule. Part-time program students can complete their MBA degree over a flexible amount of time, depending on their availability to complete courses. All students complete courses over the fall, spring, and summer semesters.
The Jones MBA costs about $7,130.38 a year for in-state residents and $13,700.38 a year for out-of-state folks. Other fees such as room and board, transportation, books and other personal expenses are not factored in the cost of the program.
Rice University's MBA for Professionals is a flexible program that offers an evening or weekend option to allow students to maintain their current work schedules. The traditional professional MBA is held in a lock-step format while the Extended Professional MBA program holds classes two evenings a week during the first semester and one evening a week after that. Students in this program can extend their education for three years or more, up to five, in order to better fit with their schedule.
The current tuition cost is $101,500 for the Evening and Evening Extended programs and $105,500 for the Weekend program. The tuition covers the complete 22-month schedule of coursework and is billed in 25 percent increments over four semesters.
The University of Houston Downtown part-time MBA can be completed in two or three years. Classes are offered in a hybrid form, with some classes taking place on campus and others online. Students may elect to pursue a "soft start" to their MBA, where students pursue their concentration classes first, or a traditional-start MBA students, where they take core classes the first year, followed by concentration classes in the second year.
The school also offers a three-year path to an MBA where students work on their concentration the first year and then take the core classes in the second and third years, or elect to pursue a traditional start by taking core classes in the first two years and concentration courses in their third year.
At $532 per credit hour for in-state students, tuition for a UHD MBA varies depending on the concentration. Students concentrating on finance, human resource management, leadership management, or business development/sales management will pay $21,840. Concentrations in supply chain management, international business or accounting cost $23,940. An MBA with a general management concentration costs $18,088. Out-of-state students pay about $28,300 and out-of-country students pay around $28,480.
Nov 14, 2017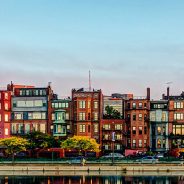 Anyone planning on earning a postgraduate business degree knows that MBA programs cost a lot of money. In the Boston metro, where the cost of living is already high, the annual cost of an MBA program can reach upward of $100,000 … Ouch! Continue reading…
Nov 13, 2017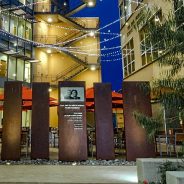 The UC Irvine's Merage School of Business received some good news after the school was ranked in latest business school rankings of The Economist. The school placed 39th in the nation, 16th among public schools, and 56th in the world. The Los Angeles metro business school also scored well in categories including 29th in Open New Career Opportunities; 17th in alumnus rating of career services; and 13th in salary increase.
Continue reading…
Nov 7, 2017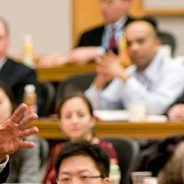 Some sad news out of Northwestern University's Kellogg School of Management — Don Jacobs, Kellogg's dean from 1975 until 2001 and professor of finance since 1957, recently passed away.  Continue reading…
Nov 7, 2017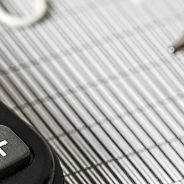 Most MBAs pursue one of the FAME subjects in their graduate studies—No, that's not acting, modeling, or songwriting—it's finance, accounting, management, and economics. Of those four subjects critical to business, finance and accounting are the most popular among MBAs thanks to the high demand and highly specialized nature of many finance and accounting careers. Continue reading…
Nov 2, 2017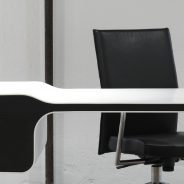 Submitting a résumé is perhaps the most crucial part of every prospective MBA's application process. A good résumé provides insight into who an applicant is, and what they've accomplished. A well-crafted, attention-grabbing résumé that captivates an admissions team can bring an applicant much closer to an acceptance letter.
But aside from a name, contact info, and educational and professional details, what should a slam-dunk MBA resume include?
What Are The Résumé Basics?
Starting with the principle basics, résumés should be short, sweet, and concise. Ideally, they should fit on one page—maybe two. Stephan Kolodiy, an admissions officer at Rutgers University, told U.S. News & World Report that long résumés are a common issue with many MBA applicants.
"Sometime we get a résumé that's five to six pages long, and that's way too much information," he says.
That one-to-two pages of concise information should also be 100 percent accurate—one should never lie on a résumé. Because credibility plays a big role in the application process (MBA or otherwise), it is unwise to fabricate work or school experience. Deceitful, even exaggerated, résumés are always rejected by business schools, and admitted students who submit compromised résumés are at risk for expulsion. This is serious stuff, so don't lie!
Carrie Marcinkevage, MBA Managing Director at the Smeal College of Business at Penn State University, told U.S. News that honesty is always the best policy.
"Authenticity allows you to find the right school and that school to find you," Marcinkevage says. "Allow them the chance to find the real you."
Perhaps most importantly, all MBA résumés should provide examples of success. Prospective MBAs should give admissions officers a reason to send an acceptance letter by showing concrete examples of career advancement, or of how an MBA candidate achieved results for a particular client.
"When applying to a top-tier business school, you'll need to show admissions committee on a clear path of professional growth,"  U.S. News reports.
What Are You Forgetting?
There are also some not-so-basic guidelines that MBAs are encouraged to follow when crafting a solid résumé. Investopedia published a guide reviewing some of the best resumes for MBA applicants that outlines a few tips that many prospective business students may not have previously thought of.
Without sounding like too much of a graphic design nerd, it's important to take typeface into account with a résumé. Yes, fonts matter. It's best practice to rely on on two typefaces: A bold sans-serif face for headers, and a standard serif face for body type. For those of you who don't know, a serif is the tiny extension on the termination point of an individual letter, the little "hat" at the end of a letter if you will.
Serifs exist to make smaller text easier to read, so they are the best friend of admissions offices who may read hundreds of résumés per day. Sans-serif fonts—letters that don't include serifs—are cleaner and pop easier when bolded out. Résumés should avoid using fonts that are too common, such as Times New Roman, but also avoid ridiculous fonts like Comic Sans. Nobody likes Comic Sans.
Aside from listing relevant work experience, and showing how much growth took place at each job, there are other skills that every résumé should highlight. According to U.S. News, the three skills that can best help sell an MBA applicants résumé to a business school are:
Leadership
Communication
Innovation
First and foremost, business schools want to see strong leadership skills as well as personal growth. All MBA programs focus on developing management skills, but schools wants to know that a solid foundation of leadership is already there. Good résumés provide evidence of an applicant motivating a team behind a common goal, figuring out the best use of other's talents and skills, instilling a concrete vision, and prioritizing the needs of an organization above personal needs.
As for communication, a résumé is an applicant's first line of communication to a business school, and should be chock-full of structured writing and thought-out word choice. U.S. News shows the different between a boring resume and beautifully worded one:
"Here's a real example of a blah bullet point in a client's first draft: 'Helped with new software implementation.'

Now, a brilliant bullet point: "Spearheaded software upgrade in the San Francisco field office by coordinating with software developer, leading training sessions, and facilitating implementation schedule.' The second example offers a much more comprehensive understanding of the scope of the accomplishment."
Some applicants may try to hard to impress admissions officers with technical jargon or fancy terminology. Lose it, and show that you can clearly, and simply explain headier topics in writing:
"One client listed this bullet point on his resume: 'Created VA1 Business Acquisition.'

Once we translated that into something the MBA admissions audience would understand, the résumé said: 'Devised and launched outbound communications plan for our premier voice activated product. Product was well received and became cash flow positive within 14 months.'

Much better."
Lastly, a résumé that shows an applicant has helped innovate will go a long way. This piece of advice is especially handy for applicants with traditional pre-MBA jobs. All admissions officers know what a consultant or analyst is tasked with at an entry-level position. A resume is an opportunity to shed light on things that sets an applicant apart from other typical analysts. Things to keep in mind include: training a newly hired analyst, leading college recruiting efforts, or organizing an office volunteering or fundraising initiative.
Avoiding Deceptive Mistakes
Now, here's where we can get a little dramatic: Résumés are the first impressions a prospective MBA job candidates has with a potential employer. Since no one gets a second chance to make that first impression, don't mess it up!
Bloomberg issued a list of the "Ten Biggest Resume Blunders" that outlines exactly what not to do with an application résumé, which includes obvious items like avoid writing a bad cover letter and remove foolish typos and inconsistencies.
The list also features some gems, like how to avoid making your résumé a cluttered mess. Again, not to sound like a graphic design professor, but the look of a résumé certainly counts. Avoid using fancy graphics or designs, and provide a crisp, clean document that's easy to read on a computer screen.
"The résumé should be presentable, not an information dump," Chris Thomas, Global Recruiting Director of the Experienced Commercial Leadership Program at General Electric, told Bloomberg. "There should be some white space."
A well-done résumé shouldn't misfire on any points—bullet points, that is. Some schools offer formats for resumes, specifically on how to list past job experience. Schools like the University of Michigan Ross School of Business advise students to use the "Action Context Result" format, which describes an action they performed, where they performed it, and the results it garnered.
"'Worked for XYZ Corp., 2008 to 2012' says close to nothing," Damian Zikakis, Director of Career Services at Ross, told Bloomberg. "'Led a review of supplier contracts for the technology division resulting in savings of $250,000 opens doors."
Lastly, a résumé should never disregard an applicant's worth, nor should it overshare information. As we mentioned earlier in this piece, a good résumé should demonstrate what an applicant has accomplished and what they can bring to a new employer. It should not feature information that, even if positive, is irrelevant to a desired position.
"Think of the résumé as a future-focused document and not an historical one," Char Bennington, Director of Career Management at the University of Chicago's Booth School of Business, told Bloomberg. "Focus on what's important to the people in the career that you want now."
How Else Can Your Résumé Stand Out?
To help make sure a résumé stands out in the crowd, consider participating in some relevant volunteer work. David D. Schein, the Director of Graduate Programs for the Cameron School of Business at the University of St. Thomas, told MetroMBA that adding volunteer work to a résumé. With that said, not all volunteer work is equal.
For example, if you volunteer at the SPCA and play with puppies all day, that probably won't your résumé or your application. Instead, find "responsible positions that deliver a lot of bang for the time commitment," Schein says. Find a position that will allow you to spend time organizing a major fund-raising activity or event. It should be something that has a demonstrative impact on the organization and illustrates your leadership potential.
Including unique and interesting hobbies can also be a fun way to illustrate your skills and stand out. Schein recommends that applicants choose hobbies that "demonstrate drive and ambition. Some examples might include white water rafting or learning a difficult foreign language like Chinese or Farsi."
Nov 1, 2017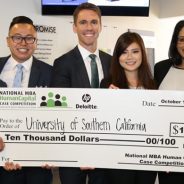 Earlier this month, a team of MBAs from the USC Marshall School of Business won the Deloitte Human Capital Case Competition. The competition was hosted by Vanderbilt University's Owen Graduate School of Management and featured a top prize of $10,000, according to a press release. Continue reading…
Oct 31, 2017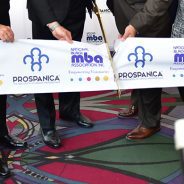 A group of MBA students from American University's Kogod School of Business recently attended the National Black MBA Association's (NBMBAA) conference and exposition in Philadelphia, according to a press release. The annual event featured top-executive speakers, educational sessions about leadership and financial prosperity, a career expo, and an opportunity to rub elbows and network. Continue reading…