Post tagged "nyu-stern-school-of-business"
Aug 28, 2018
September may mean that summer's over, but it's also a time to start to look forward to new beginnings! Stay on track of September MBA deadlines and get those mid-fall and winter program intake applications in. Continue reading…
Apr 4, 2018
McKinsey & Company is considered one of the most prestigious management consultancy firms in the world, with a clientele that includes 80 percent of the world's largest corporations, along with an extensive list of governments and non-profit organisations. The firm is also a prestigious landing spot for MBAs following graduation. Continue reading…
Feb 28, 2018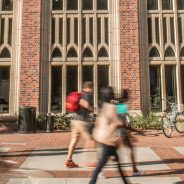 Be on top of the MBA application process and submit your graduate school applications in a timely fashion. Getting applications in early can increase your chances of scholarships and other not-to-miss opportunities when applying for your MBA. Here's your guide to the March MBA deadlines in some of the biggest metros. Continue reading…
Feb 14, 2018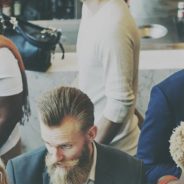 The first installment of this series highlighted the fundamental importance that networking plays in a job search and outlined some of its basic strategies. Quick recap: start with friends and acquaintances; present yourself professionally on social media; and remember that the best networks are built from mutually beneficial relationships. This second article offers more nuanced networking tips tailored specifically to MBAs.
One of the best ways for an MBA student to grow their network is simply to volunteer their time. By seeking ways to volunteer in their desired field, one can expand a network by demonstrating their knowledge and experience to others.
Dr. Janis Moore Campbell, Ph.D., the Director of Graduate Professional Development at Temple University's Fox School of Business, explains that volunteering is a great way to build relationships. "Without fail, others will gravitate to you if you are willing to share your knowledge and expertise. Before, during and after your MBA, strategic volunteering is an outstanding way to showcase one's knowledge, skills, and generous spirit."
While it is critical to offer to share your talents, remember that time is a scarce resource. Focus on getting involved in projects that will yield the most benefit. Dr. Campbell notes, "It's important to think strategically about how best to demonstrate your strengths."
Current MBA students should take advantage of the resources that their schools provide. Many schools have well established programs that are designed to aid in the process of networking. For example, Beth Briggs, the Assistant Dean in Career Services at the NYU Stern School of Business, points out that in her school's MBA program, "Students participate in our career education program … which, among other services, helps MBAs become more conversant in their skill sets and personal stories, identify whom it makes sense to network with based on their goals, and then leverage Stern's relationships and their own contacts to make those connections." Other MBA schools have similar programs, and they should be thought of as a crucial part of the curriculum.

Another key way to capitalize on your school's assets is to make use of the alumni network. Schools will often facilitate meet-ups between current and former students, and attending alumni events, for example, is a great way to forge new connections. Linking up with your school's alumni is a crucial part of networking for any MBA student. Stephanie Johnson, Director of MBA/MS Career Services at Drexel University's LeBow College of Business in Philadelphia recommends, for example, that MBA students should "set weekly goals to attend at least one event and reach out to one to two alumni for informational conversations." Contacting and talking to past graduates is not just about meeting new people and building your network. Alumni have been in your shoes, and will have essential advice to help you move forward.
Finally, remember that networking does not stop after you have found a job. As Mark Brostoff, Assistant Dean and Director of Graduate Career Services at the USC Marshall School of Business reminds us, "Having a vibrant network of professional contacts is a valuable resource to cultivate and maintain, even after landing the job." Perhaps the best lesson is that networking is mostly about creating healthy and fruitful partnerships. A strong network is a web made of vibrant relationships, and it is a serious mistake to neglect those bonds. It is also necessary to remember not to spread yourself too thin or to focus solely on networking when finding employment.
"You need not name-drop or be a social butterfly to build a strong network of friends and colleagues" adds Dr. Campbell. "Networking is much more than "Hello, my name is …" nametags or the exchange of business cards."
Jan 29, 2018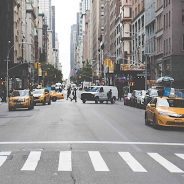 It doesn't take a stable genius™ to figure out that New York City is the world's most highly sought-after 22.82 mi² strip of land to pursue an MBA.
As is the case with most prime real estate, the stakes are high and the competition fierce. For many prospective business schoolers, the decision to step into the gauntlet is one made with a healthy sort of trepidation.
Hefty price tags and cutthroat admissions present real barriers for prospective students and deter more than a few. Still, many equate the New York MBA experience to a dream scenario—or a Gordon Gecko-style fantasy, replete with the promise of a staggering salary, an attractive range of employment opportunities, and prime placement in a city of constant progress.
How does the dream stack up to reality? Schools weigh in on 2017 trends for graduates, many of whom report satisfaction with employment offers. Let's take a look at how MBA graduates are getting the most of their newly minted degrees!
2018 New York City MBA Trends
Columbia Business School
According to the school's most recent MBA employment report, less than 2 percent of Columbia Business School graduates reported salary as the primary reason for accepting an offer. While the honestly of that polling answer pool is debatable, Columbia School of Business is the king when it comes to starting salaries on our list, with median salary of $125,000. Of the graduating class, 93.2 percent of students accepted employment offers within three months. Approximately 28 of 1,019 total students stepped aside to create their own companies. Per the standard with many of the NY-area schools, the largest portion of graduates selected financial services (34.4 percent) as their field of choice, followed closely by consulting (33.1 percent) and media and technology (15.6 percent). Companies such as McKinsey & Company, Amazon, Goldman, Sachs & Co., and Morgan Stanley welcomed a majority of Columbia's finest.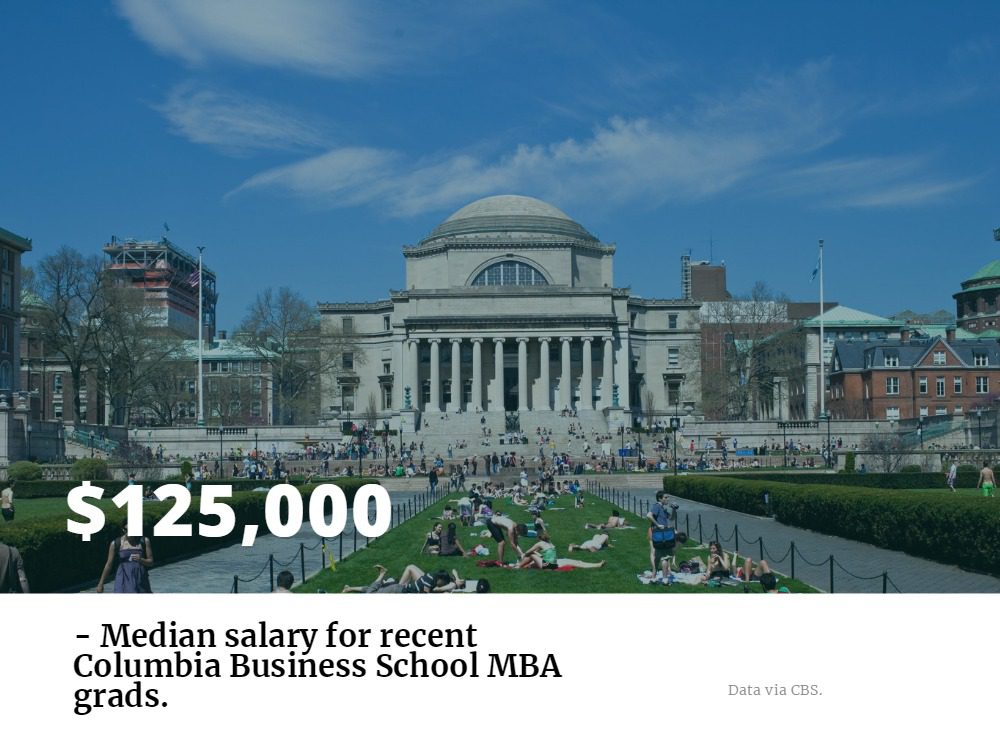 The boastful salary expectations, unsurprisingly, are tempered a bit by the costs of the CBS MBA program. The current estimated budget for Columbia MBAs comes in at $107,749 in the first year, of which includes over $21,000 for room and board. Tuition in isolation, however, costs $71,544 for the first year. Looking at a degree at any New York City school, never mind an Ivy League institution, means cost of living has to be taken in heavy consideration, which can vary greatly from borough to borough.
Fordham University's Gabelli School of Business
About 88 percent of students in the Fordham Gabelli School of Business graduating class accepted employment offers within six months after graduation. Starting salary rates were below Columbia's, at an average of $84,593, with an average signing bonus of $15,536 and additional compensation of $14,510. That average salary figure is an approximate 13 percent drop from the previous year's reported averages.
Out of the many fields MBA students typically chose this year, Fordham students favored less predictable fields: just under 50 percent went into financial services, while 11 percent earning employment in consumer products, technology, and media, respectively. Unlike MBA graduates from many other NYC schools, however, only 5 percent of Gabelli students went into consulting, signifying a deeper trend of tech continuing its encroachment on MBA talent.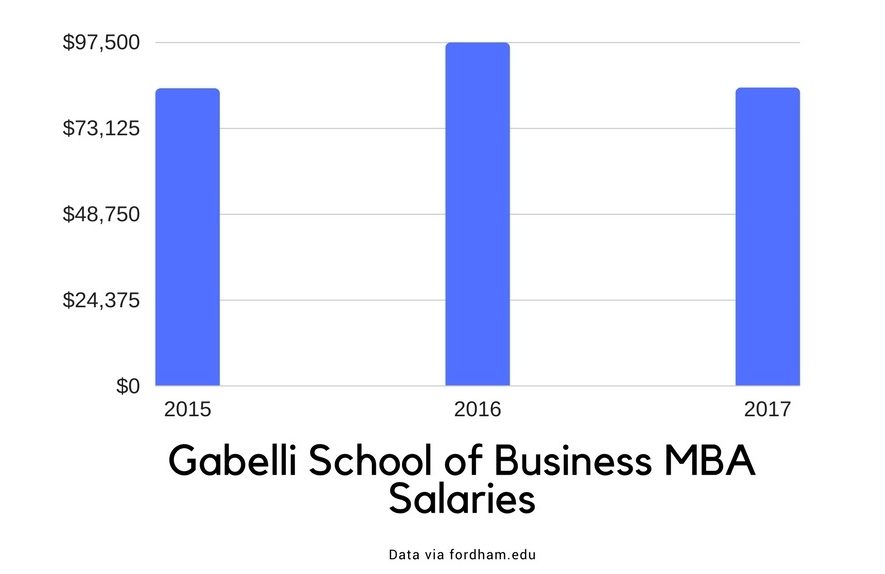 Compared to many other schools on this list, Gabelli's distinct advantage is cost. The first year of the MBA program currently costs $49,645: more than 30 percent less than the cost of the Columbia full-time MBA tuition.
NYU Stern School of Business
This may shock you, but, NYU Stern MBA students are doing pretty well, with an average starting salary of $121,146 in placement of some of the most prestigious institutions in finance (32.4 percent), consulting (26 percent), technology (16.8 percent), real estate (3.5 percent), and retail (3.2 percent). Around 83 percent of those students landed jobs in the Northeast U.S., while nearly 10 percent of graduates found positions in Asia, Europe, and South America. Nearly half of all job offers were the result of an internship facilitated by NYU.
Like the trend at Gabelli, NYU grads jumping into tech has been steadily climbing over the past few years, rising from just 6 percent of employed grads from the Class of 2014, to 17 percent for the most recent class. The incremental increase coincides with the school's recently added Tech MBA.
Stevens Institute of Technology School of Business
In a metro brimming with very successful business schools, the Stevens Institute of Technology School of Business separates itself with an incredible employment placement rate of 94.9 percent; the best placement among all business schools in the country, according to U.S. News & World Report.
The Stevens MBA faculty claim to provide "exceptional career services much earlier than other universities." 90 percent were employed in the industry of their choice. Starting salaries fell between $88,805—$125,000. Companies such as Goldman Sachs, Protiviti, PwC ,and Prudential offered employment opportunities for these students.
Cornell University's SC Johnson Graduate School of Management
About 93 percent of students from Cornell's Ithaca and NYC campuses received employment offers within six months of graduation. The average base salary was $125,578, which was an increase from previous years "driven by salary growth in consulting and finance." Chosen fields for students were finance (38 percent), consulting (26 percent), and general management (21 percent). Out of the 122 companies that sought 2017 graduate students, the top recruiters were Citi Group, Amazon, Deloitte Consulting LLP, Ernst & Young, and McKinsey & Company.
Even Cornell MBA students in an internship were earning some of the best salaries in the country, pulling in a reported $8,764 per month. Those figures out over a 12-month rate are more than triple the average intern salary, according to Glassdoor data.
Aug 18, 2017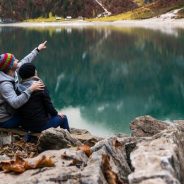 For any of our brave readers currently swimming with sharks in the dating pool, you might want to take a gander at new research that might help you avoid getting eaten alive—or pulled into some rip tides, figuratively speaking.
Jul 14, 2017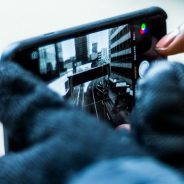 The Stern School of Business at New York University recently explored the new research that explores how photographs might reinforce visual memory at the expense of non-visual memory.
Jun 27, 2017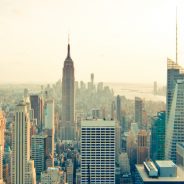 Seemingly overnight, terms like "social entrepreneurship" and "ethical responsibility" have become buzzwords within corporate America. It's hard to say if the suits have suddenly sprouted hearts or if they're just convenient terms to push product. Green or Pinkwashing aside, the fact that social action has become a topic of conversation is proof that consumption has become a more informed pastime in America.
Jan 25, 2017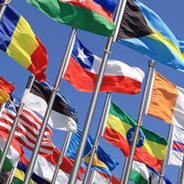 Linguists and frequent flyers need not be the only types who heed the call to jet set around the world. In today's increasingly decentralized global economy, more and more business is being conducted between borders, which means its better know than ever to earn one of the world's best international business MBA degrees.
Jan 10, 2017
MBAs who decide to specialize in marketing have a wealth of options in a data-driven world. Analytics, social media and the ever evolving power of branding have permeated our daily experience, opening doors for graduates that didn't exist even a decade ago.
For prospective Marketing MBAs, the New York metro area is clearly a top destination. The city holds endless possibilities as one of the world's epicenters of commerce and culture, and an education there will yield a network that is beyond comparison.  Following is a look at some of the options if a marketing MBA in the New York region is on your radar.