Use These Key MBA Networking Strategies Before and After Graduation

In a competitive job market, current MBA students and recent graduates need to figure out how to stand out among their peers and make themselves attractive to potential employers. One of the most fundamental ways MBAs can maximize employment prospects, is to improve their networking skills.
Networking may be more than just a good employment strategy—it is actually a vital tool. According to Mark Brostoff, Assistant Dean and Director of Graduate Career Services at USC Marshall, "A successful job search begins and ends with successful networking. Networking should be one of the primary job search tools when pursuing a career," he told MetroMBA.
With the advent of social media, networking is now an everyday part of our lives. Your internet presence is now a huge part of your job search. Brostoff highlights the unique value of maintaining the right kind of web profile: "Networking these days are [sic] both personal, as well as online, so maintaining a professional online appearance is extremely important before, during and after graduation." Always keep in mind that while social media is a great way to communicate with friends and family, your online accounts are also a way of presenting yourself to potential employers.
The idea of MBA networking strategies may seem mystifying at first but as Terra Saltzman-Baker, the Director of Career Connections at UCSD's Rady School of Management, assures, the idea is more ingrained within us than it may seem. "Quite simply, it means connecting with people. The more people that know you're looking for a new job, or are changing your career focus, the more those around you may be able to assist."
Successful MBA networking strategies are not only about reaching out to employers. An equally important move, and the first step in the process, is to inform those around you about career plans and ambitions. You never know how those in your social circle may be able to connect you to your ideal job. As Saltzman-Baker puts it, "it's not just about the person you're talking with, but those in their circle that they may think to connect you to."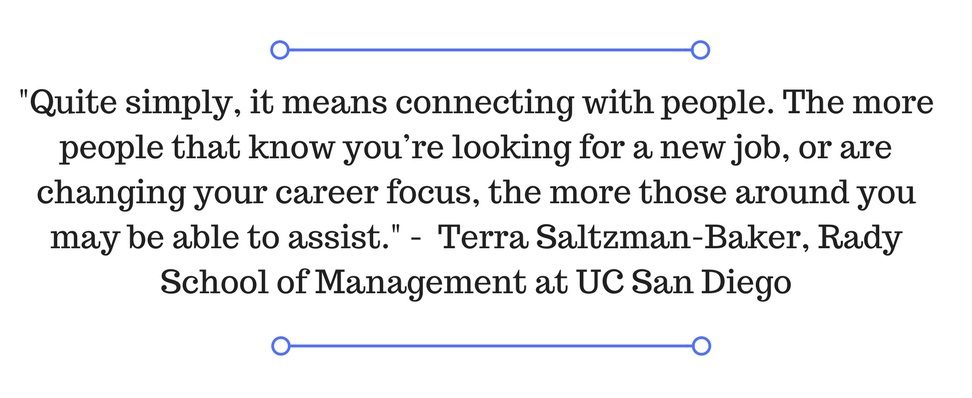 While it is a sensible move to use all of the online tools at your disposal, remember not to rely solely on the online communication that those platforms provide. Networking is all about building real relationships with others. At the heart of networking means valuing the quality of connections over quantity. Furthermore, connecting with others is not about simply finding those who can help you in your job search. Rather, the best networks benefit everyone involved. "Never mistake activity for progress," says Dr. Janis Moore Campbell, Ph.D., the Director of Graduate Professional Development at Temple's Fox School of Business.
"The best networking happens when people gather to learn from one another or to help one another," she continues.
Stephanie Johnson, the Director of MBA/MS Career Services at Drexel University's LeBow College of Business, also stresses that both parties must work together in order for the relationship to have any value. "Remember that networking is a reciprocal relationship, whenever possible, build mutually useful relationships where you aim to give before you expect something in return. In other words: "those who have given also receive."
Perhaps one of the best MBA networking strategies is that it is never too early to start. The most successful networks are built before an MBA candidate begins their program, and then continue to evolve during and after school. Saltzman-Baker frames it simply: "The key is to start early. Don't wait until you're looking to make a change to use this strategy, but instead keep this up on a regular basis—you never know what may happen!"
About the Author