Direct from the Deans: Lubin's Neil Braun and Daniel Baugher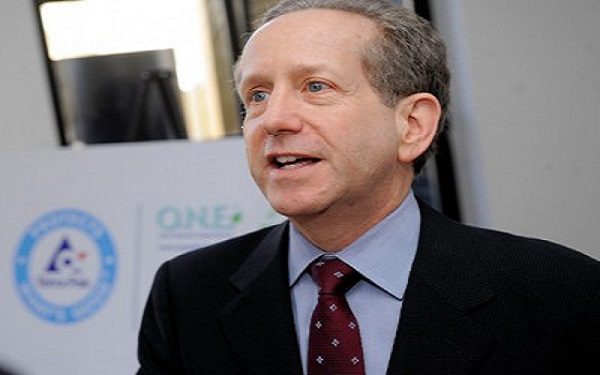 He has served as president of NBC Television Networks and CEO of Viacom Entertainment, among other career highlights, but Neil Braun never went to business school. So how did he come to be dean of Pace University's Lubin School of Business? "I took everything I am and everything that I have done and asked myself, 'Where can I add the most value?'" he told MetroMBA. Deciding that the answer to that question was to become dean of a business school, he did a Google search and discovered that Pace was looking for one. That was 2009, and by June 2010 he was appointed Lubin's new dean.
In addition to his extensive experience in the media industry, Braun also has been involved in multiple new business start-ups focused on corporate environmental sustainability as both entrepreneur and investor. At Lubin, which stresses the importance of professional experience and experiential learning in combination with academic excellence, Braun has a lot to offer. "I came to Lubin to bring the dimensions of what I had learned in those roles," he says.
Learn More about Pace's MBA Programs Here >>
Braun attributes his success as dean in part to the strong partnership he has with associate deans and department chairs, such as Associate Dean Daniel Baugher. Baugher has been part of the Pace faculty for more than 35 years, as professor of management, chair of the management and management science department and, for the past five years, associate dean and director of graduate programs. "I can talk about market relevancy and I can see what is happening and evolving, but when it comes to implementation, Dan and the other experienced academics here are very involved," Braun says.
We were thrilled when both Braun and Baugher agreed to speak with us as part of our "Direct from the Deans" series. We think you'll enjoy hearing from them both in the interview that follows about the ways in which Pace's Lubin School sets itself apart from other business schools in the New York City metro area, the important role that experiential learning plays in the Lubin MBA, exciting developments at Lubin in the Executive MBA space and more.
MetroMBA: What is the one area of your MBA program that you wish prospective applicants knew more about?
Neil Braun: I think this is something that is going to come up several times. Obviously, in addition to the excellent academic program, we have alumni in New York at every major accounting firm, ad agency, hospitality and tourism brand, media brand, on and on. One of the unique things about being in an MBA program here is the ability to interact with world-class companies and executives.
Daniel Baugher: I don't have anything to add to what Neil said, because I think, ironically enough, our applicants are pretty familiar with all I'd want them to be familiar with before they apply. It's the nature of the cohort – they have done a good, thorough investigation and have selected us because they understand what we offer.
MetroMBA: In the NYC Metro area, what sets Pace's graduate management education offerings apart from those of other schools. Basically, if someone is looking to go to business school in New York, why should they look here?
NB: I have a long list of answers to this question. First, there is value. If you look at our cost relative to our employment rates and mobility of our graduates we have consistently ranked among the top North East schools in terms of salary, and we are well known to have one of the best career services departments. So there is an important cost-value relationship. We also have a fairly flexible program where you can obtain a dual degree with just nine additional credits. That's valuable to people who are not sure which direction they want to take their MBA in. Students can also waive up to 19 credits with coursework they've completed before arriving here, which helps them complete the program in less time. And we accept the GRE as well as GMAT.
One thing that differentiates us in a big way is the level of personal attention that a student gets. We really have the most accessible faculty and administration. Nothing is taught by teaching assistants, and we have a very small class size – around 25 students or less, and almost never more than 50. And we have introduced a variety of specialized master's programs as well. When I first arrived I said to Dan, "With everything I am reading with social media and marketing, should we have a master's in that?" And now we do. We likewise have a specialized master's program for customer intelligence and analytics, financial risk management, human resources management and more.
We are also widely acknowledged for the outstanding quality of our finance programs. The CFA Institute has listed us as one of the schools offering the greatest preparation the CFA Exam series, and we are regularly ranked among the top programs by the Global Association of Risk Professionals (GARP).
Finally, we have more than 700 international students from more than 70 countries. I constantly remind our students to develop their Lubin global contact list because they can leave Lubin with a network that spans the globe.
DN: Since we have to do this every five years, we should mention our Association to Advance Collegiate Schools of Business (AACSB) accreditation. Within a 50-mile radius of New York City, we happen to be among a very small percentage – about 3 percent – that have both accounting and business accreditation. Given our accounting beginnings we have always thought we should be accounting accredited, but were are among only 3 percent in the world and only a handful in the state of New York that are accredited in both accounting and business.
MetroMBA: What is the greatest single advantage to going to business school in New York? How does Lubin prepare students specifically for careers in New York?
NB: We actively try to integrate New York into the curriculum, including through competitions. We just started one with WWP in analytics. And we have one in data analytics with IBM. That we can offer these and other competitions – which are being sponsored and judged with data sets coming from globally recognized companies – is a big deal. We also have other kinds of relationships within the city. For example, in our hospitality and tourism management concentration, we have been working with Restaurateur Danny Meyer's Union Square Restaurant Group – they have been doing a service workshop. We are always bringing the expertise of New York into the curriculum in one way or another. Our Executive MBA class did a consultancy for the New York Stock Exchange. Lots of our marketing classes have real-world clients for whom they are developing campaigns. These kinds of relationships give students the opportunity to apply theory to practice and also give the school a way to showcase our students to potential employers. Then, of course, every major industry is represented in New York. Our legacy is in accounting, and the big four firms are all here. Whatever category of business you think about, there are world-class companies here, so there are almost limitless possibilities.
DB: We have a lot of faculty that have consulted with very specific New York initiatives. For example, I had my management science students go down and look at people using a Metrocard instead of a token for access to the New York City subway system. [Metrocards were ultimately implemented system-wide.] That's a big player you can see as soon as you walk outside of our building. We have always been a place that was locally involved with the city. Many students who have graduated from Pace get jobs within the community. We also opened an Entrepreneurship Lab, and we are always looking for ways to interact with both government and business that are geared toward the city. Our hospitality management program grew out of an initiative with local hotels. We tend to be very much involved with the area.
MetroMBA: The Massive Open Online Course (MOOC) movement seems to be gaining momentum at many business schools. What role does online education play in today's MBA offerings at Lubin? How do you see that changing over the next five years?
NB: It is a subject of very active discussion and a fair amount of experimentation. I think the thing that is most exciting to me and makes most sense to me is the "flipped classroom" – which is to say that the information is available online and you get the information before you come to class. So rather than class being about conveyance of information, it can be about applying or critiquing information you have seen in advance. I went to the University of Pennsylvania, so I have been following very closely what they are doing. We will explore with them what kinds of things they might be open to doing, and we are always looking at using our own professors online. The entire core of our undergraduate courses is available online. Having said that, MOOCs in particular are not high on my priority list. I'm not really focused on how to provide our content for free to students elsewhere. I'm really thinking more about how we use online as a tool to enhance pedagogy and accessibility for students who are here.
DB: We are trying to figure out the best way to incorporate online components into our programs. We have considered online programs, say, in human relations management. We are really picking and choosing the niches where online seems to fit us best. Whether we end up with a full online MBA program is yet to be determined. Certainly components of several of our MS programs are available online. We have found that the best experiences are hybrid ones – ones that involve a fair amount of in-person as well as online participation. Our executing programs are all hybrids.
NB: Yes, we are less excited about fully online programs and more interested in hybrid ones.
MetroMBA: When you became dean, what was Lubin known for? At the conclusion of your tenure, what would you like it to be best known for?
NB: When you say Pace University to someone, their first reaction is, "Oh, great accounting school." And indeed, it was started as an accounting institute before it was ever a college or a university. Not that there is anything wrong with that. Accounting is still the fastest growing profession according to Department of Labor statistics. But I want it to be known for its accounting currency as well as its accounting legacy.
We are focused on experience-based education and the kind of learning that can come from mentored experiences. If you look at the learning outcomes articulated by any institute of higher education, they are largely the same. They want their students to graduate with strong skills in critical thinking, written communication, analytical reasoning, a global perspective. We want all of those things, but we also want students to have a very strong foundation in terms of practical skills. We already do so much experience-based education and so much mentoring of our students. I think of those as effectiveness skills. For example, how to manage a meeting, how to deliver bad news, how to manage someone with authority. I am working very hard on building something we call the Lubin Professional Experience, which we are launching in Pleasantville this fall. Through this new initiative we will be requiring students to have a certain number of mentored professional experiences. We will also require a level of proficiency in core technological platforms and tools. Not just entry-level proficiency, but having our graduates be very proficient in advanced Excel, PowerPoint, Bloomberg for those who are in finance. So we are also really focusing on software proficiency. I hope when I finally retire from here that I will have added value by making all of those things outcomes for our students.
DB: Over the years I have created many programs here at Lubin. One recent effort, for which I was one of three creators, has been a very different kind of executive program centered around experience-based learning. Students in this program solve learning exercises related to a course and then consult with a firm to solve a problem related to the academic material in that course. We call it "just-in-time learning." Recently I have expanded that program to where we are doing an onsite for a major utility firm in the area. Their students are getting an executive MBA, and it is tailored to that organization, so that students are solving that organization's problems as part of their coursework. So we are taking that original idea of just-in-time learning and tailoring it so that we can provide executive programs to firms that are specifically tied to their actual industry and firm. Having that flexibility to build that level of customization into an academic program is very new.
NB: In many ways it's a win-win for everybody. We started out by having students solving problems for firms – often they were firms where our alumni work. But when we were able to bring that idea to bear as part of an onsite executive program – so a firm can pay for a degree though which students apply what they are learning directly back to the challenges facing that firm – that's not a model you will find very many places currently offer. Dan really developed this idea and I think it is a marvelous one.
MetroMBA: How would you describe Lubin students? What characteristics set them apart from other MBAs?
DB: I think our students have always been students who had a very strong work ethic. For many, they are the first to go to college in their family. They hit the ground running in terms of motivation and work ethic. That has always been the case here. Before I came here I was at Rutgers, and it was a different student mix there. Here I have always been impressed by the students' interest in pulling themselves up by their bootstraps and using education to do that. Our students are also very tolerant of diversity. They get along very well with each other, and it is a far more diverse place than it was when I first began.
NB: I hear from employers – and we have very happy employers – that one of the things they really like about our students is that, in contrast to other students who want to talk right away about work-life balance or when they'll be VP, our students come in really wanting to do more. They know that they have to be hungry, to demonstrate, to put in the work first. Maybe it's a little more of an old-school mindset.
The thing I love most about this job is the interaction with the top third of the students who are most engaged. They may not always be the very top students – although there is a high level of correlation. But these students really want to learn, to engage, to be mentored. They are hungry and committed and willing to do what it takes to get ahead. The thing I love best about the culture of Lubin is that real desire to bootstrap and get ahead in life.
MetroMBA: What is the one upcoming development or change at Lubin that you are most excited about and why? 
NB: I'll speak to the executive programs. We have a degree in executive management, and what is unique about it is that it bridges experiential/just-in-time learning with academics. That mixture brings it closer to training, allowing a firm to benefit from students becoming more familiar with firm issues and using the academics they learn to solve those issues, Many times you hear firms say, "Can you make this program for me?" When you can take an academic program and have students apply it to solve existing problems – whether in terms of human resource management, utility management – that is new and different. We are able to make that bridge, make that jump – which allows students to learn the issues of the firm and to use academic principles to solve those issues. We can do that for any industry or firm, with the courses remaining the same but the applications being different for every firm.
DB: To put it into an evolutionary context, we have always been project-focused instead of case study–focused. We have always had our students learn through learning exercises, not cases. The third thing we have added now is that just-in-time component. So, once a faculty member has given all this academic material, students are going to solve a specific client problem, and the client is going to come in and evaluate the student on whether they thought he or she delivered a good presentation.
I think the change is matching it to the firm and industry where the onsite program is being delivered. Most programs are pretty cookie-cutter in format and don't allow for that level of change. But we began it that way.
MetroMBA: Anything else you would like to add or highlight?
NB: We have three different five-year programs for accounting that basically get 100 percent placement. In addition to our original program, we have introduced two new accounting programs, through which students receive a BBA in accounting and an MS in taxation or finance. So they graduate with two degrees and two disciplines. All of these programs have very sought after graduates, and we have close to a 100 percent placement rate for students in those programs upon graduation.
DB: I can't think of any programs we haven't really covered. We continue to develop MS programs, and we might have some new programs to highlight soon. Pace has entered the arts and education market with a bang, and lots of students come here for dance, theater, Broadway. The business school has now added a major in arts management, so students can conceivably come here with an interest in the arts and end up choosing an arts-related business path rather than becoming an actor or a dancer. We first started offering it a year ago, and it has been a very fast growing program.
NB: Our graduate school is associated with the Actors' Studio, which gave value to our undergraduate program in arts, and now our undergraduate program offers an arts and entertainment major and minor. What we know at the business school is that you can teach management within any industry. So we are still teaching all the academic disciplines – but now were are doing it in the context of arts and entertainment, hospitality, you name it. That gives students the vocabulary, problem solving templates. It also means that you are going to get a business education in the context of something you are already interested in, so you will do better. At the graduate level it is for people who really want a traditional credential. Take dance – you can't dance forever, by the very nature of your physique. Historically, dancers have come back to obtain an MFA as their dancing careers waned, which lots of times led to a teaching position. More and more now you are able to get a business degree, which gives an alternative track to people whose careers are ending in one sense.
Learn More about Pace's MBA Programs Here >>
About the Author