Direct from the Dean: Fordham's David Gautschi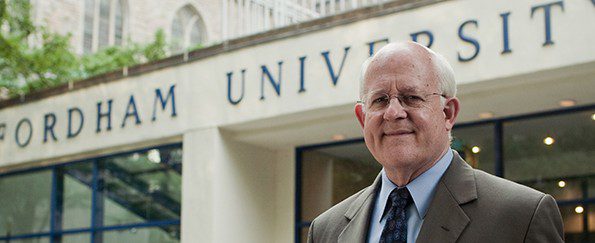 In our continuing series of conversations with the deans of top MetroMBA schools, we spoke most recently with Dean David Gautschi of Fordham University's Graduate School of Business Administration (GBA) in New York City. Gautschi joined Fordham GBA in 2010 from the Lally School of Management at Rensselaer Polytechnic Institute (RPI) in Troy, NY, where he spent five years as dean and professor of marketing and economics.
Gautschi's experience in business education is vast. He began his academic career at Cornell University's Graduate School of Business and Public Administration (now the Johnson Graduate School of Management) and has since served on the faculties of INSEAD, Yale University's School of Organization and Management, the University of Washington's School of Business Administration and RPI.
He also brings extensive real-world business experience, having founded three companies in software development and marketing analytics and having served as one of six leaders of the e-business practice of Deloitte & Touche, LLP. Gautschi has also published extensively on issues including the optimization of marketing decisions, the economics of retailing and services, and technology and business and has developed a series of market simulations that have been used in MBA and executive programs.
In a statement announcing his 2010 appointment as Fordham GBA dean, Gautschi likened the school to a sleeping giant he had been given the opportunity to wake. "We are well positioned to become a significant player in serving the business community of New York City, and its presence here would also naturally position it to face the global context of business," he said.
Read on to learn more about some of the steps he has taken to propel Fordham GBA within the NYC metro area and beyond, including the development of a new MS program in Marketing Intelligence and the launch of unique partnerships with Fordham's other graduate professional schools and undergraduate colleges of arts and science, among others.
MetroMBA: What is the one area of your MBA program that you wish prospective applicants knew more about?
David Gautschi: Prospective applicants probably know about our prowess in the area of finance (especially quantitative finance and global finance). But we are also moving up rapidly in the area of marketing – with a new MS program in Marketing Intelligence (a distinctive combination of big data and qualitative market research) and its supporting activity (including an array of initiatives from Fordham's Center for Positive Marketing).
MetroMBA: In the NYC Metro area, what sets Fordham's graduate management education offerings apart from those of other schools? Basically, if someone is looking to go to business school in New York City, why should they look here?
DG: Among the ranked graduate business schools in the Bloomberg BusinessWeek rankings, Fordham GBA (Graduate School of Business Administration) offers the greatest set of choices for someone seeking a career path into the world of business. There are 15 specialized MS career pathway programs in addition to the MBA – from marketing intelligence to business analytics to investor relations to taxation and more.
MetroMBA: What is the greatest single advantage to going to business school in New York City? How does Fordham GBA prepare students specifically for careers in New York City?
DG: New York City is a vibrant and diverse economy. According to the Independent Budget Office of New York, the five-year projection for growth of the NYC economy is founded on growth in professional services, higher education and healthcare. The traditional industries of finance, arts and entertainment, retailing, fashion and media (particularly digital media) continue to be significant contributors to the NYC economy.
Fordham GBA has crafted its curriculum and program portfolio to serve each of these sectors, and around each degree and each program of study we have engaged industry partners to assure that what we offer is applied to their needs.
MetroMBA: The Massive Open Online Course (MOOC) movement seems to be gaining momentum at many business schools. What role does online education play in today's MBA offerings at Fordham GBA? How do you see that changing over the next five years?
DG: Fordham GBA has an incipient initiative exploring and experimenting with the applications of digital and mobile technologies in support of our learning and community-building missions. We have experiments with online courses, blended learning, flip classrooms and technology in support of our international strategy.
MetroMBA: When you became dean, what was Fordham GBA best known for? At the conclusion of your tenure, what would you like it to be best known for? 
DG: When I arrived, Fordham GBA was best known for its part-time MBA program and its EMBA program. By the time I leave, I would like the world to know Fordham GBA as a leader in:
a- adapting to and anticipating the rapid changes in the markets we serve. This should be revealed by our diverse portfolio of degree programs.
b- our commitment to understanding and preparing our students and faculty for the demands of the complex and evolving world of global business, and for understanding the influences of geopolitics on the context of business in the 21st century.
c- accommodating an ethnically diverse community that views such diversity as a privileged  instrument of learning and self-improvement.
MetroMBA: What is the one upcoming development or change at Fordham GBA that you are most excited about and why?
DG: I am excited about the launch of articulation agreements with our partner graduate professional schools (especially in social service and education) as a means of enriching our mission and the value we deliver to society. I'm also excited about our agreements with the undergraduate arts and science colleges (Fordham College Rose Hill and Fordham College Lincoln Center) to permit bright young people to pursue robust liberal arts educations over three to four years capped by a one-year orientation to the world of business and management – following any of the various career pathways MS programs that we have created.
About the Author