All Star Investors Lecture Kellstadt Students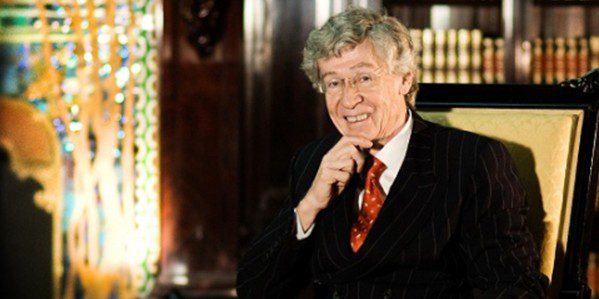 This April, students at the Kellstadt Graduate School of Business of the Driehaus School of Business had a chance to learn about personal investing from Richard H. Driehaus (BUS '65, MBA '70, DHL '02), founder and chairman of Driehaus Capital Management and William Farley, chairman and president of LV Ventures, Inc.
The two executives answered questions in Joel Litman's MBA class, "Practical Investing: How to Make Money and Enjoy Doing It," which grew out of discussions the three men had last fall. Litman turned the idea into a four-day "bricks and clicks" course this spring with a seminar format and accompanying online content.
The course was designed to teach students how to make money in the current market through stocks selected from data from Valens Securities. In this scenario with data already presented to them, students had a chance to behave more like money managers and less like stock analysts. Having Driehaus and Farley speak on the first day of class was designed to give students a view of how successful investors think.
"When students come in they're already heavily immersed in the topic," explained Litman. "Students get to hear stories you can't get in a textbook."
Driehaus discussed how much the school has positively affected his life and career. Which makes sense— the school is named after him. He also pointed out that to succeed, investors must be willing to do things differently, as he shared nine paradigms worth avoiding in hopes that students could increase their investment returns.
Farley focused on the fundamentals of how to become successful. He pointed out that many people want to be millionaires, but being successful takes persistence, courage and guts.
"If it were easy, everyone would be a millionaire," he said. Farley. "Life is not straight ups or straight downs. This is a great journey. Make sure as you're trying to be successful that you enjoy the journey."
That chance for students to meet and network with such businessmen is why part of why Litman enjoys teaching seminar-style classes on a condensed schedule.
"Part-time business students don't always get the same networking or camaraderie feeling as a full-time program. Intensive classes create a memorable experience even outside of the content," he said.
Also, he wanted to design this course and bring in high-profile guest speakers to showcase how strongly DePaul is tied to the super high-end investment community: "How many investing courses have people worth $200 million to $300 million doing the teaching?"
About the Author