Zicklin Alum Launches Fintech Communications Firm

Jessica Schaefer, former Vice President of Corporate Communications at Point72 and Point72 Ventures—the company's venture capital extension—has formally launched her brand new fintech communications firm Bevel. Yahoo! Finance reports that the company will focus on "fintech, hedge funds, enterprise software, venture capital firms, big data, artificial intelligence (A.I.), professional services and regulatory technology."

Schaefer, the acting CEO and Founder of Bevel graduated from the Zicklin School of Business at Baruch College with a finance MBA. In a press release regarding her new company she said, "There is an explosion of new firms now focused on big data, AI and fintech. We're now seeing traditional news sources create beats exclusively focused on fintech and big data, but until now the same thing hasn't been happening on the PR consultancy side. Our expertise in those areas will fill that void."
While she earned her finance MBA, Schaefer was working full-time at Prosek Partners, a multi-national public relations firm that operates out of New York, California, Connecticut and the UK. It was only the start of her now-storied career in PR and finance, eventually leading to standout roles with the aforementioned Point72 as well her stint with Moody's Analytics as the Head of Communications.
Speaking with Yahoo!, Anthony Mirenda, former Global Head of Communications at Moody's, said, "Jessica is a rare communications professional in the financial services market. I was continually impressed by her deep understanding of the global capital markets and the media landscape. She has the innate ability to identify an angle, pitch to high-profile, targeted reporters and create long-standing professional relationships." Unsurprisingly, Schaefer earned the 'Moody's Rising Star Award' during her time with the company.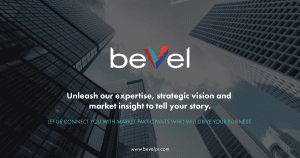 The report also revealed that fintech communications firm will be partnering with Cognito, "a global finance and technology focused PR and marketing firm, to provide clients with a full suite of offerings, including marketing communications, media relations, advertising and media buying."
For more information on Bevel and its New York and Los Angeles offices, visit the company's official website.
About the Author