School v. School: NYU Stern or Columbia Business School?

What happens when you pit two of the New York metro's top business school's against each other in a head-to-head duel of MBA might? It's a school vs. school showdown, as we compare Columbia Business School to the Stern School of Business. Let's take a deeper dive!
Columbia Business School
Located on Columbia University's main campus in New York City, Columbia Business School (CBS) calls the Morningside Heights neighborhood of upper Manhattan its home. The school first began awarding MBA degrees in 1945 before becoming a graduate-only program in 1952.
About the CBS Full-Time MBA Program
Columbia's full-time program is usually completed in two years—typical of a full-time program—but is structured in a non-traditional fashion. Students are divided into clusters at the start of the program, with each cluster comprised of 60 or so students who take most of the first-year core courses together. Each cluster further divided into smaller learning teams who work together on class projects.
The program requires a total of 60 credits that consist of an 18-credit core curriculum and a minimum of 42 elective credits. The core curriculum consists of two full courses and nine half courses. What's a half-course? It's actually pretty simple: full courses are typically worth three credits each, whereas students earn 1.5 credits for half courses. For three of these half courses, students must choose one "flex core" option from each of three broad academic course categories: organizations, performance, and markets.
Students can choose from over 200 elective offerings in their second term to complete their degrees. Students can create their own elective tracks, or choose from a list recommended courses for specific career paths such as entrepreneurship, healthcare, marketing, media, real estate, value investing, and social enterprise.
Why Should You Join Columbia
An MBA from the Columbia Business School opens up countless career options and pays off in the long run. Around 93.2 percent of Columbia Business School graduates receive offers within three months of graduation. The school's most recent graduating class also boasted an average starting salary of $125,000, plus a $25,000 signing bonus. The top three industries that employ Columbia graduates are consulting (34.4 percent), financial services (33.1 percent), and technology/media (15.6 percent). Business Insider writes that Colombia business students:
Begin crafting their network and community within the business world the minute they arrive at Columbia, thanks in part to the school's cluster system, which places first-year students in "clusters" of 65 to 70 people who take all their core classes together. Columbia also counts some of the greatest minds in finance among its alumni, including Berkshire Hathaway CEO Warren Buffett and former Bank of America executive Sallie Krawcheck.
What Is CBS Missing?
Columbia Business School only offers a full-time MBA and an Executive MBA program, so there isn't much selection or flavor when it comes to the school's MBA offerings. With that being said, both degree options are among the top graduate programs in the world.
Columbia Business School is also pretty pricey: The tuition for the 2017-18 school year is approximately $71,544, and the total expected cost is $107,749 for the first year, which accounts for additional fees associated with room and board, books and supplies, health services and insurance, and personal expenses. But that's the price you pay for an Ivy League education.
Columbia Business School Fast Facts
Columbia's most recent MBA class features 753 students, making it one of the largest top business schools.
A diverse campus, about 41 percent of the class identifies as female and 43 percent were born outside of the United States.
Stern School of Business – New York University
The NYU Stern School of Business main campus is located in the Greenwich Village neighborhood of Manhattan, but the "Westchester option" of the Langone Program is located north of the city on the campus of SUNY Purchase in Purchase, New York.
The NYU Stern full-time MBA program is a two-year, 60 credit program that follows the traditional two-semester model. The first year of studies consists of core coursework, including five of the following seven: Firms & Markets, Foundations of Finance, The Global Economy, Leadership in Organizations, Marketing, Operations Management, and Strategy. A required internship is taken following year one.
The second year of the program consists almost entirely of electives courses, with the exception of the mandatory Professional Responsibility course. Students may pursue up to three specializations in 20 different fields such as banking, law and business, luxury marketing, or real estate. Students may also earn course credit by participating in a one or two-week intensive abroad experiences offered between semesters.
Why You Should Join NYU Stern
In addition to Stern's large part-time program, the school hosts full-time, EMBA, Tech, and Fashion & Luxury MBAs. Stern's full-time MBA curriculum gives students tons of flexibility, and allows degree seekers to choose one or two MBA specializations. In fact, Stern was the first school to include fintech as an MBA specialization, launching the concentration in fall 2016. The school recommends the fintech specialization for MBAs who want to break into investment banking, international finance, social entrepreneurship, sales and trading, IT, and product management.
"Technology continues to transform the business landscape at a breathtaking pace," Raghu Sundaram, Vice Dean of MBA Programs and Online Learning, said in a press release following the announcement of the new specialization. "Business education needs to innovate to keep pace with the rapid rate of change."
Also, like many CBS MBA grads, degree earning students from Stern boast some very healthy salaries, with an average north of $120,000 and a median of $125,000 annually.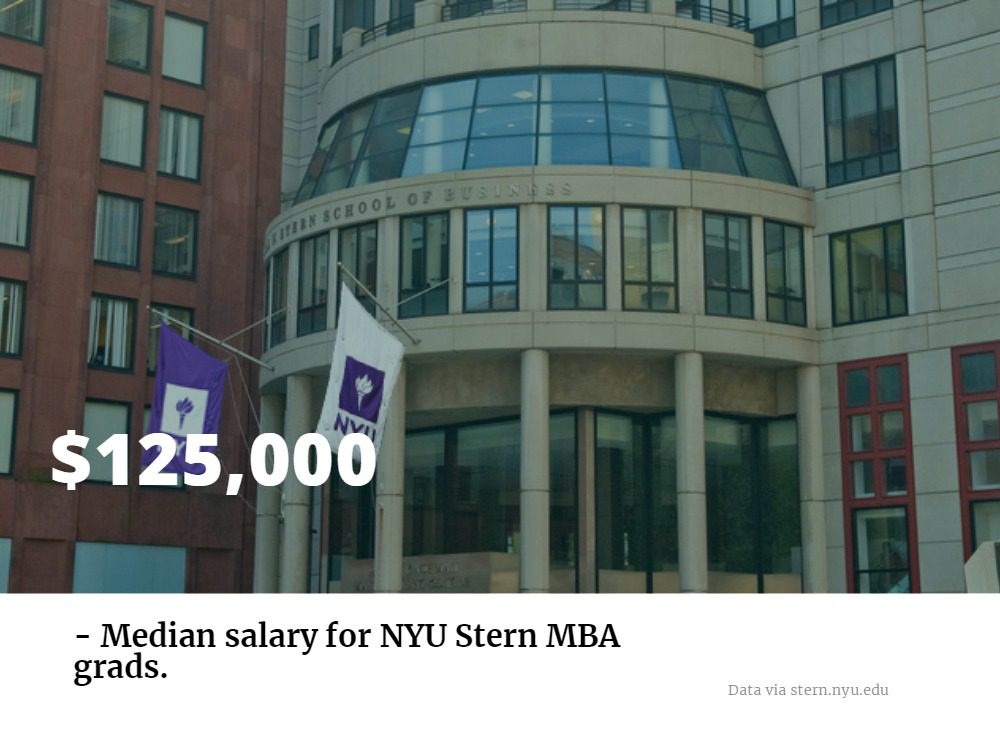 What Is NYU Stern Missing?
Current tuition for the NYU Stern full-time MBA is $69,086 per year, plus $4,092 for registration fees. Additionally, Stern estimates that students will pay $25,320 for room and board, $1,980 for books and supplies, $1,110 for local travel, $8,756 for miscellaneous fees, and $218 for loan fees, bringing the total estimated cost of the program to $110,562 per year.
However, all incoming full-time MBA students are eligible for a number of merit-based scholarships. These include the Dean's Scholarship, the Faculty Scholarship, the Kenshin Oshima Scholarship, the Military Veterans Scholarship, the Stern Scholarship and the Story Mining & Supply Scholarship.
NYU Stern Fast Facts
Approximately 399 students are enrolled in the NYU Stern full-time Class of 2019, which were selected from a pool of over 3,900 applicants.
The current admissions rate for the business school is 21 percent.
Among the Class of 2019, 38 percent identify as female, with 37 percent international students, and 29 percent minority status students.
Most enrolled students joined Stern with nearly five years of professional work experience.
The Verdict
A prospective MBA who gets into both Columbia and Stern is a prospective MBA with a happy problem: Both schools are among the best in not only the New York metro, but in all of the country. Ultimately, go with whichever program you felt a strong connection to while on your interview, or go with whichever school offers you the most in financial aid. With Columbia and Stern, it's really hard to go wrong either way.
Ultimately, your decision will likely come down to which specializations fit your preference. If a career in fintech or fashion more readily fits your career path, then NYU Stern offers more unique opportunities. But for the traditional journey, both NYU and Columbia offer one of the country's best full-time programs, but CBS edges out NYU in numerous rankings, including the latest U.S. News & World Report MBA ranking, which placed CBS at 9th overall, with NYU trailing slightly at 12th overall.
About the Author