Bloomberg Businessweek Praises Rutgers, and More – New York News

Let's explore some of the most interesting stories that have emerged from New York business schools this week.
---
In its "Best Graduate Business Schools of 2017 " survey, Bloomberg Businessweek ranked Rutgers Business School (Newark, New Brunswick) as the top business school in terms of job placement within the Northeastern United States,. coming in second overall in the United States. Andy Heller, RBS MBA '11 and current senior associate director of payor and health system marketing at Boehringer Ingelheim sang Rutgers' praises in terms of preparing him to succeed in the corporate world.
"That kind of experience has helped me each and every day since graduation. Having diverse perspectives on our team ensured that our solutions would be differentiated, yet relevant, and impactful," Heller notes.
In addition, RBS topped its fellow Big Ten competitors when it came to return on investment, narrowly edging out the University of Iowa College of Business, and Northwestern University's Kellogg School of Management. The latter of which offered a higher multi-year ROI for potential MBA students, but cost much more in terms of tuition.
Read more about Rutgers' rankings and accolades here.
The Executive MBA/MS in Healthcare Leadership program at Cornell's SC Johnson School of Management "integrates the general management curriculum of Johnson's Executive MBA programs with the deep healthcare expertise of Weill Cornell Medicine's Healthcare Policy and Research Department." The joint program was developed to "reflect the future of healthcare" and help "sharpen and deepen the skill sets of healthcare professionals through business and healthcare leadership education," according to the school.
"Today's healthcare leaders need to be open to knowledge from different vantage points so they can advance progressive healthcare agendas, locally and nationally. Many healthcare leadership programs are exclusively for physicians. However, as we developed this new program, the physicians we spoke to expressed interest in an executive healthcare program that welcomed non-clinicians from different sectors of healthcare—not just practitioners."
Take a look at the makeup of the Executive program below: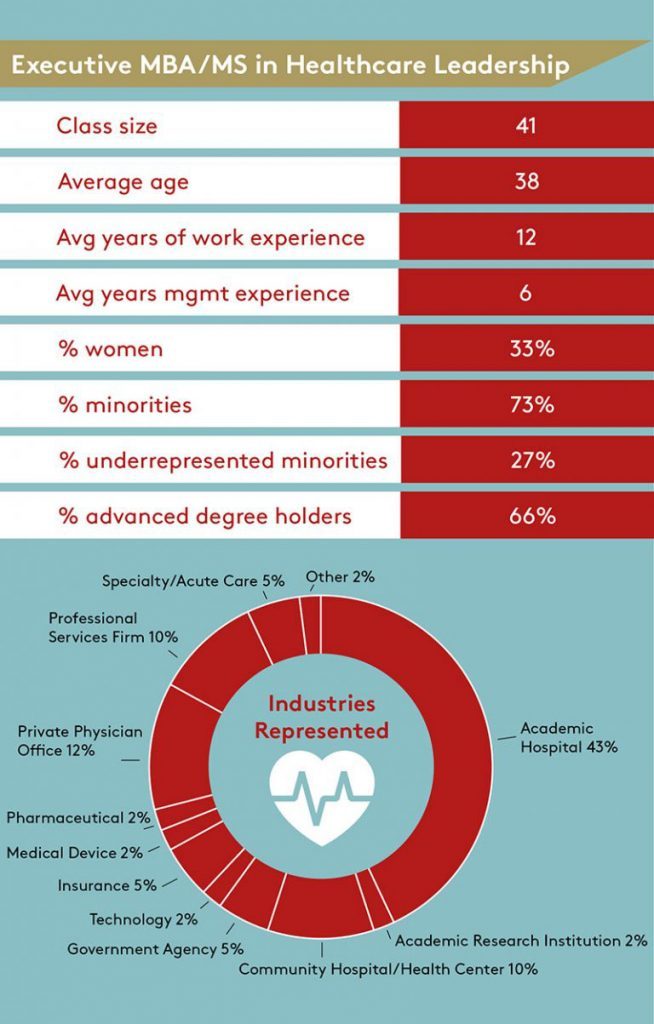 You can read here to learn more about what the program looks for in terms of applicants.
Fordham University's Gabelli School of Business recently hosted a talk by Harvard professor of social ethics Mahzarin Banaji who unpacked the hidden biases of well-intentioned people—that is, "the beliefs that live in the subconscious and are formulated due to various exposures throughout one's life."
Banaji explains:
"A bias is nothing more than a tilting away from neutrality. There's bias in the mind of the receiver and the applicant. We have to work with the very groups that are holding themselves back and educate those who are holding them back. We are capable of change by how many times we stretch those muscles."
Learn more about Banaji's take on unconscious biases here.