New York MBA News: Columbia Research Finds U.S. Dollar Is Dominant International Currency; TeamUp Offers Mentorship Opportunities for Current Rutgers Students; Gabelli Alum's Incredible Journey From Mailroom Clerk to EY Consultant

Let's explore some of the most interesting stories that have emerged from New York business schools this week.
New Research from Columbia Business School Shows How the Dollar Has Become the Predominant International Currency – Columbia Business School
Columbia has published new research that finds that "global portfolios have shifted dramatically away from the euro and toward the dollar" since the 2008 financial crisis.
Jesse Schreger, Columbia assistant professor and faculty fellow at the Jerome A. Chazen Institute for Global Business, writes that this research "offers a novel perspective on the potential benefits that accrue to countries that issue an international currency like the dollar."
"Generally, investors everywhere only want to lend in their currencies," Schreger writes. "If a firm wants to borrow from foreign investors, this means they need to issue debt denominated in the investor's currency, which exposes them to exchange rate risk or the need to use currency derivatives—a costly proposition for many companies."
The article elaborates: "American companies are currently tapping into international markets in ways that companies in other countries cannot because of the dollar's predominant status as an international currency."
Read the full article here.
The Advantage of Teaming Up – Rutgers Business Blog
The TeamUp program at Rutgers was founded by Assistant Dean Sangeeta Rao as a way to connect "undergraduate students with professionals who could provide them with useful insights about transitioning to the work world." According to the article, "1,300 pairs of professionals and students have been teamed up, and 85 percent of the relationships have continued beyond the duration of semester."
Rao writes, "There's a high probability that if the connection is right, it creates a lifetime of value to the student and the mentor. It's a two-way street."
TeamUp paired Mary Giordano, VP of regulatory supervision at Prudential, with Angelene Jean-Louis, a Delta Air Lines customer service rep and translator who is pursuing an undergraduate degree in accounting.
Jean-Louis writes of her relationship with Giordano, "She's showed me how to turn my experience into an advantage and that gives me more confidence. She's taught me how to market myself better. I didn't know how to do that before I started working with Mary."
Giordano writes of her experience as a mentor: "When I'm working as a mentor, I'm there to coach, to assist them with professional development. I love Angelene. She has been very receptive to my feedback. She's very motivated."
Read the full article here.
Success Story: Brandon Stanford, MBA '18, Lands Role at EY – Gabelli Connect
Gabelli surveys how recent graduate Brandon Stanford MBA '18 landed a role as a senior consultant at EY.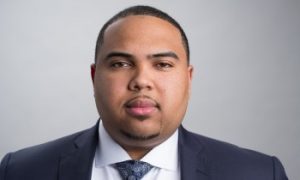 Stanford's incredible journey began when a Department of Education human resource associate took notice of his John Jay College degree and tenacity in the mailroom and "offered him a job as a business manager for two schools," according to the article.
Stanford eventually found himself managing nearly 40 schools as director of finance for a district in Queens. "I taught myself accounting, finance, budgeting, and forecasting. I built their budgets from scratch. But I wanted to find meaning in the work that I do."
Fast-forward to Stanford enrolling at Fordham, whose alumni network he describes as "ridiculous." He says, "If you want a job in New York City, this is the place to be."
While still at Fordham, he was recruited by a Gabelli alum who happened to be a partner at EY.
Of his journey, Stanford writes, "A guy who was working at a charter school is now at a Fortune-500 company and working with individuals at the forefront of running a company. If I can make managing partner in 10 years, I will change my legacy for my family and my life. And I could not have done it without a Fordham MBA."
Read the full article here.
About the Author